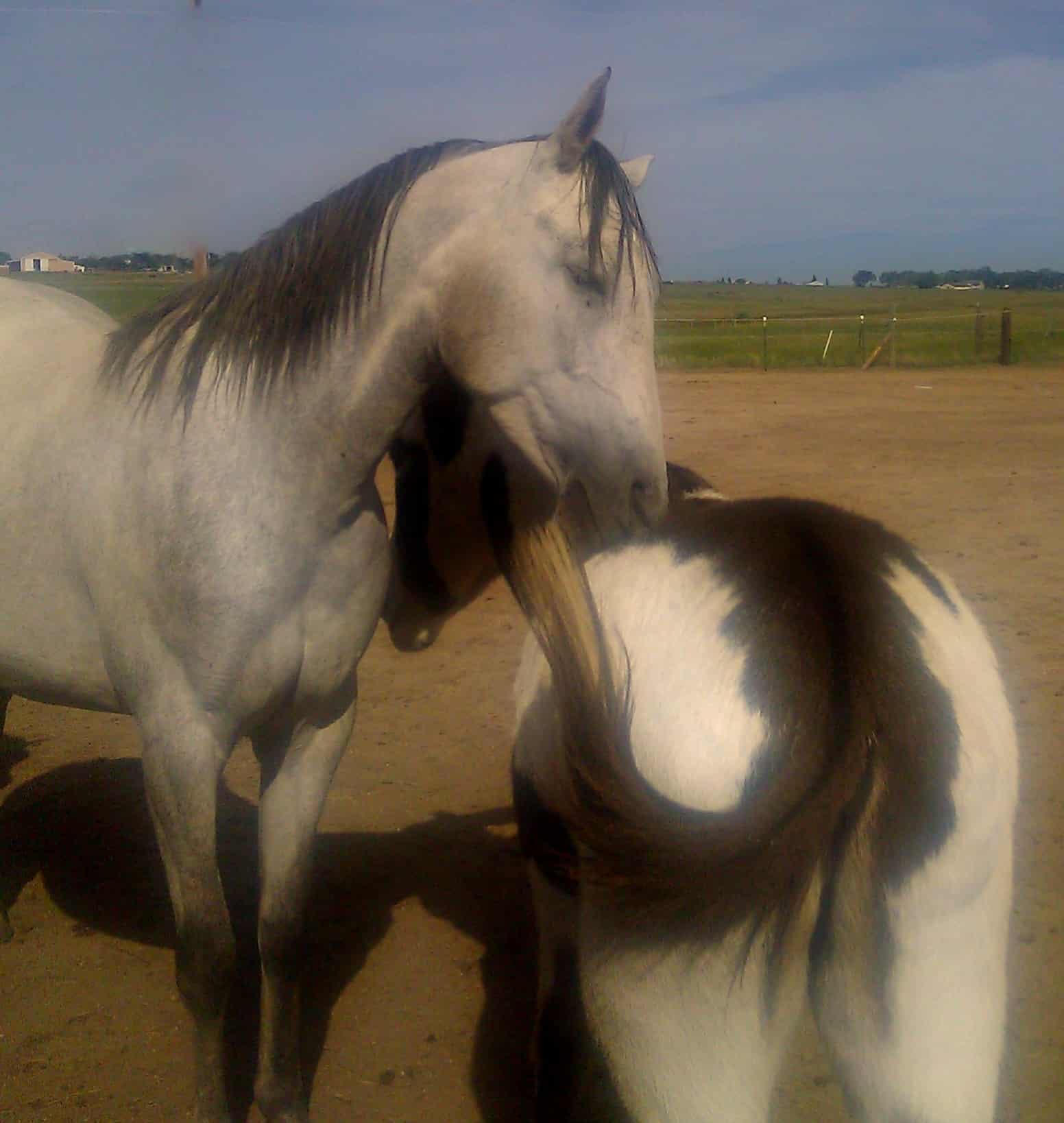 It Takes All Kinds. And here at Infinity Farm, we have all kinds. In fact, we have inter-species chaos.
I want to affirm that I like order. But I'm the minority here, so not everyone goes along with my type-A fantasies. Exactly like real life, we don't all fit into little boxes.
Sure, I have some level of leadership out of the saddle. After all, I have oppose-able thumbs, so I have the gate advantage. Except for Edgar Rice Burro, who has oppose-able lips.
So Infinity Farm is a democracy. Anyone with contrary cats, goats, or donkeys knows that a rule by consensus is the best you can get. It's a bit complicated- again, exactly like real life.
Maybe my gelding Dodger started it. He has been gone 5 years this week; we still miss his class and sense of humor. Dodger was gay. He was born that way, we all knew. Our most common judge's comment: Happy Horse.
Then there's the orange cat Lulu who sleeps on top of Tomboy, the Briard, and purrs like a Harley. I mean every day, on the sofa or out in the yard. It's an up/down thing, but they are committed. Do you know couples like that?
Finny, the dog, isn't burdened with deep thoughts; he dreams of pizza crust. Hero, our eldest dog, is getting weak, so he starts fights to let us know he is strong. Howdy, the alpha dog is a loner- better to protect the farm that way. Hank, the cat, has finally stopped chasing dogs and coyotes. We hope.
JoeGoat is profoundly attached to Holiday, the llama. I used to think that my fence building skills were greater than JoeGoat's love for Holiday, but I was wrong. See, JoeGoat was born in the wrong body. He was meant to be a llama all along, he even ignored his twin. Have you ever known an animal born in the wrong body?
Eventually I gave up the fence fight, now JoeGoat lives with Holiday… but it isn't a happy ending. Holiday hates JoeGoat! It doesn't matter though, JoeGoat is living a dream- but with less hair. Sound familiar?
Sebastian, another llama, loves redheaded women with honey skin. I have learned his type through necessity. I have to warn them that Seb has a poor sense of space while inhaling their breath and smacking his lips. Is this harassment?
And then there is Edgar Rice Burro, and Clara, my young mare. They groom each other for hours, until they are literally covered with spit. I can't say I like her hanging around with someone of his age and experience, but no one is immune to a donkey's charm.
The Grandfather Horse thinks he is the king of the world. He's right. There is a mid-life gelding who is autistic- the vets don't have a better answer. One mare has an equine version of post-traumatic stress, her trust in us grows at a glacial pace. Is it too late for her? The elderly matriarch of the herd tries to be invisible, and yet is so pleased when you notice her. And the Dude Rancher calls our relationship "3 degrees off of true north." That sounds about right.
At the end of the day, I am surprised at how much everyone here wants to get along. Celebrate diversity and pass the cookies.
"Life is just a short walk from the cradle to the grave, and it sure behooves us to be kind to one another along the way." Alice Childress.
Infinity Farm is a micro version of this country. Americans are a proud and rowdy bunch of individuals, too. Freedom can look civilized and chaotic at the same time, but keep in the game- even if the politics make you crazy. Your vote matters- because it takes all kinds to get it right.
Anna Blake, Infinity Farm.