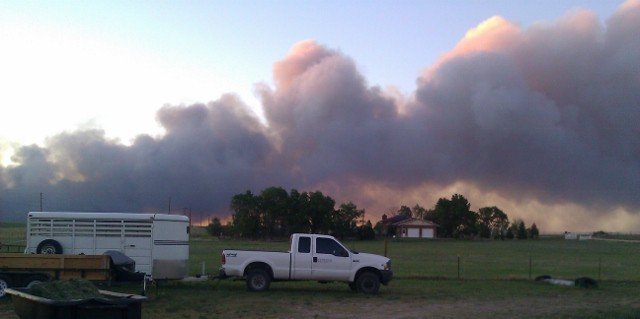 It's been in the 90's all week and our frail new grass was drying up quickly. I walked out the back door towards the barn and saw it: a giant plume of smoke very close. If you were in Colorado last summer, your gut remembers. If you have horses, it's time to hook up the trailer. I watched the smoke plume turn colors and get closer. There's an evacuation plan for our animals but I hate it. Any choices that involve leaving home are hard.
Kari called first, she has a large herd. Could the geldings come here? There is only one answer. An hour later, I almost didn't recognize Margaret's voice. Same answer. Dogs, too? Yes, and do you want to camp in the unfinished garage?
I was moving my horses and scrubbing muck buckets into water containers when the first horse trailers arrived. Kari's six geldings put in the south pasture, and the trailers were gone, not a moment to waste with more horses to move.
Margaret and Bob brought their horses next, left the rig, and then went back for everyone else. Hours passed, I paced outside waiting for them, checking on horses and the visible line of fire on the northern horizon, creeping closer by the hour. The smoke was thick, even in the dark.  At 11:30, Margaret, Bob and their son, Michael returned, along with three dogs, four cats and a couple of large bird cages.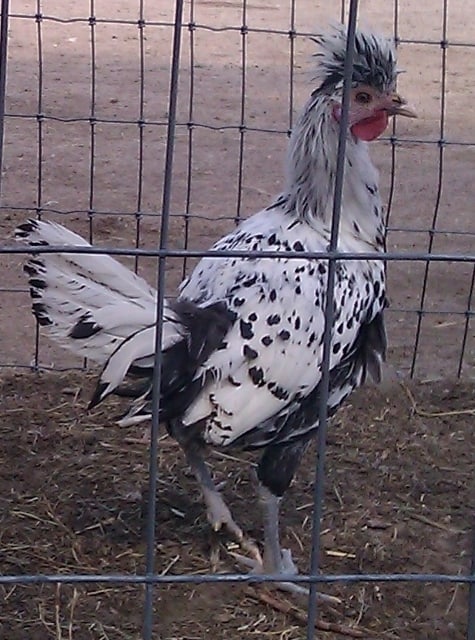 Just as they pulled in, one last phone call; same tone, same questions, same answer. Stephanie, Tracy and their son, Kolbe arrived an hour later. Four sweat soaked horses came out of the their trailer. Dee at 33, was wobbly; she and the two older geldings went in the round pen. The younger mare went into a run. Their load included 4 dogs, 2 neighbor dogs, cats, an entire aviary of fancy chickens and ducks, one rabbit, and a travel trailer. They saw flames through the trees when they left their home.
Once everyone was settled, I checked the news one last time and the fire was 8 miles away. I wondered if we would all be evacuated from Infinity Farm in the morning. I woke up the Dude Rancher to let him know we had more company. The same answer from him, yes. It was 2:30 am when I laid down in my clothes, looking out a window towards the fire.
Most of us were up before 5, taking care of the animals and watching the fire line. Every few minutes a new plume of smoke, black and quick, meant another home gone. I made coffee, and invited our guests in the house.
Local news and Facebook exploded with offers for help, updates from friends, resources available. So much devastation, and at the same time, a firestorm of abundance and good will. I can't imagine the dread our guests felt, but we ate muffins and smiled and were happy to say thank you.
Then chores; time to muck, fill water buckets, scratch noses. While we finished caring for our extended menagerie, some of us left to get supplies. I had to fight to muck my own pens, but I needed some therapy time too.
The first load of hay arrived mid-day. Kari posted a need on FB, and hay fairies Kris and John arrived, hauling over an hour to deliver it. Each errand trip our guests took brought more hay back as well. Later, Dan delivered more hay yet. It was like loaves and fishes, I have no idea how much we'll need, or how long my guests will stay, but the horses are safe.
By afternoon, the wind kicked up hard, trees bent over, the sky filled with smoke. And it blew the fire away from us. There was no happy dance, we all have friends to the north.
Infinity Farm is a small place, with animals in every pen. There is an outhouse. Sigh. Our campground has no frills for sure, and friends in town offered rooms in larger homes than mine but everyone was right where they want to be- with their animals.
At dinner, Margaret and Stephanie remembered a recipe between them and made baked rice and chicken. There were 8 of us, so I put the table leaf in. I usually only do that on Thanksgiving, but that works too, for this group of good, animal-loving people and our many blessings.
As the sun set, the flames were a bit farther away. Both families had found out their homes were spared, so far at least. There was much relief, but no one celebrated, the evacuation maps were humbling. We were just 24 hours in, and it's not near over yet. Just safe enough to sleep a few hours.
Wednesday dawned quietly, but we all knew the wind would come again later. Coffee, breakfast, news, and now what?? We survived the first day, but evacuation areas grew. So much destruction, but even as the wind blew the path of the fire north, there were still black fumes close and no one would be moving home soon.
So we let the old mare out to graze, Dee looks better by the hour. The chickens escape routinely, the dogs take turns in the yard. A very satisfied gray and white cat stares out the window of the garage. Eventually people took showers and I worked a horse.
Thank you for your concern and good wishes. We are the lucky ones, we have an embarrassment of riches. The Dude Rancher and I can take no credit, we just opened the gate to let this abundance in. Everything we gave is returned two-fold. Don't worry for us.
First responders redefine courage by the minute, I am in grateful awe. Please bless all who are lost, soon to be found. And we do well to remember that our best assets will always be each other. Life goes on, be safe.
Anna Blake, Infinity Farm.