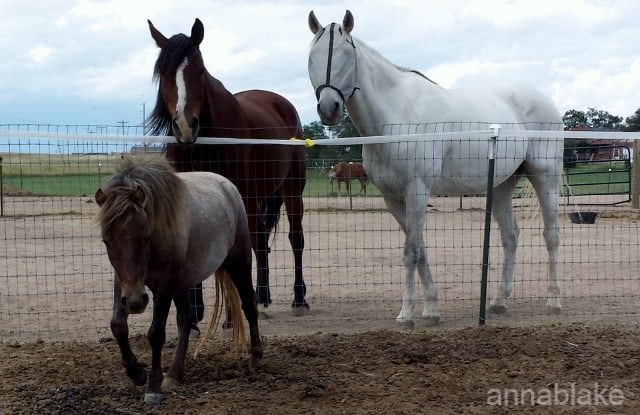 Meet Archie.
He got introduced by that name, but I prefer being a bit more formal with him, as a sign of respect. Archibald feels more suitable.
Here he is passing time with a couple of boys in my herd, but I distracted him with a compliment and he's on his way over for a scratch.
This is no small feat. I have a ton of respect for this horse. It's horses like Archie that embody the finest traits we love about equines.
I'm fostering him here for Ruby Ranch Horse Rescue. Archibald had the kind of start that isn't unusual for a rescue horse. Neglect. There are a long list of ugly details about his herd, he was living in a junkyard with little hay and no water. The owners lived 30 miles away. Imagine the worst, and whatever your mind is picturing, it isn't bad enough. Archie is one year old.
Humans have to show some tiny bit of respect to horses that weigh five times what they do, for reasons of self-preservation if nothing else. But not so much with this breed. Shorter horses feel the brunt of manhandling more. Remember Brezzy?
This small herd had no human interaction, and what they did have, was brutal. Some idiots think it's easier to intimidate than to train. Rope him, slam him against a fence panel, and if that doesn't work, his feet don't get trimmed. His feet didn't but its hard to tell if he was especially difficult, being a young stud and all. The rest of the herd had long hooves, too.
You had me at no water.
Of course, there was no way to halter him at first. To say he was shy is an understatement, his fear was so violent that opening a stall gate would cue him to throw his body into a fence to get away. His behavior was more like a mustang's than a domestic breed. Pat and the others at Ruby Ranch spent hours working on their knees (so they would not be taller) to win his trust. Hours into weeks, using time to halter without violence. Eventually, with patience and good horsemanship, trust returned. Kudos to Ruby Ranch for a job well done!
This is what I respect the most, this is what makes my heart swell with awe. Archibald has such resilience, such a strong sense of self that he sees past his victim's memories. He knows a better future is possible. No small feat again.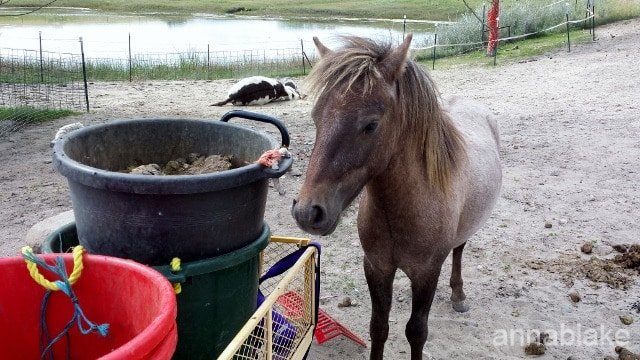 So, he follows me while I muck and he comes when I call. His heart is open and welcoming. Are you that forgiving? Who knows why horses, especially rescues, are willing to reach out and volunteer with humans, but they do. Is there a more glorious creature than a horse?
Think of Archie as a breed, just like Percherons and Arabians, requiring no more or less.Talented but short. I refuse to use their common name, there is really nothing mini about him at all. (Okay, maybe his bill for hay.)
Make no mistake, Archie isn't a toy for a child, just ask my herd who he re-arranges at will. He is bold and smart. Archibald is curious, and courageous, and ready to partner in work with a good human. Archie is available for adoption.
What is a non-rideable horse good for? Everything. They excel at  therapy and service work, they are brave agility horses. Archibald can pull a cart, once he has matured. Trail drive anyone? Ever driven an obstacle course? It's wild fun. And naturally, he can do dressage. There are driven dressage tests and more than that, he could be trained up the levels. You know, in-hand work is the classical approach to training.  Are your horsemanship skills up to training a horse of this stature? This is a great way to gain those skills, if you see him in the full light of his potential.
Ruby Ranch Horse Rescue are my heroes. I am wildly in love with the whole herd there, humans and horses alike. It's a privilege to work with them. Sometimes when ponies come in to Ruby Ranch, I get to foster them here. That way I can train them, kind of on the sly. A foster is caring (and paying) for the horse, but it's a tax-deductible donation to Ruby Ranch at year-end. Everyone gains, especially the horse. If adopting a horse isn't right for you, could you find room to foster?
Right now, Ruby Ranch Horse Rescue, along with a couple of other local rescue groups, are helping a group of this breed of very talented but short horses. They are traveling down from North Dakota and looking for forever homes, and careers, here in Colorado. Check out the RRHR website for more information.
Bold, smart, and very trainable, there is really nothing small about Archibald and his breed at all. It's just our attitude, our understanding that's under-sized. Maybe you have room in your barn for a horse of this stature? The gift of a good life is No Small Feat.
Anna Blake, Infinity Farm.