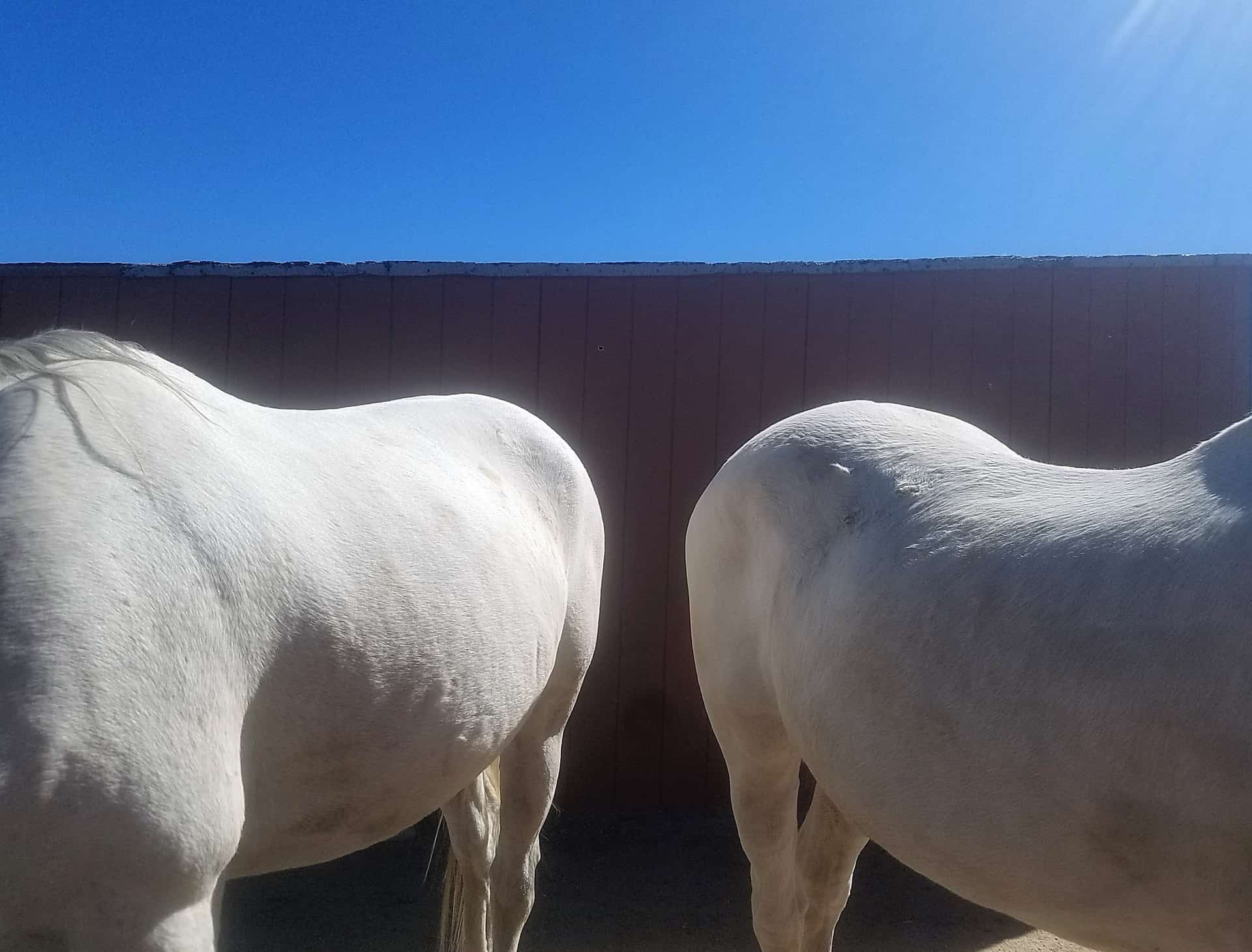 Start here: There is no rule that says when a horse's age goes up, his weight needs to come down. Age is no excuse for thin horses.
It's my Grandfather Horse on the right in the photo. You can tell he's three-times the age of the other horse because he's sway-backed. He was thirty when he passed, with a list of maladies a mile long: nearly toothless, blown tendons, arthritis, heart murmur, cancer, and near the end, some sort of stroke… but his weight was just dandy. #ageisnoexcuse.
I have a filthy habit. I attend horse abuse cases in court. On sunny days, when I could be giving lessons or working with my horses, I sit in rooms with no windows to listen to lies. This week, two of us from Colorado Horse Rescue Network drove to the next county to sit in court. If I was guaranteed convictions with real penalties, I'd call it a guilty pleasure…
The hard part of this dark hobby is listening to the evidence. Testimony on behalf of the horses includes the state of the facility; the quantity of manure, along with usual empty water tanks, and lack of feed. There are usually statements about the condition of the horse's feet and their teeth, but their weight is the most visible symptom. We use a BCS (body condition score) rating system to describe the physical state of the horse on a scale from one to nine.
The most common excuse that lousy horse owners use to justify neglecting their horses is claiming that older horses are just naturally skinny. And yes, there are a million other flimsy excuses for how horses get to this sad state, but it's ridiculous how often you hear the "old horse" excuse. Ridiculous how many elders that end up at auctions look like the walking dead. Ridiculous how little it takes for these same elders (without health issues) to regain a healthy weight.
Disclaimer: Sometimes good horse-people get into trouble. There could be a death in the family or a job loss. Law enforcement doesn't want to seize horses; it's actually a complicated process. They would rather help the owner find a solution. By the time charges get filed, it generally means that the owner has refused a few ideas.
How to tell the difference between an owner who's trying and actual neglect? My personal rule is that if the water tanks are empty, it's a bad sign. Water is free, after all. Even if it is inconvenient to walk out to the pen.
Horses who lose weight with feed available probably have a dental problem. Equine teeth "erupt" through horse's lives; they continue to grow. Daily grazing wears the teeth down but as time passes, sometimes the teeth don't wear evenly, leaving sharp hooks and edges that result in painful ulcers inside the mouth and less effective mastication (chewing) means less of the nutrition in the hay is available to the horse and he loses weight… not because of his age.
Good horse-people get dental care for their horses; "floating" is the process of filing the teeth level to improve the tooth surface for effective chewing.
Confession: Growing up, I don't remember seeing floats done. We were poor farmers and my father dispatched "useless" animals that were thin or old. Times change and when we know better, we can do better. Ignorance is no excuse. Checking teeth is part of a routine vet check. Unless, of course, a horse doesn't get consistent veterinary care, either.
Sometimes in a pen of horses, a few will be an okay weight but others will be too thin. They are being under-fed. The more assertive horses are eating the hay while the more submissive ones are starving. It's still neglect; don't wait until they are all emaciated.
So, there you are in court, listening to a cloud of evidence: some combination of no hay, or no vet care, or just lies and excuses. The defendant always has friends in the court, ready to testify on behalf of the abuser. I always wonder if they are such good friends, why didn't they step in and offer help before things got so bad?
Last year in court, at the end of a full week of expert testimony about the horrific neglect that had resulted in the death of over half of her herd, I listened to a life-long horse-owner explain to the jury, in a perfectly reasonable way, that her horses weren't show horses and they just didn't need that level of care. I looked to the jury and no one's chin was on their chest. It sounded almost rational. Almost believable.
Don't be fooled. Neglect is failing to provide adequate care to any animal you possess and it's against the law.
Now for the rant: I know caring for animals is inconvenient. It's just true–endless time and endless money. And as time passes, you might have to soak mush or buy bags of senior feed. But still, the crime isn't getting old– it's lacking the compassion to inconvenience yourself.
I want to ask a favor. Remembering every chubby old sway-backed horse you've known, please consider posting a photo of them on your Facebook page and copy/paste the hashtag #AgeIsNoExcuse to the Colorado Horse Rescue Network page. Then "like" the other photos there. Help us debunk the "skinny old horse" myth.
If you feel you owe a debt to horses in your life, please participate in our legal system. Bear witness in court; let them know the community cares about animal welfare. Too many times people put their personal convenience above the needs of others, when it's our character at stake.
And if you see a thin horse, kindly ask the owner about floating. Make it easy; say that you didn't always know about it, either. Give them the chance to do the right thing.
Here's our foster, Lilith. She arrived in May, extremely elderly, rail thin, and with, in the equine dentist's words, "expired teeth." This fall, I cut back on her feed, worried that too much weight would make her move a little stiffer than she does already…
….
Anna Blake at Infinity Farm

Horse Advocate, Author, Speaker, Equine Pro