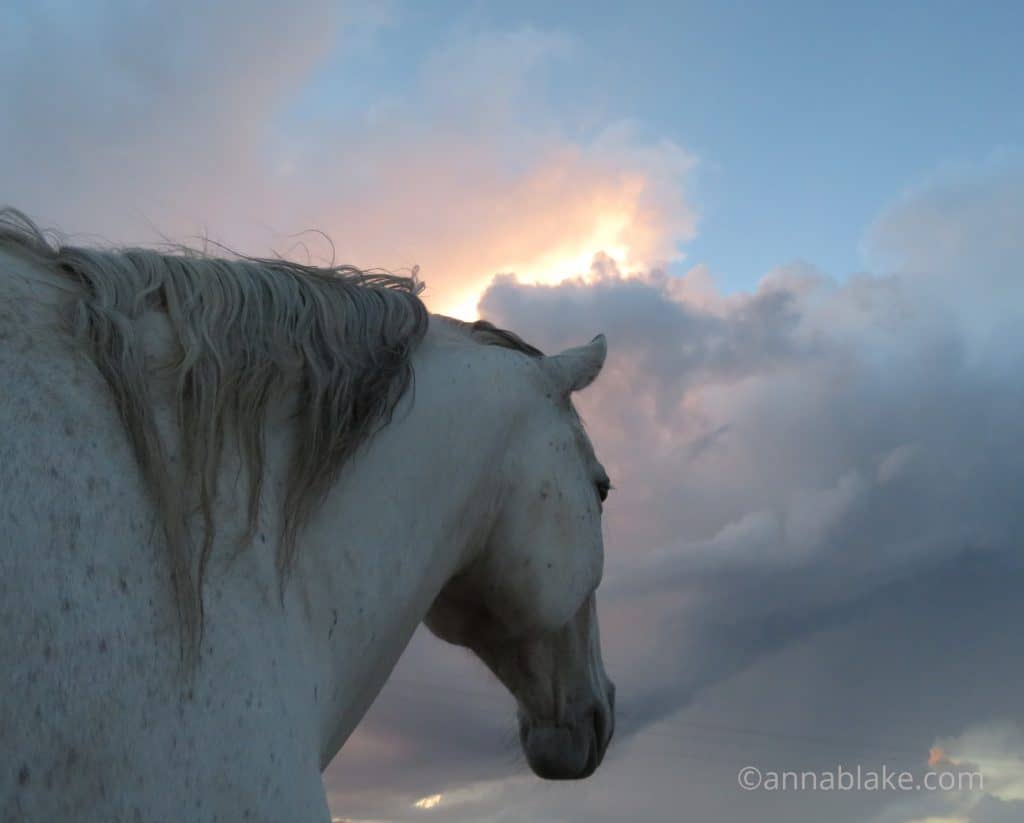 Humans are impatient worriers. On the high side, it means we care but we want to know everything immediately. Perhaps a predator way of thinking; we're always on the hunt, stalking the perceptions that elude us. The more we chase, the more understanding hides. We crave control and we're better at fighting than waiting.
Gaining a depth of understanding takes vulnerable self-examination and as much time as it takes. We lose some balance, running the no man's land between trying to not demand an outcome and giving up needing one. Because we think too much, we have no solid footing but in affirmative training, there we are, always trying to get horses to do what we want, worried that we are not important to them. Sometimes we think so hard that we can't breathe.
We're listening for calming signals, the body language of horses. The term is deceptive. With our predatory desire to control things, we hope it means there is a signal, maybe a hand sign or a verbal cue, that calms a horse like holding a chicken upside down. Can you imagine how rich I would be if I could teach that? There are trainers who lay claim to that technique, but to great damage to the will of the horse.
Listening is what we do when we choose to question our predatory nature.
We owe so much to dogs and their people. All of our insights into calming signals started in the dog world with Turid Rugaas' book, On Talking Terms with Dogs: Calming Signals, and they are ahead of us still. To our credit, horses do require a bit more from us than a dog. Our feet must let loose of the ground. Riding is an equine trapeze act: We fly in the air between strides, trusting horses to catch us.
A defensive rider will kill the horse's crucial rhythm, so we surrender to the gait and try to find the power in letting go and listening. Affirmative training is counterintuitive, we show strength by the actions we don't take.
We're mental. Horses are experiential. When they greet us by sniffing our hands, we're certain they're seeking some magical bond, but what if they're just curious about a smell on our gloves?
Listening is the dynamic action of taking ourselves out of our over-controlling mind and into the realm of our senses.
Horses communicate their anxiety, their Calming Signals, in a couple of ways. Appeasement behavior is directed at another; One seeks to pacify the aggression of another by taking an inferior or submissive stance, such as foals champing around adult horses. "I'm not hurting you, please don't hurt me." When we are fast or loud, we might get this sort of answer.
Displacement behavior is self-directed or away from the other; Such as nose rubbing, lick-and-chew, or yawning, displayed when there's a mental conflict about how to proceed. "I feel anxiety, I'm uncomfortable." This type is harder to read.
He's curious about what's ahead but nervous to leave the group. He wants to please but is cautious about the bridge. He's weighing the sides, he needs time to think and make a choice. Horses are ambivalent.
Ambivalence is a confusing word. I thought it was a kind of apathy, but it's actually a call to action. That changes everything. Ambivalence is defined as having mixed feelings or contradictory ideas about something or someone.
Synonyms include: uncertain, unsure, doubtful, indecisive, irresolute, in two minds, undecided, unresolved, in a dilemma, on the horns of a dilemma, in a quandary, on the fence,  contradictory, clashing; confused, muddled, vague, hazy, unclear, blowing hot and cold.
Horses might give a calming signal because they need a minute to consider their options, and when the definition of ambivalence is right there, it's easier to understand their situation, isn't it? A horse needs time to take a cue because this is the cusp of confidence. They're on the brink of mental overwhelm and it can go either way. If we take a breath here, it cues the same for him. A horse that reasons his options and thinks is a partner; a horse who's careful gets fewer injuries and becomes trustworthy.
But it's natural for predators like us to push. We want to control the outcome, but did you have an emotional reaction to the list of ambivalence synonyms? Was it easy to relate to the awkwardness? Of course, because the learning process makes humans ambivalent, too. In our attempt to understand, we worry that we ask too much or too little or just the wrong way. We worry the horse is distracted or confused and then we become distracted and confused. It's the ambivalent leading the ambivalent.
Perhaps understanding what's at stake for the horse will give our predatory thinking something more to chew on, as we pause to acknowledge our own uncomfortable ambivalence.
Breathing through it is the miracle cure. It calms our own anxiety while giving the horse time to earn the confidence of choice. We must find a way to let those moments of uncertainty and decision making run their course without correction. When we hurry a horse to a cue, we're telling him to not reason it out, but instead, surrender as a prey animal to our superior predator intellect. Will that encourage him to confidently volunteer his best effort?
Listening with patience is a hard skill to embrace, especially for a human who wants to resolve their own anxiety, but recognizing that feeling in ourselves can give us a chance to show some grace, to the horse as well as ourselves.
Indeed, calming signals are more complex and important than any hand signal or voice cue. It's the actual stuff that trust and reliability are made of. Is it necessary to understand each calming signal a horse gives or is it enough to not increase their anxiety by adding our own? What if it was okay for now if both of you are confused but willing to try?
About now you might remember to breathe, but it's hard to do. Mindful breathing means we let the discomfort hang in the air, that we allow someone else the option of resolving the question. If we let go of our predator control, can a horse release some of his prey anxiety? Could mutual calming signals be a conversational path to trust?
…
Anna Blake at Infinity Farm
Join us at annablake.com and on Facebook.
Email ambfarm@gmail.com for clinic hosting details or to be added to the email list.