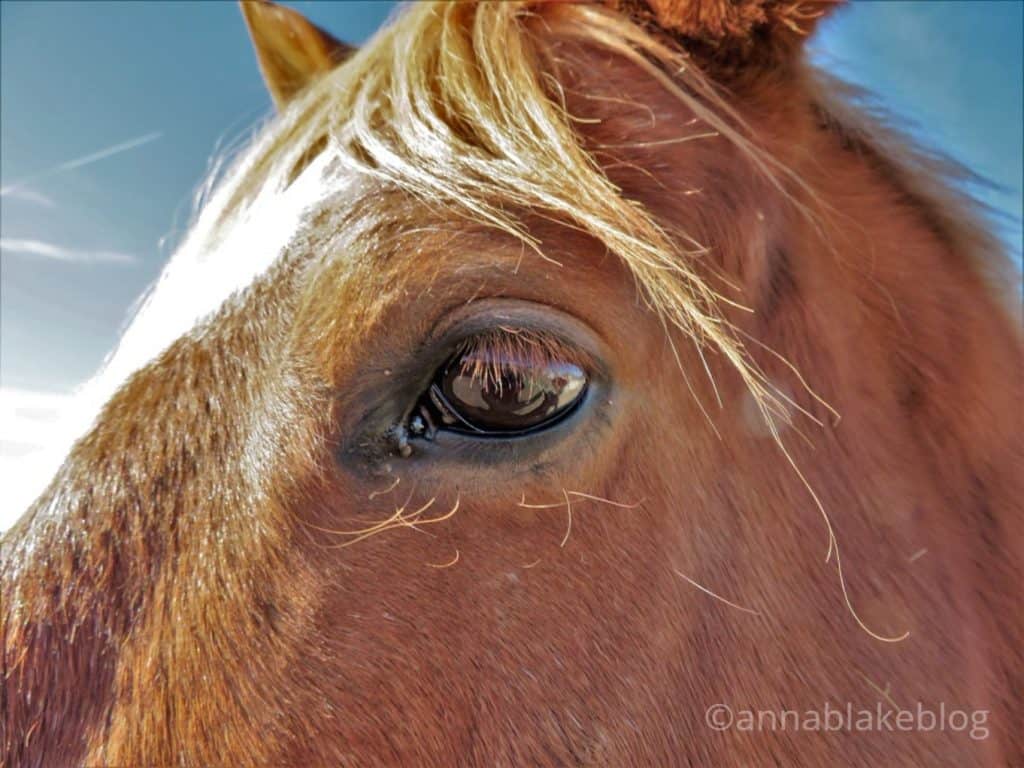 It was the first day of a Calming Signals clinic. I was talking to a group of people about leading from behind and my demo horse stood at the end of my rope, a gelding as bright as a penny. It felt like he was familiar to the people watching and they wanted to see me work with him. When that happens, it could go either way. I had a few words to say before beginning and he was restless, so I gave him a bit more room, stepping back and letting my body turn away slightly. I meant to give him room to settle but instead, he marched to a pedestal a few feet away and stepped up. It was facing the crowd and they laughed and cheered for him.
I smiled, ready to congratulate him for upstaging me, but when I looked over to him, front feet up and standing tall, I saw his furrowed brow, his tense poll, and the sour slight-twist of his ears. People were charmed by him, he'd made the choice to do the "trick" on his own, and now was showing calming signals that were a bit unhappy. If I had to put human words to the feeling I got, it would have been, "Am I good? Do you like me now?"
Some people would love to have a horse who behaved like a self-driving car but there was something about him that made me sad. Had he repeated this trick so often that he did it by rote? Was it a free choice or a worn habit? People continued to say how special he was, and I certainly took no credit. I had done nothing, and we were not working together in the least. He shifted his feet an inch, as if to refresh the pose. That's it; he was posing for the crowd and almost desperate for a reward. I'd seen this kind of look on a dog; that feeling that they've tried so hard they almost burst with the desire to please.
Is this a normal behavior for a horse? It's a valuable question in a moment like this. Sometimes what looks cute or like a funny face is one of anxiety. We can think it's clever that a horse picks up his rope and chews on it, perhaps pretending he's bringing it to us, when it could be a sign of something more serious.
Insecurity can show as a shy unwillingness to try but also the other extreme, bravado is a kind of insecurity as well. Sometimes it shows as bully behavior, or like this horse, what we might call being "teacher's pet." He tries too hard, then keeps on trying. He doesn't think he's enough.
When I begin with a demo horse on the ground, I usually ask for something with a cue I think he might not know. I'm not trying to trip him up, I hope to engage him honestly. If his owner is close, they may see what I'm asking for and tell me the cue they use to get the horse to do the behavior. It's natural for a human to speak up, too. We humans are result oriented and any owner wants their horse to look good.
How did the obstacle become more important than the conversation? How did the result become more important than the relationship?
Back to the pedestal and the good gelding. I ask him to back off the pedestal by shifting my weight from one foot to the other. He poses harder, planted and uncertain what I want. A huge improvement; he's thinking about what I'm asking. A big exhale from me, to let him know he's on the right track. Reward a horse for thinking every time, a thinking horse is a positive horse. I shift again, this time one foot shifts back an inch and I let my weight go to that foot. He shifts his weight and he gets a huge exhale from me. Isn't this how a dance begins?
I had an idea that he was previously cued with the rope to his face, because that's what humans do; we "talk" with our hands. Getting down from the pedestal should be the easy part, but he's waiting to have his face pulled and I won't. Horses begin all their movement with their feet; moving together as a herd begins with a weight shift. My feet communicate all I need them to, and I trust the gelding will hear them. Am I a genius? No, just bilingual.
Meanwhile, he is locked on me, totally engaged. At this point, I have everything I want. His ears are curious, the previous anxiety is gone, and he's focused on our conversation. Instead of an answer by rote, we're together in this endeavor and the result doesn't matter.
I ask for his eye and he arcs his neck toward me slightly. The people watching have become invisible to him. His ears are soft, his breathing has returned. He looks, well, normal. This time my foot slides six inches back and in the same instant, on an untouched slack rope, he follows me back, matching my movement, the most natural thing for a horse to do.
Now he's on the ground facing the pedestal and I'm asking him to walk on. He can tell I don't mean to step up again, so he waits for me to tell him right or left, to cue his face. I want a partner and that means we both get to choose, so another breath, "walk on." A small furrow to the eyebrow and he shifts his weight just enough to loosen the front hoof closest to me. Another exhale; I want tiny bite-size answers. He wasn't confident standing on that block earlier and I want him to know he's getting it right, even if he's just thinking in that direction. I'm ready for him, my weight on one foot, and when he takes that stride left, away from the pedestal, I'm out of his space and ready to go with him.
The world changes, not by huge flamboyant party tricks but by finding a small instant of oneness or connection or any of those big words that mean nothing to a horse.
Bright as a penny, the gelding gives a little lick as his jaw relaxes, as eloquent as our feet to the earth.
…
Anna Blake at Infinity Farm
Join us at The Barn, our online training group at annablake.com
Email ambfarm@gmail.com for clinic hosting details or to be added to the email list.