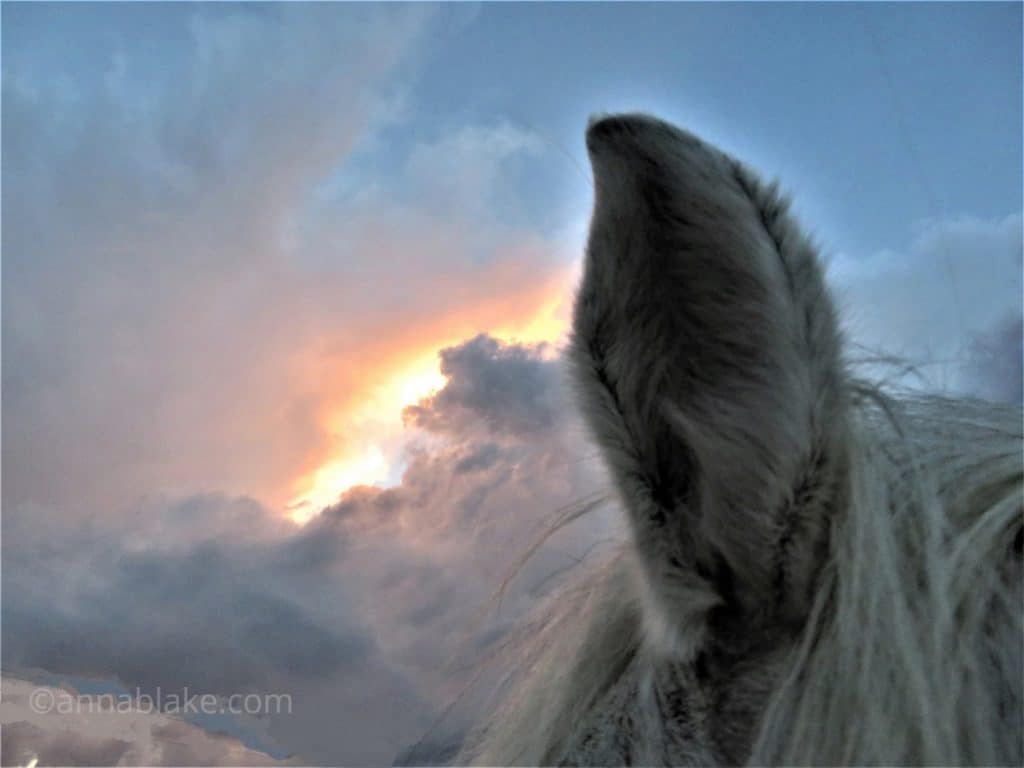 Sometimes your horse isn't forward and it's frustrating. Or he doesn't like the trailer, and now neither do you. Maybe your horse gets cranky when you take him out alone when all you want is to take a walk. And by that, you mean he's the one walking and doing it badly. And of course, you remember when he spooked and you came off. You didn't get hurt badly, but it could have been worse. You keep a close eye for similar situations because your horse isn't trustworthy now.
Maybe you're just a tad bit jealous because someone else has a horse who behaves better than yours. And maybe that good horse belongs to someone who doesn't deserve him. Or maybe that good horse was yours before he up and died.
Could you be holding a grudge? Don't answer too quickly, it isn't that you don't love your horse. Maybe these are just training issues. Is a walk too much to ask for how expensive he is to keep? Are some instances the horse's fault because he's forgotten his training? Is there a sliding scale we can use to judge our grudge? Maybe from malevolence on his part to innocent common sense on our part?
A grudge is a feeling of resentment we hold in ourselves because of some real or imagined wrong done by another. It's a default setting for humans, a kind of self-defense. And if you've been around horses long enough, you've heard of every possible thing happening at one time or another. Or maybe it's just fun to pretend to complain or make a sarcastic joke, with no harm intended.
At the same time, we've been taught that horses read our fear, and "take advantage" of us. Everyone agrees that there is no place for anger around horses, but the problem is that once we're angry we stop noticing ourselves at all. These are big emotions, once things have progressed that far, we're already out of control.
I notice most of us are more passive aggressive. We're as nervous about the big emotions as horses are, so we hold ourselves tight, afraid of doing wrong or making a mistake. We stare at horses hoping for a sign, acting like coyotes waiting for enlightenment, but end up making horses feel we're stalking them for lunch. Horses always trust we're communicating more honestly in our bodies than our words. Do we know the same?
Ever notice how absolutely simple it is to find fault in a horse but at the same time, how hard it is to have an awareness of our own feelings? To know what our own body is doing? It's easier to believe that horses are psychic; that they have a mystical ability to read our inner hearts, that it is to believe that who we are is written all over our bodies in broad daylight. If it's so obvious to horses, why does it seem so hidden from us?
Horses do have a few advantages over us. Their senses are keen, necessary for self-preservation. Each sense is more perceptive than ours. Even beyond that, we are so distracted by our thoughts that we're constantly caught unaware in the moment. We rarely notice even then because we get a bit lazy about using our own senses.  A brain capable of thinking about our thoughts is a huge distraction when it comes to living in the present moment, while daydreaming about feelings is a serious life-or-death fault for a prey animal. It's the biggest difference between horses and humans.
Why does it matter? Horses communicate in calming signals. Body language can be as nuanced as a sonnet, as blunt as a scream. Some calming signals are meant to appease others, a way a horse says he means no threat. Other calming signals are displacement behaviors, believed to occur when an animal is in conflict about two incompatible desires. For instance, a curiosity about something but a reluctance to leave the herd to investigate. It's a sign of stress, or at the least, the need for a moment to think. Sound familiar?
Back to us humans holding a grudge. Seen in terms of calming signals, it could be a displacement behavior. We love horses but don't trust them. We want a behavior but doubt they will do it. We think we can train horses but don't see them as reliable. And those contradictions are written all over us in ways that elude us. Human signals like a shallow breath or a slight tension in our shoulders are as plain as the side of a barn to a horse.
In other words, in the same way horses know it's a halter we're trying to hide behind our backs, they recognize the subtle internal things as well. They aren't psychic, they're designed to be more aware, especially if we are giving mixed messages.
Is holding a grudge a harsh term for having a memory? Or is it adjusted to match the difference in our awareness versus a horse's? Want to hear some real common sense? How the grudge started is not the question. A better question is how do we move forward from where ever we are right now with our horses? It's also common sense that if they can read all the negative emotions, then they can read positive affirmations as well.
Your horse is answering your current question honestly. Are you existing in the past, or can you let it go, stay safe, and act like it never happened? Is it fair to ask your horse to be more trust-worthy than you? If you'd like a better answer, first share the same moment with your horse and that's the present. Improvement comes by evolving how we ask as well as what we ask, and that might boil down to how you feel about yourself. A small change in us creates a world of change for our horse.
What's the opposite of holding a grudge? Forgiveness.
…
Anna Blake at Infinity Farm
Want more? Join us at The Barn, our online training group with video sharing, audio blogs, live chats with Anna, and so much more. Or go to annablake.com to subscribe for email delivery of this blog, see the Clinic Schedule, or ask a question.