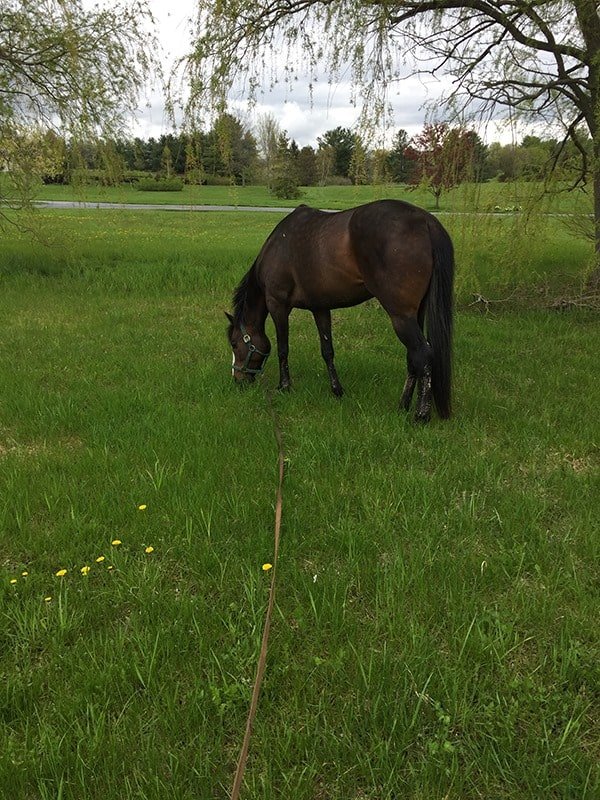 *Public Service Announcement* Your horses pay me a small stipend to remind you of things so obvious to them that they doubt the human ability to reason. They want me to mention that it's spring in the northern hemisphere. The spring grass is very tender and sweet. The aroma is intoxicating. They say even humans, who have no real sense of smell to speak of, must at least see it, for crying out loud. Dew-covered spring grass is better than apples and carrots, you idiots, it's the drug of choice.
A reader request: "This leading from behind business. Sounds intriguing, but the absolute only place my mare will lead is to the nearest snip of grass or weeds. In our defense, she lives in a dry paddock, with a couple of hours a day turnout as conditions permit… I suspect the girl has some degree of food anxiety, maybe, from years of being boarded and getting just two feedings a day. All to say I just can't compete with any bit of green morsel. You've mentioned that the eating may be a calming signal because I'm asking too loudly. Which begs the question, how DOES one ask for something beyond weeding the fence lines and arena??
*Continued Public Service Announcement* Your horse says they have no issue with grazing in any way. It's your issue entirely, even if he gets sick. Horses are designed to graze most hours of the day. It's natural to think of the next meal while eating this one. He concedes that you take good care of him, but this is ancestral survival instinct passed down from infinity.  He wants to remind you that you knew he was a horse when you bought him. He'd also like to remind you that bluntness is an under-rated superpower.
This is our challenge, isn't it? How to be more interesting than grass?
Reader, I do think your mare's past plays a part, as does her ulcer history and the current situation, even with free-choice hay, she reminds you, is sticks and dirt compared to fresh grass. Because most of us have been taught grazing is wicked disobedience, we jerk their heads up. Naturally, their grazing takes on a frantic quality. They think they'll be punished each bite. How could a horse not give a calming signal?
Then there's what horses might read in us when we try to train something new: Desire, passion, want, frustration, impatience, and perhaps a small dose of general craziness. In other words, the exact way horses feel about a spring graze.
Adjust your thinking. Let the horse take you for a walk. Say, "You go first." Leading from behind is a conversation, an exercise. It's more about exploring than training. Leading from behind is curious, peaceful, and done on horse time.
Leading from behind is more complicated than you imagine because it's counter-intuitive to usual training, but at the same time, simple enough that we over-think it should be easy. It's not about them doing something for us. Horses need time to think about that. We've taught them that we'll pull on their faces if they take that step, we've micromanaged their heads. We tend to help too much and do it for them, which is more head-handling.
Horses want us to know they'd be crazy to trust that cue. And for some mysterious reason, every other training insecurity, past or present, seems to come up, too. For them, the question we're asking is bigger than a step. Respect that.
Remember the fundamental law: All forward in a horse begins in his hind end. Leave his head alone. If it takes twenty minutes for him to offer a step, keep reciting this truth. Breathe, let him figure it out without interruption. Offering choice to a horse who isn't used to it might feel confusing to him and challenge his confidence.
Some walk right off, especially if they were ground driven in training, while other horses who were started in other training methods, will start awkwardly at first. The horse doesn't know what you want, but his brain is engaged, so reward the him for thinking. The conversation has begun. Watch his calming signals and if he says you're too loud (by shutting down,) get quiet. Let a weight shift be a big deal. Horses learn in hindsight; they know they're right when we release the cue, so take breaks.
Part of the point of leading from behind is that we don't correct them, we just say yes. If that isn't possible on grass, practice somewhere without grass. Use an arena, put obstacles out. If you want to be nice, put handfuls of hay around for the horse to find. This is supposed to be fun for them, crank up the music. Lighten up. Training doesn't have to be so serious. Horses think we get a bit coyote-like when we think too hard.
Imagine this: Horses could feel freer on a lead rope than liberty work feels when there's a whip. The goal is a walk of autonomy. It's a confidence builder but it means more than that to horses. It's about the freedom to choose. Can we let them be their most natural selves next to us? From the number of people who write to tell me of amazing improvements in other seemingly unrelated issues, I know this matters to horses in some primal way, perhaps healing things as old as the desire to graze.
At clinics, participants have a choice of groundwork, riding, or a combo for their lessons. Recently, we were at an indoor unfamiliar to the horses, with mirrors, obstacles stacked at the end, and lots of odd noises outside. We had a wide range of horses; youngsters and rescues and performance horses, but all the participants wanted to start with leading from behind. We had the best time letting the horses be curious. Every inch was explored, every horse-in-the-mirror was spellbinding. Situational awareness is life-or-death for a horse, but we can trust it to them. The release of stress was palpable all day, as the horses showed us their beauty, courage, and intellect.
…
Anna Blake at Infinity Farm
Want more? Join us at The Barn, our online training group with video sharing, audio blogs, live chats with Anna, and so much more. Or go to annablake.com to subscribe for email delivery of this blog, see the Clinic Schedule, or ask a question.
Working with riders of any level and horses of any breed, Anna believes dressage fundamentals combined with an understanding equine calming signals build a relaxed & forward foundation that crosses over all riding disciplines.