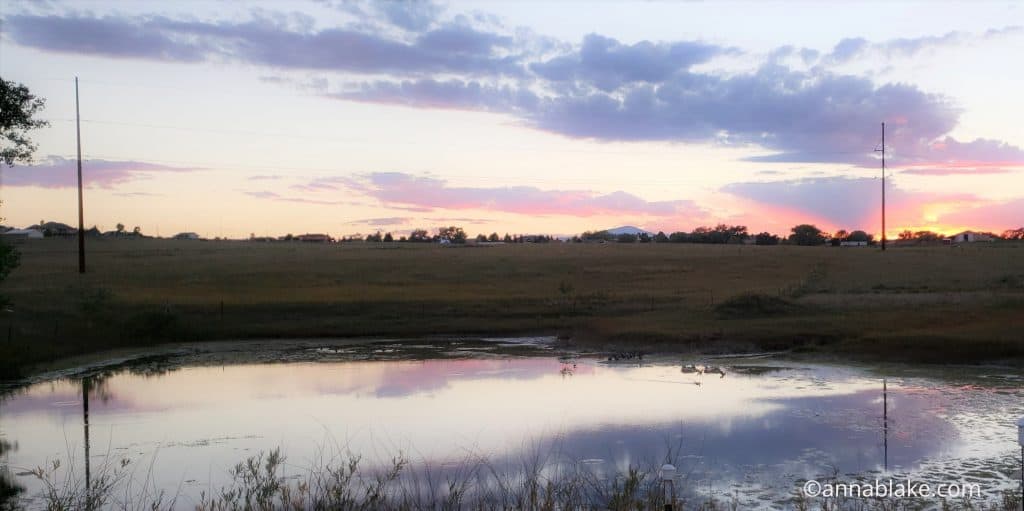 Skeletal power poles from the wind
turbines out east litter the view of the
mountains, splintering the sunset. New
construction treads closer, tract homes
and fast food. This farm was never
announced by miles of white vinyl fencing,
just a mailbox at the end of the driveway.
There are mismatched fence panels,
some white, some brown, some dented
by horseplay. The paddock gates were
hung true but impatient hooves have forced
a tilt while waiting for hay. Fence posts
always need replacing. We could use
some paint and a few truckloads of
fill dirt and pea gravel to replace what
the prairie wind has stolen. Keep the
unglamorous list; the chores I hated as a
kid have become a source of solace, a matter
of pride. Hold steady, home farm, don't
quit on us. Walking the fence line picking
up Styrofoam and grocery bags, as the herd
of displaced deer move to the pond to drink,
scattering ducklings like skipping stones, high
tension lines reflected on the water surface.
…
Anna Blake at Infinity Farm
Want more? Join us at The Barn, our online training group with video sharing, audio blogs, live chats with Anna, and so much more. Or go to annablake.com to subscribe for email delivery of this blog, see the Clinic Schedule, or ask a question.