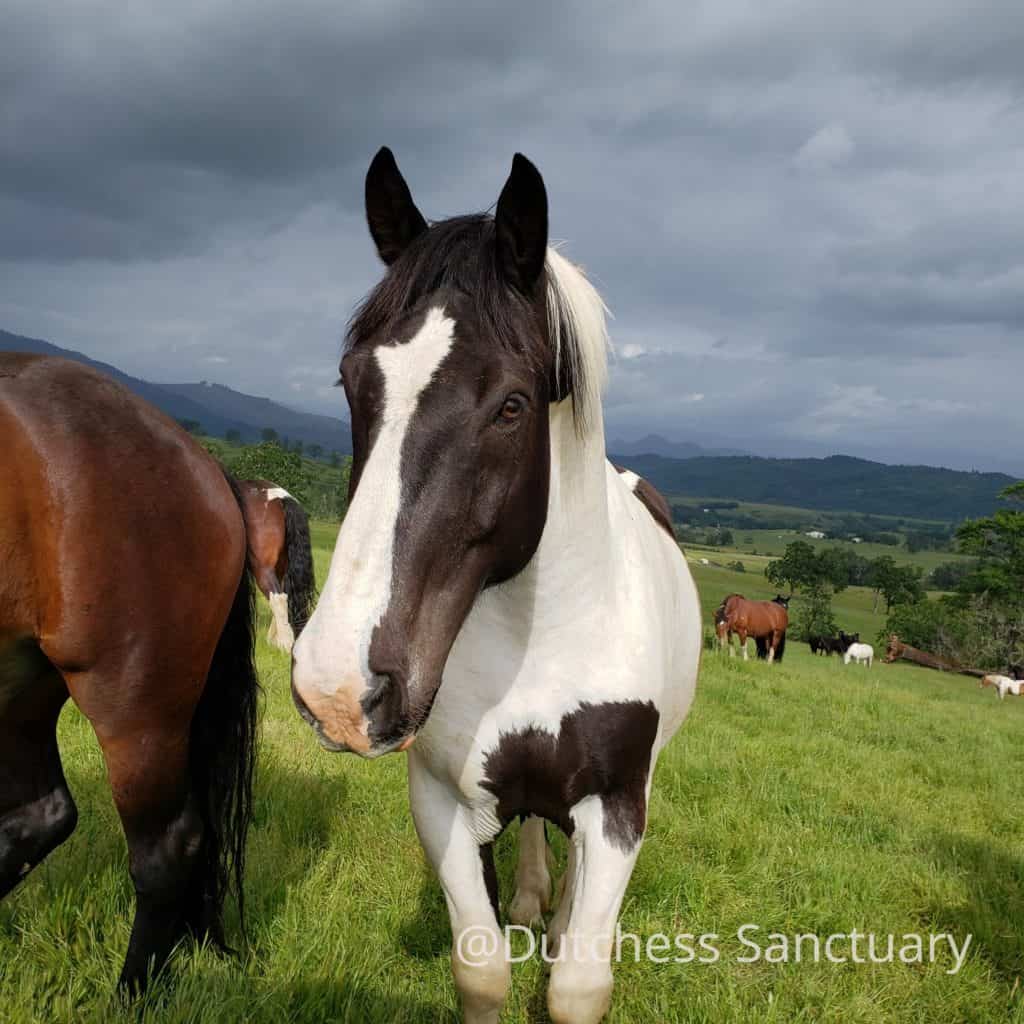 She was a breathtaking draft-cross mare who I met at Duchess Sanctuary this year. There was just a presence about her that made it impossible to look away. She came up for a closer look but didn't pander. Standing her ground, there was nothing she wanted from me and I asked nothing of her. I haven't always had great female role models in my life, but I've learned so much from working to understand mare behaviors, that I translate in a somewhat unscientific way, into my experience. This mare was someone; the whole herd had an undeniable strength about them. Intelligent and curious, just the very things I admire most.
I was asked about the difference between aggression and assertiveness. It made me smile; it was a horse training question but a dinosaur feminist like me will always hear those words with nostalgia. Could women be assertive without being called aggressive? Historically women were valued for being quiet and demure with good domestic skills, made even better if you played the piano. Things that some horsewomen flunk out on before we're even grown, because if you were like me, you wore jeans and learned to drive a tractor before starting grade school.
Classical horse trainers, like James Fillis, wrote that women had frail temperaments, only fit to ride the oldest and dullest of horses, but before you call him misogynist, he also wrote that Italians were too emotional to ride. He apparently felt fine with blanket generalizations.
We almost instinctively judge temperament in people along with their message, and usually women a bit differently than men. A man might be called passionate while a woman might be called temperamental for the same behavior. Now compare your descriptions of Arabians and Quarter Horses. Of dressage and trail riding. Word choice reveals our preferences and prejudices.
Words like aggressive and assertive may fall into a similar category. Are these words interchangeable? I always hear the word aggressive to have an emotion attached, like anger, insecurity, or frustration, whereas assertive has more of a feel of stating your point with clarity, purpose, and perhaps bluntness. Truthfully, both create some level of social discomfort.
I enjoy a spirited, assertive talk; one filled with passion and clarity that challenges my mind to think more deeply about my beliefs. Recently, I listened to a speaker who had a passion for their topic, but somehow it came across aggressively. Listening to that speaker felt a bit like being sent to the principal's office for a lecture and maybe a paddling. I checked the others sitting around me. We were adults squirming in our chairs; we looked away, checked our phones, or stared at our laps. We acted like we were in detention. The calming signals I saw humans use in that situation were more instructive than the information that I resisted hearing.
In the practice of training horses affirmatively, theoretically, we don't get aggressive. We shun trainers whose horses show the whites of their eyes or have tense, ringing tails. Again, calming signals seen in the horse's body language tell the truth, perhaps more than the words of the trainer. We allow ourselves a bit of pride. Instead of fighting with our horses, we aspire to negotiate.
There are certainly exceptions, but if I were to make a Fillis-like generalization, frequently women are passive-aggressive. Perhaps we might have learned it from our mothers, "Honey, are you really going to leave the house looking like that?" Or, "Well, bless her heart, she's as mean as a snake, God love her." What does that even mean?
"A passive-aggressive rider keeps all the fighting inside. It starts reasonably with the fear of the things a rider should fear. And there's no shortage of true danger to consider. Then anxiety creeps in; we think about everything that might happen on the horse but also worry about how we will be judged, especially in our own minds. Then most of us like a little more control than we can have on a horse. But that's wrong, so we stifle our fear and anxiety. We pretend we aren't frustrated and that we don't get angry. We say we have no ego, but instead, we have an unsteady center of worry, anxiety, and regret. With a dollop of compulsive apology on top, and the cherry of self-loathing that we all learned as teenagers."
The biggest challenge we have as riders is to find the middle path in this world of chaos and extremes. Where is the sweet spot between being an aggressive monster and a passive-aggressive bowl of worried oatmeal? The balance between blustery non-stop lecture-training and listening so hard that we are silent non-participants?
Both extremes aren't helpful to horses and they don't care much about word choice, they read body language. Humans can be a bit contradictory; we smile when we aren't happy, and that's just the start. Word choice should matter to us. If we could tack our behaviors to a word, maybe we could demonstrate more consistency.
I believe how we cue is more important than what we cue. In dressage, we believe the art of riding exists in a calm and energetic transition. Most horses don't have all that much opinion about trotting but they do care how they are asked. If the cue causes fear or anxiety in the horse, he'll be tense and physically uncomfortable. With such a jagged cue resulting in an unbalanced gait, a horse is more likely to spook or injure himself with a bad step. If the cue is too mumbled, mushy, or vague it's possible they'll be confused and just ignore it. Then if we nag it just dulls the cue more. Nagging demeans both the horse and rider. The horse might drag his toes to a resentful trot.
Clarity is kindness. I think horses are looking for an honest request. They don't understand indirect communication. Ask clearly, with bright energy but no extra emotion. Just a calm declaration, "Walk on," with the confidence in yourself and the horse that you don't need to repeat yourself. Let your word stand with no apology as if bluntness was a virtue.
Consider that regal mare again. I'll call her assertive. I won't pretend to be her, but I'll strive to match her natural energy.
…
Anna Blake at Infinity Farm
Want more? Join us at The Barn, our online training group with video sharing, audio blogs, live chats with Anna, and so much more. Or go to annablake.com to subscribe for email delivery of this blog, see the Clinic Schedule, or ask a question.