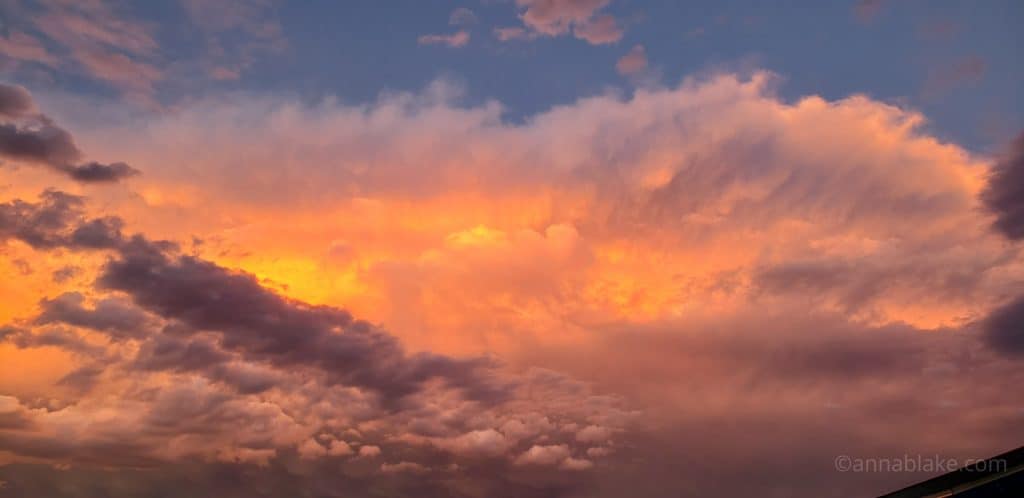 The sunset plays me. In the heat of the day,
colors are flattened by glare and searchlight
bluntness, work taken on, tasks finished.
But when the sunset looks at me sideways,
flirting through the clouds, changing expression
in each instant, I come stumbling out on the
porch, fumbling with my glasses, my camera,
knowing before I'm focused that the sky is
teasing me. It'll look small in the viewfinder,
flat in the photo, but scurry, I do, because I
must keep the color. To the west, such sweet
pastel tones, his whispering conversation thrills
each prairie grass, the scars on my skin go smooth,
as feather arm-hairs lift, but I sense something
bearing down fast behind me. Pulling my eyes
from the syrupy horizon back to the east,
dominating as loud and brash as a marching band,
purple and orange, trumpets and drums, slash
the sky. Devoured by color in light; when the
sunset is through with me, there will be nothing left.
…
Anna Blake at Infinity Farm
Want more? Join us at The Barn, our online training group with video sharing, audio blogs, live chats with Anna, and so much more. Or go to annablake.com to subscribe for email delivery of this blog, see the Clinic Schedule, or ask a question about the art and science of working with horses.