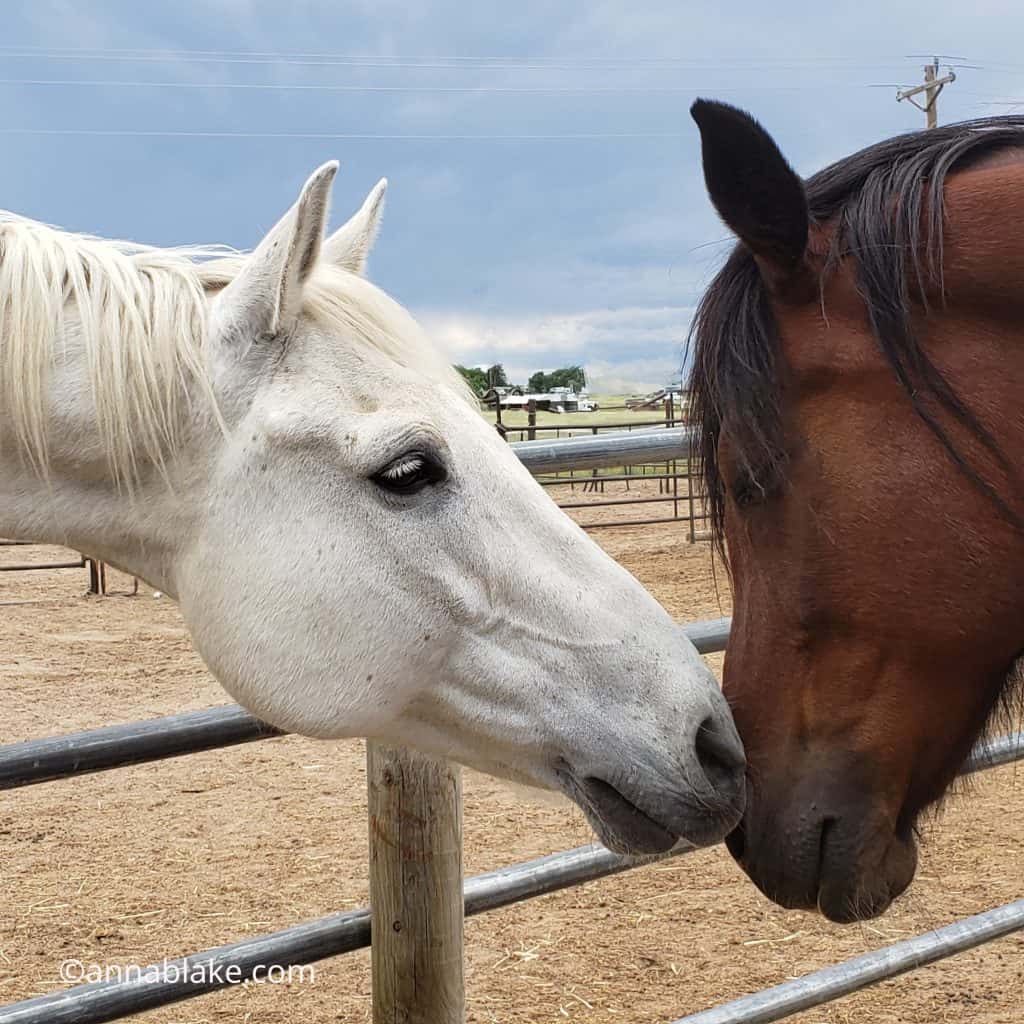 It was a sadly normal week in the larger horse world. Horses got hurt and humans waged war with each other about it. If you love horses, it's easy to blame everyone in sight, easy to scream with vitriol and make sure everyone knows you are better than the haters who hurt horses. Social media is born for pontificating rage from a soft chair, gossiping with our friends who also spit venom and rant in the separate coolness of their home. It takes no special skill to see things that are wrong, especially after officials have called it out. The strange thing is that no one ranting is actively defending cruelty to horses so it's a one-sided scream into the ethers.
This week I got accused of supporting horse abuse because I was appalled by a thread of hate-filled comments on social media. It isn't that I don't share their disappointment. It's just that rage against each other doesn't help horses.
Let's talk horse racing. Babies die on the track before they have adult teeth. There is absolutely nothing good that can be said about racing horses. Except horses race each other in the pasture. Except that I raced my horse as a kid; we all did. Except that even at its worst, I've always known good people who love horses more than money and work for change, while the rest of us complain about it.
Let's talk rescue. We could get all teary as if our sympathy will help the horse when really, we want everyone to know that we love horses so much that we are doubled over with grief. We could make a show of our personal devastation, some of it for real but some to impress others, or get to it. When I started working with rescues, I had to hate all abusers, but life isn't always comfortably black and white. With a little experience, blanket blame didn't work because horses fall through cracks for ordinary desperate reasons. People get sick or lose jobs. Owners die and time passes and now we're afraid. Meanwhile, in the real world, thoughts and prayers are like an air kiss. Action must be taken; hay must be purchased and vets must be paid. Rescue horses are aided by donating money, not crying. It isn't news that humans make mistakes; we are imperfect, and we fail. But hitting someone when they're down is a bit like abusing a horse, isn't it?
To listen to the lynch mob on social media, all competition is bad. All riding disciplines are cruel. All trainers abuse horses. Take a breath. If we get rid of dressage, reining, jumping, and every discipline that injures horses, then include trail riding and turnout, as well. Small farms aren't paradise either. Should we stop owning them? Then horses won't have jobs and it's too late to return them all to the wild. What do you think happens to useless horses?
The mob asserts proof of cruelty by blanket example, decrying the wicked decay everywhere they look. Their world view is pessimistic and the efforts of a huge group of individuals (like us) get denied in favor of mass condemnation. It's more dramatic that way. The problem with speaking in extremes is that it damages everyone, the ones ranting and the ones trying to make a positive change. It's like parents name calling each other in front of the children, the stink of anger leaves a residue on us, we are smaller for it. It diminishes us just a bit in the eyes of our kids, our horses, our friends.
Which might be worth it if it worked, but when was the last time you saw anyone volunteer improvement through public ridicule? Is your own moral superiority or expertise enhanced by name-calling another? Doesn't spewing hate on social media leave a bad taste in all our mouths?
Being an affirmative trainer or rider doesn't mean that you don't see cruelty, it means that you don't succumb to it. If we believe horses are sentient and will learn more by affirming good work than frightening them with intimidation, then don't we also have to acknowledge the same about our own species? I'm not perfect and this is personally challenging, but if we believe in compassion for horses, (forcing a breath,) then don't we have to find it for our own much less perfect species as well?
Can we get past the cheap talk of loving horses, the cheap behaviors that only put more ill will out into the world? Horses need advocates. There are enough haters already. It's when we are able, as a species of thinking animals, to rise above fighting and lift our collective consciousness, that real change happens.
Stand up and do something. Get on a horse and demonstrate a better way. Beat them at their own game; don't let haters ruin the beauty of your riding discipline. Take lessons and improve your riding skills to benefit your own horse, and in the meantime, pay a good trainer. If they are doing it right, they deserve your support. If you don't want to do it, invest in a young rider; help them attend affirmative clinics and learn a better way. Take a day off to go to abuse cases in your local court; show up for horses in real life. Welcome a useless horse into your own barn because change happens one person and one horse at a time, demonstrating a better example.
Sometimes my equine heroes let me down, but I will continue to call out the best that I see, not because they are perfect, but because the thing we pay attention to is the thing that grows.
Affirmative training means training yourself to see the best and praise it. It means we have compassion in the big world because each of us has caused a horse pain, accidentally or without knowing better, or yes, sometimes out of frustration. I hear the guilt for what good people have done to their horses every day. We all wish better for the good old horse who tolerated us when we didn't deserve it. (The ghost of a white horse made me type that, and he's right.)
The flat truth is that our guilt doesn't help either. We need to find solidarity with each other, not because of adversity but from commonality. Whether we are famous or first-time owners, we are all students of the horse and works in progress. But our greatest challenge might be showing other humans the understanding and tolerance we strive to show our horses.
Through history, horses have carried humans through every stage of our attempts to civilize ourselves. Now might be the most important time of all.
…
Anna Blake at Infinity Farm
Want more? Join us at The Barn, our online training group with video sharing, audio blogs, live chats with Anna, and so much more. Or go to annablake.com to subscribe for email delivery of this blog, see the Clinic Schedule, or ask a question about the art and science of working with horses.