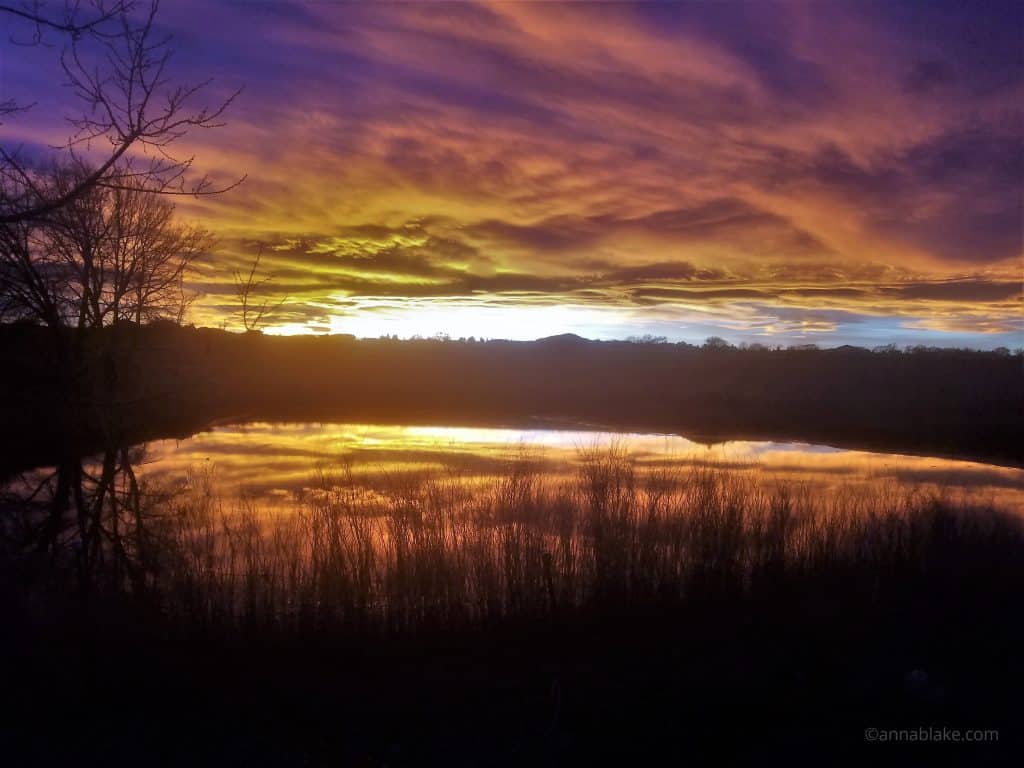 It's been an ordinary year. Animals died here. What could be more normal? Infinity Farm has an extended herd and none of us are youngsters anymore. Over the months, we said goodbye to a boney old Tabby Cat, an ancient foster horse, a young neurologic donkey foster, and a beautiful mare. Aren't all mares beautiful though? Frigid winter temperatures hit earlier than usual this year and I was glad they missed it.
Do I sound glib? As an equine professional who's always worked with rescue organizations, who has helped clients on hard days, and has always had a barn full of my own animals, death is part of my life. Or maybe the price to be paid for living my dream. Still, every time I write about death, I lose a friend. They don't literally die; it isn't voodoo. They just let me know I trivialize death, that I'm shallow for not being so destroyed that I swear off animals; that they love animals so much more than I do, that losing them is not survivable. Each time. As if it was a pain competition.
I've also had a dear friend accuse me of glamorizing the loss of a horse in a world where her husband was taken at a young age. She's right; it's hard to equate animals to people. I do know that when my parents both passed in my early forties, I was darkly comforted to have had mourned before that. I had practice with animals whose lives were shorter than mine. Pets became my training-wheels for loss. At a young age when the world was too big and cruel to understand, I could feel deeply about the loss of a pet and use those feelings to understand a small corner of the devastating effect of world issues like natural disasters and war. And perhaps be more compassionate toward other people's losses. More importantly, I knew the value of each day loving those I shared my life with.
If death is the most natural thing, then the fear of death is a close second. Some of us fear the unknown, but all of us fear life without those we love, regardless of their species. We ponder passing from this life philosophically in broad daylight, or keep it hidden in a secret place, but the downside is our animals are perfectly capable of feeling the depth of our anxiety that they can't name.
Do horses fear death? Of course, and not philosophically. Horses gotta be horses. They fear literal death every moment. That's what it means to be a horse, whose best way of saving himself is to run. Not to think of a solution, just run. He's ruled by his flight response, an involuntary reaction to survive. His primary concern is his safety. Losing control of the ground, his ability to stand and escape, is his worst fear. What does that mean to an old horse when he can't run? Does he ponder the Rainbow Bridge? Losing his herd? I want to understand. I do know they mourn as we do, they have a profound memory, but horses are no fun to debate end-of-life options with, yours or theirs.
I recently had a conversation with a vet who told me about a horse she had recently euthanized. He was a draft horse with purple gums, she said he had such a will to live. I wanted to have the death talk with a scientist. The problem with giving horses romantic notions about death is that we already project so much of our own fear on them. I asked her if it was that involuntary will to survive, to hold the ground and not quit. It's a lesson I've learned from rescue horses left to fend for themselves. Trying to stay standing is a primal instinct for a flight animal, in the same way that we can't kill ourselves by holding our breath. We both intrinsically must fight to survive.
When we take horses out of the wild and pretend they're domesticated, we become their only predators. It's a grim job but we want to think they will tell us when it's time to die. As if we do that for other humans, but okay. The oldest, weakest horse will always act tougher than they are. We know that they hide their pain. We know horses are stoic. We know all this, but we still think they will somehow tell us, their special human predator, when they can't hold their ground.
Sorry. I just don't believe it. I think by the time we finally think they might be telling us it's time, what we are actually seeing could be organs shutting down. That's what it means to be a stoic flight animal. It is an instinct stronger than any other and very hard for a loving human to even want to try to read.
At the same time, our intellectual, heartfelt fear of losing them kicks in full force and the internal fight turns hot. Fear of the unknown: Life without them. We want to fight, even knowing that all stories end the same way eventually. When looking away is preferable, but we pull our eyes back to the one we love. We fight death when that isn't even the enemy.
It can feel like the world is a bottomless pit of grief after losing a loved one. It's natural to hold a grudge about what is lost but we need to be careful where we hang the blame, careful that death doesn't get a bad reputation. That loss doesn't eclipse the living.
The art is learning to let go, to forgive them for dying and focus on love. To let the tears flow and give ourselves the credit we deserve for surviving. To learn to appreciate our own courage to spread our arms wide and welcome life because we have a choice about that. And then make use that left-over love with an old one-eyed rescue dog or a broken-down hay-burner. Can we stare death in the face, pull our scarred and half-lame bodies to full height and say, "Mares are forever beautiful and you will not have me one day early. Not while I have more love left in this bruised, stretched-out heart."
Most of us think horses are teachers, but it's left to us to sort out what dysfunction is ours and what is theirs. Here's a hint. It's all ours. Horses teach us so much about ourselves and yet remain a mystery to us. We need them so much more than they need us. What if we are just a hobby of theirs, a few hours a week. Because I think we might be. Horses gotta be horses.
With gratitude to the animals who have shared their lives and deaths with me…
A book editor told me to delete a chapter about a duck in my memoir, Stable Relation, because no one cares about ducks. Instead, I belligerently re-wrote the chapter about ten times, trying to find a way to explain what mattered about my silly old drake. A very dear man I knew died that same year. In the wild run of the world, with all its war and disease and poverty, his life didn't matter much more than a duck's. But his loved ones missed him as if the sun went dark.
…
Anna Blake at Infinity Farm
Want more? Join us at The Barn, our online training group with video sharing, audio blogs, live chats with Anna, and so much more. Or go to annablake.com to subscribe for email delivery of this blog, see the Clinic Schedule, or ask a question about the art and science of working with horses.