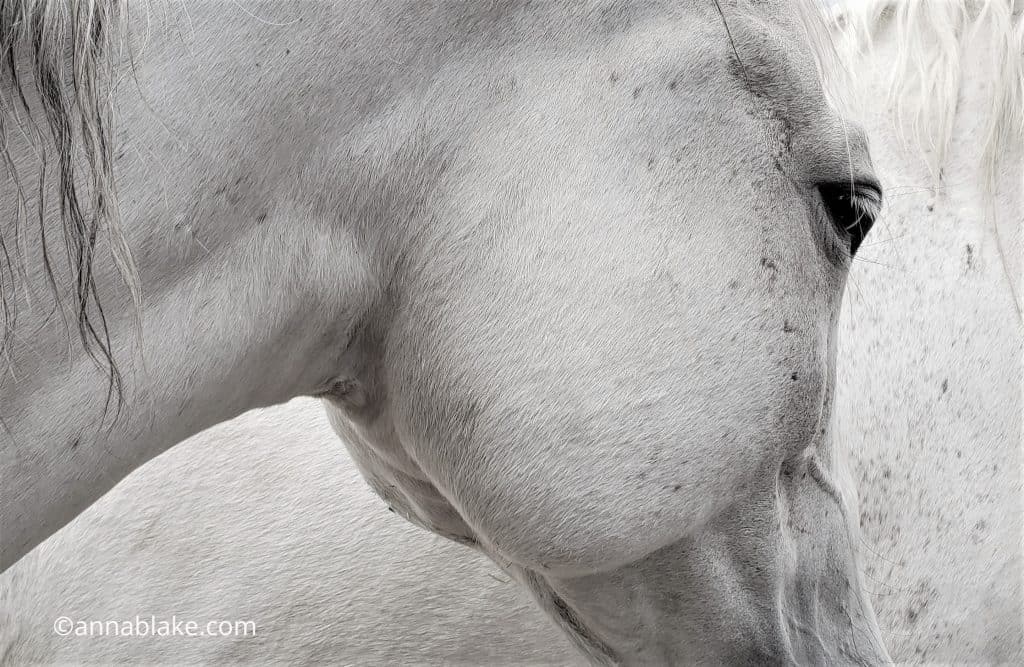 "How do you show your love for horses, then?" A clinic participant asked me at the end of a long day of listening to each horse tell us that we stood too close, that we were too loud, that we tried too hard. Horses are dependably honest and listening to their calming signals is not always flattering. After ten or twelve horses consistently looking away, shallow throat breathing, and shutting down, they made us uncomfortable enough to eventually believe them and oblige by taking some steps back. Everyone could see it.
As we get a bit farther from them, we're rewarded to see a release of anxiety. We know that licking and chewing is a good thing. It means the horse is returning to his parasympathetic/restorative system. His eyes go softer, his neck longer, a few yawns, even better. For the horse who shows anxiety by shutting down, we might see his eyes come back to life, he might shake his head or stretch his neck out. Seeing a horse visibly relax is a beautiful thing, and for those of us working with troubled horses, it might be the turning point we've been seeking. But how could we be the stressor? How could we cause them to move toward their sympathetic/ flight, fight, or freeze mode when we just want to be close?
"How do you show your love for horses, then?" she asked, with real frustration in her voice. I think I answered by reminding her that most professional horse trainers don't write love poems to horses. Poems with calming signals in them, egads.
Still, her question has stuck with me all year. Why is it so important to show love to horses? We have always needed horses more than they have needed us. We've railed against those who use horses harshly, while we cling to them with a girlish passion, perhaps edging on desperation. We all cheer when a country bans clipping whiskers, but when it comes to mauling their muzzles, we can't keep our hands to ourselves. We coo and cajole, and literally bribe them, while taking every flick of the ear personally. We give them power they don't ask for or want. Our love prolongs their suffering in old age. We think we are the center of their world because they are the center of ours. Humans are a bit too needy with horses and if you pay attention, it makes horses uncomfortable.
Still, we obsess over our love for them. We need a self-help book like Horses are from Mars, Women are from Teen-Angst Venus. I know I'm treading on toes here, but it's not like love has been perfect for all of us. Love can be fickle, gone in a day. We cause great pain for others in the name of love. We almost brag about having a broken heart, caught in the romance of drama. I understand the ideal of love but also know that many of us sought horses when human love failed us. No wonder horses seize up a bit at our grasping.
But what can we do? We're besotted girls, giggling with each other about this eternal "pony phase," as if loving horses takes a rare sensibility. We show our love by taking good physical care of our horses; vet care, tack that fits, and a few hundred dollars of extras; supplements, chiropractic, bodywork. And horses continue to give us calming signals. We pride ourselves in putting their needs above our desires. We complain when our horse wants to graze (a misunderstood calming signal) instead of stare into our eyes, then cheer their eventual release, maybe a lick and chew, but is it possible to be with a horse and not create that anxiety in the first place?
What would we have to do to change ourselves to be less of a threat to horses? How often do horses think we are afraid of trailers? Do we scare horses with our worry about dressing a wound? Does our love feel like a ball and chain? How often does our anxiety about life trickle down to our horses?
I can be operatically emotional about horses; I just don't share that with them. My own emotions would get in the way of much of the work I do with horses and cloud my perceptions, and frankly, horses are much more interesting than my feelings. Maybe the real question is can we use our love for horses to change ourselves for them?
Horses tell me that breath is more soothing than chatter. That rhythmic movement is more calming than standing still. That staying with them mentally is the consistency that builds trust. They like space to stand and time to think. And if we are affirmative, their confidence will grow. If we let the air be quiet, they will volunteer. Like magic, they will gravitate to us freely if we trust them enough to give them liberty.
The more quiet time I spend with horses pondering this question of love, the more I wonder if they might not have something better. Human words may not grasp the full reality, but I watch them standing belly to belly eating, craving horseplay and napping through fences with each other. Standing head to tail, swishing flies in the summer, sharing body heat in the winter, fearing nothing but separation. What if they have something even better than love? Part belonging and part acceptance, regardless of bloodlines or colors or age, with shared safety for all and the goal of peace. It isn't an emotion but a way of life together. If we understood horses better, we might spend less time trying to make them over in our image.
…
There is a passion for horses that is the very center of my life. Horses have given me so much that it would be the height of selfishness to ask for one more thing, so no, I don't need or want their love, if there even is such a thing. Having horses in my life is gift enough. I'm grateful beyond all.
Here is a love poem about calming signals from a besotted but serious horse trainer ~with every best wish for horses, and peace for us humans.
Did he want to be invisible? As still
as wood, his head holds solitude in
the corner. This bay gelding does not
have a lightning bolt blaze on his face
or tall white stockings that pull my eye.

His coat the color of honey in tea, his
mane and tail a shade darker. He is
elegance in understatement. Close enough
to touch, I'm greedy to feel his warmth, to
run my fingers though the texture of his

mane. But I stand away. His body is not
mine. My eye travels the flawless arc from
his back, along his neck, slowing at his poll,
he's aware of all that I want. Gazing finally
on his eye, cautiously on guard. So still,

so unmoving, and so exquisitely profound in
his silence, that I exhale my jangling desire
to show him courtesy. Let the air hang in
peace. I will wait for the acknowledgment
that is his to give, not mine to take.

-From Horse Prayers

…
Anna Blake at Infinity Farm
Want more? Join us at The Barn, our online training group with video sharing, audio blogs, live chats with Anna, and so much more. Or go to annablake.com to subscribe for email delivery of this blog, see the Clinic Schedule, or ask a question about the art and science of working with horses.
Working with riders of any discipline and horses of any breed, Anna believes affirmative dressage training principals build a relaxed & forward foundation that crosses over all riding disciplines in the same way that the understanding Calming Signals benefits all equine communication.