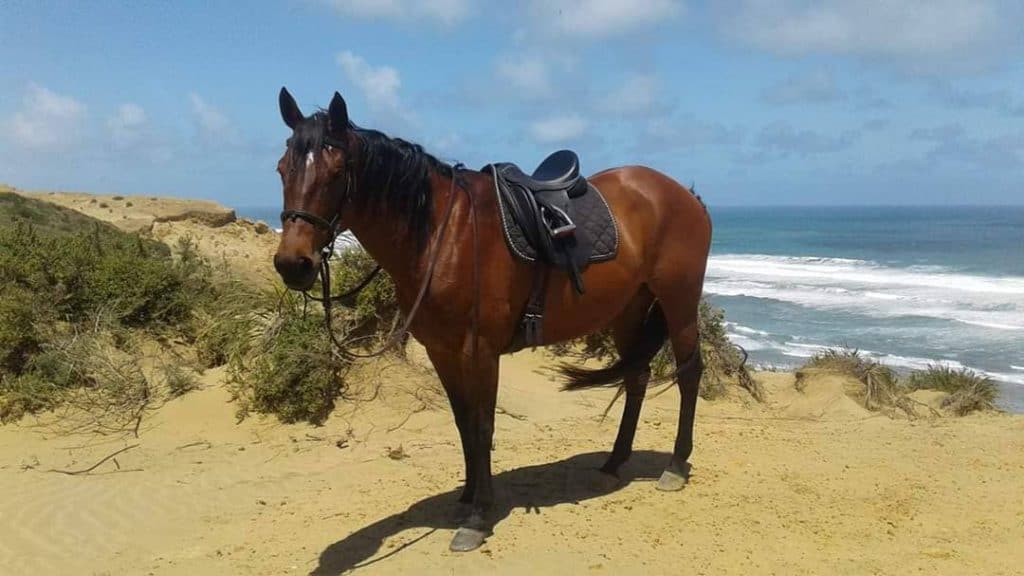 Everyone did what instinct dictated.
The beach was so peaceful. Deserted with not so much as a footprint when they arrived. People in the distance maybe but they felt alone. Just a bay mare and her rider standing in the water and their friend on the ground leading another horse. All was calm but in an instant, a dog attacked, grabbing onto the mare's muzzle. Panic. The rider came off in the surf and chose to let go of her mare, hoping the mare would fend best that way, while she tried to catch the dog. Terror. The mare started to run away with the other horse, who was now loose, too. The dog still attacking the bay mare full-on while she was trying to escape, and the rider called to her. The mare stopped and faced her rider, 60 to 70 meters away at that stage. The mare stopped and the dog managed to grab her again on the chest.
Reader, take a breath. It's going to be okay. The rider was able to catch the dog and tie it to the trailer. They rounded up the horses and found the dog's owner, who was home with had no idea the dog had gotten out. The mare had some wounds that are being tended to. It could have been worse, but in that moment, it would've been hard to imagine how.
Afterward, the rider said, "I had a mare who trusted me enough to stop and turn towards me when I called to her to stop, while the dog was still attacking, allowing me to try and catch the dog. Unfortunately, I could not hold on to it. Whether I should have called her or just let her run I will never know. I felt very strongly yesterday that I broke her trust because I could not keep her safe. Unfortunately, this is just another part in our journey together. On the bright side, we still have each other and there is a lesson here somewhere."
This is part of a recent experience posted in The Barn, being shared here with permission.  Other Barnies jumped up to support her. It's one for all and all for one. But here is where I hijack the narrative to talk about learnable lessons because I am in awe. There were no failures. Didn't everyone respond by instinct, high in their sympathetic nervous systems: Flight, fight, or freeze?
The dog was doing what his instinct told him to. The adrenaline was pumping. and he was all in. The more the horse spun and reacted, the more thrilling the chase. Water splashed, it was utter chaos, and he was hysterical, a family dog irresistibly thrown back to an ancestral life that his every cell suddenly remembered: Fight.
The rider had an "unplanned dismount," sudden and frightening, into the water but came up to her feet remembering what she had learned. She thought fast and made tough decisions. She took the best actions she could, throwing herself to the defense of her good bay mare: Fight.
And some of you readers felt helpless, some wished you could look away. Some of you may have stopped reading, angry with me for writing about it. While reading the original post, I remembered seeing something similar happen to a pair of riders decades ago. I'm still haunted that I was unable to intervene. But here, now, you kept reading and perhaps your breath went shallow like mine did: Freeze.
The bay mare ran. It was her best escape and every muscle pushed. She was born to run, and she reacted quicker than the dog or the human. It's her superpower. She knew this was how generations of wolves have killed generations of horses. Primal fear. She may be domesticated, but her instinct never will be. The dog was relentless, and the beach was open. She bolted away with the other horse: Flight.
Then she hears her name and stops. Against every instinct, she stops.
The narrative matters. I won't turn this into a fairy tale because the real story is too important. It isn't that I don't feel sympathy. It was a harrowing experience for all of them, stressful to even read about.  I hope this mare heals well from this nightmare attack, but I refuse to feel sorry for her. I am too much in awe. Besides, horses are bored by our pity, it reads sour to their senses. I have met this mare; she left an indelible mark. She had a raw dignity within her stoic demeanor. She was always more than her story.
Of course, the mare had a history, it would be easy to rehash that sad tale all over again and feel sorry for her circumstances before she came to her rider. At what point do we let go of the old stories that hold us back? Are we ever too old to be bigger in our potential than the sum of the past? Let it go, she is no victim. Let her's be a hero's tale.
Is this a love story? If you tell it from our side, it's always a love story. We act like our love for horses is a rare unexplainable affliction, when in truth, it's the accepted rule. We aren't remotely special to love horses and this bay mare's rider is at the front of that line. I've seen her eyes looking at her mare. If love was all it took to heal horses, this mare would have no prehistory, I would be out of work, and we would all still be admiring the sky at the beach. No, this pair had been working hard to build something way more valuable to the mare. Confidence is equine gold. What this horse and rider managed was something that dwarfs our all-encompassing passion for horses.
The mare stopped because she trusted her rider. How many of us could pass the wolf test?
Dear Rider, can you control the universe? Never. Not for a sunny moment on a peaceful beach. But second-guessing is for railbirds. You did everything right, and even if you don't believe it yet, act that way for your mare. Did you break her trust? Betray her because you could not keep her safe? That's your big squishy heart speaking; a committed rider willing to blame herself for things beyond her control. Know that you were both perfect. It is not in the nature of a horse to wait for us to save them. If your mare holds a grudge, it will most likely be against dogs. You'll both work on that, but your mare saw you fight him. Trust her intelligence.
An update: The rider is doctoring the mare's body wounds but those on to her muzzle? The mare doesn't want her halter. She isn't betraying their relationship, it's just real-time common sense. Her muzzle has always been the most sensitive spot on her body, she literally can't see that area, and it hurts. Good bay mares always have an opinion. That's normal. The rider is still hopelessly in love, not that it stops the mare from flinging her head all over to avoid the medication. They are a little bruised right now, but on this eventful day, it's undeniable how far they have come, not for what went wrong but for all that was revealed.  And so, they persist.
…
Anna Blake at Infinity Farm
Want more? Join us at The Barn, our online training group with video sharing, audio blogs, live chats with Anna, and so much more. Or go to annablake.com to subscribe for email delivery of this blog, see the Clinic Schedule, or ask a question about the art and science of working with horses.