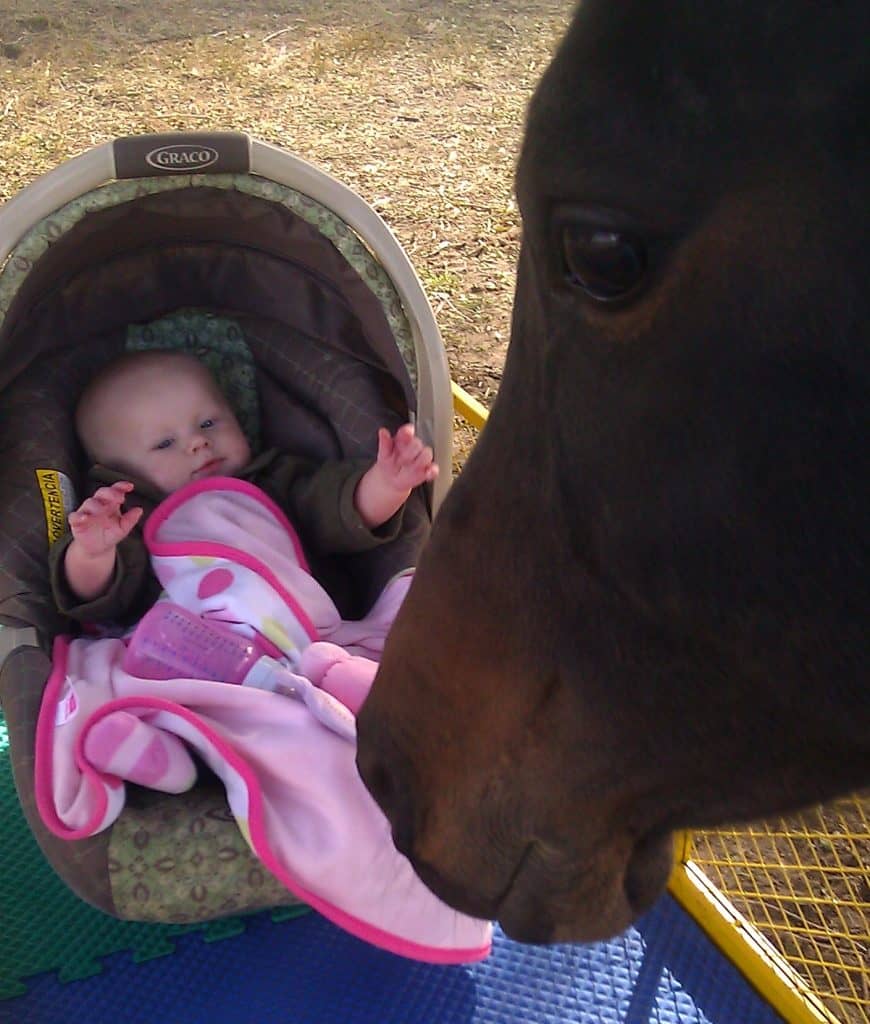 The young visitor stared at the bay mare's mane. "Would you like to
brush her?" I ask. Sending the girl for the grooming bag, I haltered
the mare, a visitor to the farm herself. After showing the girl about
curry combs and brushing with the grain of the hair, she set to the task
with immense thoughtfulness in each stroke, giving special attention to
the mare's mane until it was perfect, her other hand smoothing it down,
chipped nail polish on small fingers, so delicately she could have been
a fly, while the mare kept her head low to her hay. "Would you like to
lead her?" I ask. The girl nodded, her eyes solemn with the responsibility.
Inside the pen, I walked the first circle with them, asking the girl to
stand at the mare's shoulder, to let the rope be slack, and with a nod
to the mare, I stepped back, suggesting the girl take giant steps and baby
steps, like Mother, May I? And the mare naturally matched her, as she
had done with her herd since she was a filly, but the mare's size made
it seem magical to the girl. Walking over, I un-click the lead rope, roll it
up, and say, "Big breath, and walk just like before." The girl is uncertain
but ventures a step. Instinctively the mare picks up a hoof, and the pair
walk on together. It was never the rope. The girl steals a look to see if
I'm watching, her face flushed with wonder, and I smile back so the
girl knows it's real, as the mare absentmindedly continues the baptism.
…
Anna Blake at Infinity Farm
Want more from this horse trainer who writes poetry? Join us at The Barn, our online training group with video sharing, audio blogs, live chats with Anna, and so much more. Or go to annablake.com to subscribe for email delivery of this blog, see the Clinic Schedule, or ask a question about the art and science of working with horses.