It feels like you wake up in the middle of a movie, one of those thriller-action plots that have too many stunts and special effects, and your horse is the star. He is peeling out in a dead run. What's happening? It takes a minute to recognize you might be in the saddle and in a panic, too. Out of control and frozen with fear, with no idea how the movie began, not that it matters, because it's too late to get off now. The two of you are hurtling toward one of those James Bond-like stunt sequences but with none of the cool. Your lips are stuck up on your gums and you have a death grip on the reins. Your horse is bathed in a panic sweat and feels like he might spontaneously combust underneath you. No one is breathing, you're moving fast enough to feel an alarming headwind, and neither of you has any idea how you got here. Oh wait, you remember now. You walked your horse to the mounting block and climbed on totally by choice. After that, everyone followed their instinct.
If you aren't a rider yet, consider the facts. Horses are thousand-pound flight animals. It isn't a choice to panic, it's by design. Their limbic system in the amygdala can engage the motor system (make their legs run) before the prefrontal cortex has evaluated the threat. Or in more comprehensible terms, the route the message takes in the brain is literally shorter to panic than it is to think about it rationally. Horses are hardwired to panic, no surprise. It's the definition of being a flight animal, after all. Once a horse is in his flight, fight, or freeze mode, his sympathetic nervous system, neither of you can pretend otherwise.
If you aren't a rider yet, you can use your rational mind, think this through, and then take up gardening. If you already have horses, there have been some changes to your brain chemistry, kind of like an aftermarket accessory. We still have rational thought in our frontal lobes, but not about horses.
Humans have a similar autonomic nervous system to horses. We both panic, but there are two big differences. We will never be as good at running and we have a frontal cortex which means we can think (overthink) about what happened. Some riders plead random chaos. Out of nowhere, the horse just bucked or bolted, which is the easy answer. Not true, of course.
The rest of us try to unravel the event because there is always the thing before the thing. Like Equine CSI officers, still not as dashing and romantic as on tv, we sift through the debris for a path backward. But since this is real life, there is no tape to replay, so we look for the tiny thing before each of the increasingly larger thing that started the domino effect to disaster. It was all fine and then it wasn't, but if we can deconstruct what happened back to the place just before everything escalated, perhaps we could help our horse in that instant and defuse the event before it happens. And we have finally found a good reason for overthinking.
Horse people always say less is more. The sooner you can sense the problem, the smaller it is and the easier to resolve. Working small has less drama and emotion to the horse and to you. And perhaps you realize that beyond the uncontrollable physical environment, there is a realm you can negotiate with. The runaway that you had was emotional. It was your energy that bolted. If horses are never really under control, and they aren't, then is there a way to gain control our energy? Because it always comes back to self-responsibility. If we want a different result with a horse, we must change ourselves first.
Prepare for an abrupt left turn.
Horses already think we are unpredictable and inconsistent; poor qualities in a predator you are trying to get along with. They are certainly smart enough to remember how much we love to escalate a situation on purpose. We do it, knowing that horses must involuntarily react, and then think if we do it long enough, we will somehow control fundamental equine brain/body function.
We think it's smart to escalate cues in training. Clearly, we think we are god-like that we can hot-wire a response against instinct. The other word for that is dominate. But still, we do it. Perhaps it's our predator instinct.
If the horse doesn't take a cue, we give a larger one, and then a still larger one. The theory is that the horse will learn to take the smaller cue (the thing before the thing) to stop what feels to him like an emotional runaway his rider is having. That in this situation he will act against instinct and his fear will make him obey instead of fleeing. It makes no sense if you understand horses, but like other false ideas, if they are repeated often enough, they can seem true.
Escalating cues is sometimes referred to as a version of the "Ask, Tell, Make" slogan. It sounds totally logical to our frontal cortex. Of course, horses have a totally different brain structure than we do, but theoretically, we are the more advanced species, so we march on, with some success. Some horses appear to give to the pressure. Perhaps they are okay with it. Maybe they move past the flight choice, and the fight choice, and settle on the freeze option. Meaning they pull inside and shut down. They obey on the surface but there might be an unnatural stillness to their eyes.
On the horse side, he was probably in the process of rebalancing in preparation to take the cue when the second louder cues come. He knows what's happening, so he flinches to protect himself from the coming pain from the third cue. But we see that as resistance.
Oh, how to partner with these beautiful creatures without fighting with them! Can we be addicted to horses but find a different, more supportive approach?
From Chief Joseph of the Nez Perce, "From where the sun now stands, I will fight no more forever."  It's a heartbreaking quote from a brilliant leader, and not about horses. But the Nez Perce tribe rode Appaloosas and I said something, much less poetic to an Appaloosa who taught me this lesson. It's a choice: It's possible to just stop fighting. It was a totally new concept that had to be the gelding's idea. I'm a predator, it wouldn't occur to me back then.
Does the "Ask, Tell, Make" slogan work well on you? Does intimidation make you compliant and grateful? Do threats like "I'll give you something to cry about!" work well with children? Can domination make us dependable? Or just like horses, does it make us unreliable and sometimes participants in random chaos?
If we are the leaders, that means we go first. If the change has to begin with us, could we use our famed frontal cortex for something kinder than aggression? Finally, if it is a true partnership with horses that we seek, then we need to give them their voice back, along with their autonomy.
Ask, Breathe, Wait.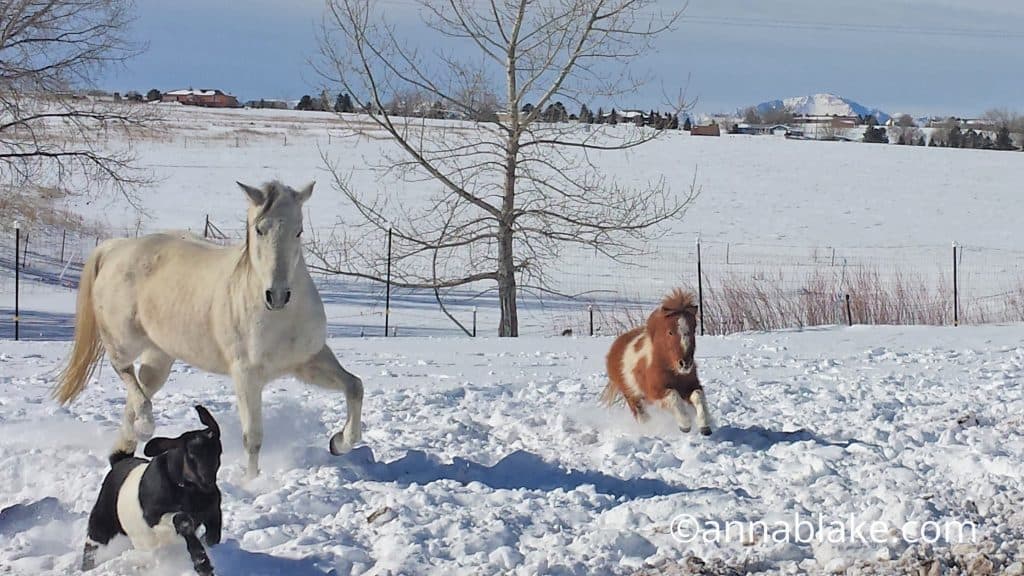 …
Anna Blake at Infinity Farm
Want more? Join us at The Barn, our online training group with video sharing, audio blogs, live chats with Anna, and so much more. Or go to annablake.com to subscribe for email delivery of this blog, see the Clinic Schedule, or ask a question about the art and science of working with horses.
Working with riders of any discipline and horses of any breed, Anna believes affirmative dressage training principals build a relaxed & forward foundation that crosses over all riding disciplines in the same way that the understanding Calming Signals benefits all equine communication.