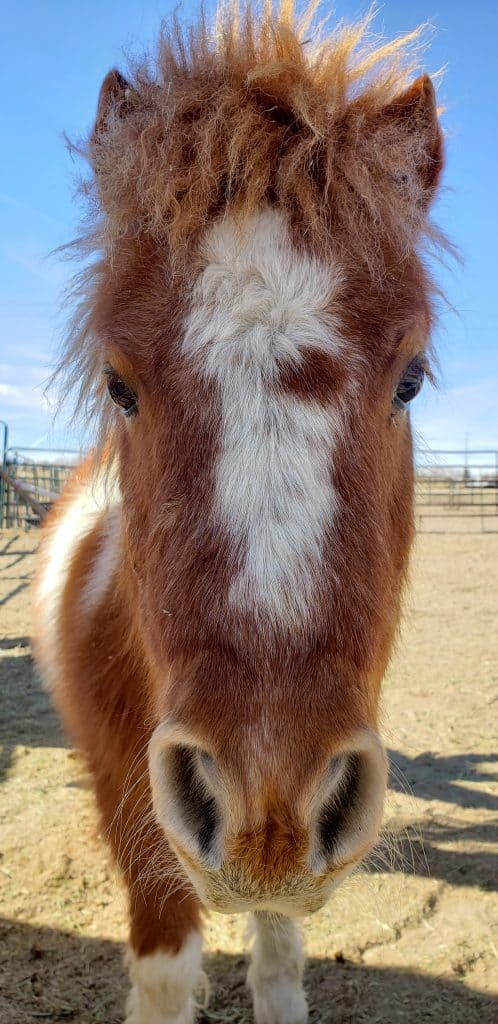 Here is a shortlist of the things horses don't understand: Sarcasm. Exploitation. Shaming. Guilt. Drama.
These are human behaviors that come to life in the frontal cortex of our brains. It's the place we make up stories about ourselves and others. Does some part of us relish drama? Does the idea of a scarlet letter still appeal if you are the one who gives them out? Is it possible to take advantage of our own weaknesses and then heap some guilt on top for good measure? Humans are complicated. We have minds able to create ideas out of thin air, too. Art, music, and science all exist because we have advanced self-aware thoughts. Along with depression, self-loathing, and chronic insecurity. Creative thoughts, in simple terms, are our gift and curse.
Here is a shortlist of what horses think: Am I safe?
Is it possible for us to narrow our thought this much? Could we focus on one question for long, without writing Black Beauty or devising a plan to be safe from the weather or compile a list of good "should" behaviors to follow: Work hard, go to church, save money, keep your expectations low. We learn the difference between right and wrong as babies, but it comes with judgment about who deserves the best toy and who gets cookies. We learn right and wrong without the maturity to perceive the difference between an action and the actor, what we do versus who we are. The result: guilty babies.
Meanwhile, horses have not evolved to have a human brain. They are not on a mission to dominate us or heal us, and no matter how much we love them, they have one abiding concern. Am I safe?
In the name of love, we have been taught to find fault, have been punished for our faults. Judged for behaviors that are beyond our understanding. A moment later, rewarded for parroting good behaviors. Babies are in full-time training. We let foals grow up some, but our babies must learn from the start to read our faces and know that they have pleased or disappointed their caretakers. Soon enough, babies gain "goodness" by putting dolls to bed without dinner or punishing the family dog.
Even now, horses are still horses. Wild by nature, domesticated by our will. But never able to give up their flight response.  Am I safe?
We are never capable of answering a horse's primal need, not because of any shortcomings of our own. But we try to reason with horses. Explain to them that they are home forever; that we will never let them go hungry. Still, no matter how much we try to control their environment, they spook. They look away, incapable of taking our word for their safety. Horses will never substitute our placating chatter for their constant instinct to listen to the wind, to look to the distance for predators.
Naturally, we want to control horses. We set a plan for daily work, consistent hours of work. Some part of us wants to believe that we can make a horse focus on us. It would mean surrendering instinct, but we have techniques for that. We put horses into a version of boot camp, where habit and discipline are meant to reform their spirits to our will. Every day we demand correct answers.
Are we successful trainers or have we managed to push horses past their flight response, to shut them into a freeze response? Do we train our horses to play dead, calling it good behavior? How many of us have been trained to doubt our best instincts, too? To remember the worst about ourselves and diminish the best. How many of us still only speak our first language of judgment?
It's the easiest thing in the world to find fault in our horses. Even easier to find fault in ourselves. We're convinced that if we can beat others to it, we will manage to cling to some grain of rightness. As if self-betrayal was self-love. Does your mind circle in a rut of overthinking, self-doubt and confusion? Does thinking ever solve anything or does this chatter work like a low-grade infection, just making you weaker? It's enough to make you think horses have it right all along. There is an argument that horses are too paranoid about their safety to worry about perfectionism, but that's looking better by the minute.
Here is a shortlist of things beyond human control: What others think. The weather. How jeans fit. Horses.
Throw your arms in the air and yell in relief. You are powerless over lint. Over-ripe vegetables mock you. Your cat understands physics better than you.
Translate that to living with horses and it means your judgment and ego are on stall rest while you ask, "Are they safe?" Still, know that because the vet can't find anything wrong with your horse, that doesn't mean the horse is sound. Give up the idea that there is a technique out there that will make your horse behave. That a training aid will teach him anything. That there is a way to manipulate the environment for an outcome. With horses, the last thing you ever expect always happens. Most of all, horses will always be horses.
The sooner we understand, the better because it lands us right back where we started, in our overthinking brain where we can actually train something. We can train ourselves. Begin by telling all the voices to shut up. Great start.
It's true that horses benefit from consistency, but it isn't that we ride them in a pattern seven days a week. They are smart enough to get bored quicker than we do. Repetition of dull chatter is never the right answer, any more than learning to memorize passages at school taught us to reason or understand. An answer by rote is little help if the world explodes into chaos.
But we have an antidote to chaos. Better put, we ARE the antidote to chaos. The one thing utterly controllable is our choice of response. We can use our frontal cortex for good. Literally, we can affirm our horse. We can short circuit the doubt by choice. Did we forget the free choice part? Just because we see chaos doesn't mean we have to clutch it to our bosoms. Our horse may be escalating into his flight response, for some reason real or not. We don't have to go along. We don't need to punish or ridicule him by rote. We can hold our ground and say something true. As he rears, we can slack the rope and say, "Good boy!" That should get everyone's attention.
While onlookers are busy judging you, your horse can't believe what he heard. Don't we usually get punished for being afraid? Is she going to jerk the lead now? "Good boy, well done!" He's frozen on the spot, he might explode but his eyes are on you now. Throw him a life-saving rope, a big ear-to-ear grin. Remind him who you are. Call out your best self and welcome him back, even before he can come. Be dependable. Act as if love is unconditional.
The consistency we hope for in our horses must begin with us. We set the tone. If we behave conditionally, thinking that teaching right from wrong will turn out a push-button horse, we need to take a peek from the horse's point of view. If we act like a baby-talking, shoulder-leaning, smooching mush-ball one moment and a bi-polar ax-wielding mass murderer the next, well, that's training. But if your horse can find you calm and steady in every moment, good. Let your answer to every disturbance remind him who he is… a good boy. Let the air be filled with affirmation, say yes.
Be the answer to his question: Am I safe?
…
It's our blogaversary. Ten years of posting twice a week, imperfectly but consistently. Thanks to you for reading along and commenting.
…
Anna Blake at Infinity Farm
Want more? Join us at The Barn, our online training group with video sharing, audio blogs, live chats with Anna, and so much more. Or go to annablake.com to subscribe for email delivery of this blog, see the Clinic Schedule, or ask a question.
Working with riders of any discipline and horses of any breed, Anna believes affirmative dressage training principals build a relaxed & forward foundation that crosses over all riding disciplines in the same way that the understanding Calming Signals benefits all equine communication.