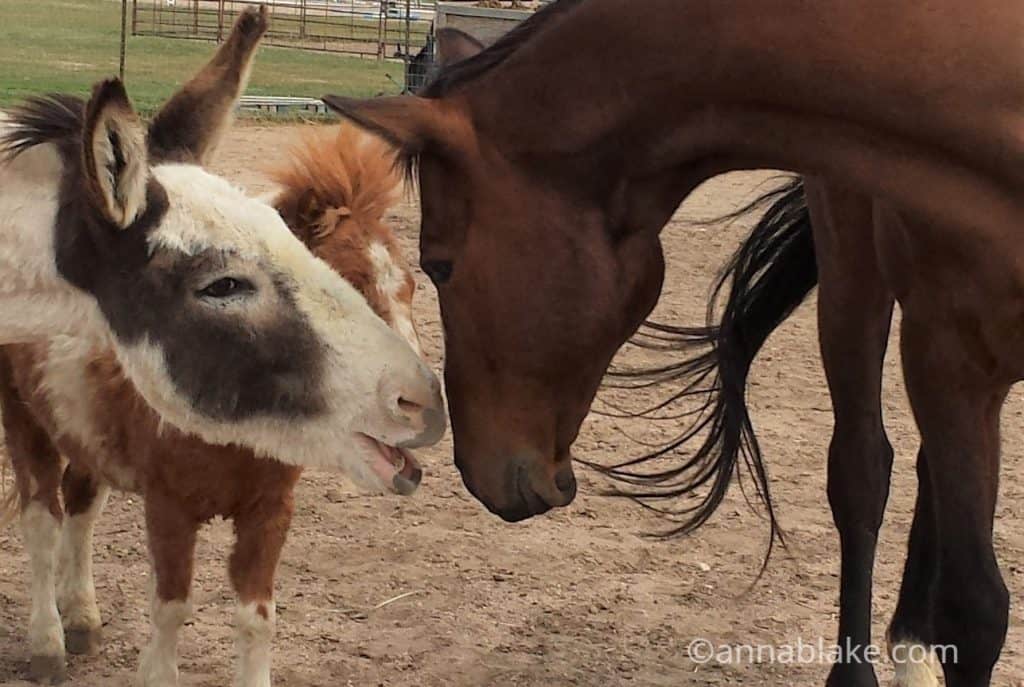 I have to credit a decent mid-life crisis for changing the course of my horse life. Not that I wanted to change; I had two great horses and we were livin' the dream, competing like I'd wanted to my whole life, and having fun doing it. I had good friends at the boarding facility and a trainer who understood me and liked my horses. I had a career that I loved, I could study horses, and was able to pay for most of it. It isn't that I don't know to get paranoid when things go well, it's just that I was getting divorced often enough that I thought I was safe.
Then, like getting hit with a sturgeon on the back of my head, I lost the lease on my gallery and studio. I had ninety days to vacate. I sobbed and howled. I felt really sorry for myself. But you can only cry for so long before getting bored and I had a nagging itch. So, I took a leap and was gone in days. Fifteen years later, I wrote a book about this time called Stable Relation. Long story short, I found a small farm that next weekend. Buying it was the smart and rational thing to do because I had horses and they would need a place to retire eventually. When I got there, both horses went dead lame. The farm was not their dream.
I had the usual outdoor clean up to do. A shed so full of old paint cans that it qualified as a toxic waste site and the county had to come. I used my truck to pull out the chain-link Pitbull runs. They were a serious eyesore. But then, one person's home-at-last farm is just sticks and dirt to someone else. Meanwhile, my horses were settling in and coming sound again. These dressage horses who I knew inside-out, who I'd started as youngsters and together, we'd learned to dance. Well beyond drama by then, we were flawless partners. I was so certain.
Working long hours outside, I noticed the horses were having non-stop conversations with each other and the new llamas and goats. They had interesting goings-on all day that didn't include me. Growing up on a farm, how had I missed this? I'm not saying that I was lonely, exhausted, and depressed, but that's when the Jane Goodall fantasies started.
I began to do research; I scrutinized behaviors and wrote notes as I demolished a broken-down shed. No visitors, no one to impress, and everything slowed to a crawl. The horses got curious, more active. I took notes about that. It was obvious I wasn't the center of their lives, but only a part-time hobby. I got over myself. I stopped wagging my tongue all day, and the quieter I got, the more the animals all spoke up. I practically took dictation, writing even more notes, and reviewing them at the end of the day while sharing a happy-hour beer with the goats. They ate some of the notes, so I went into the house and made a plan. When I did start communicating again, I chose their language and their conversation. I developed a body-voice. The horses told me I was on the right path, so it stuck.
My career floundered after 9-11 and I did a slow-motion butt-fall into professional horse training because you know the money is fabulous. With more equine input, I developed affirmative techniques that aligned with horses, not against them. I found out that understanding horses got better results. Sure enough, even rehabbing damaged rescue horses went well, they were just slower to speak up. After so many years of working with animals, it felt like I'd discovered a new world.
It's always right about then you find out someone knows what you know, they wrote a wonderful book about it, and they gave it a perfect name. Calming Signals, written by Turid Rugaas, and it's about …dogs? Her book made so much sense, that I first blogged about Calming Signals with horses in April of 2014. It went viral a few times, more credit to Turid than me. Calming Signals have found respect, supported by horse books, like Rachaël's. I've lost count of how often I've written or given clinics about Calming Signals, but the thrill never changes. Being able to converse with horses still feels like discovering a new world each time.
On this anniversary, a new primer. I think I can articulate it better now.
We were taught to march in with a stick and correct everything horses do. We ask-tell-make them go when they aren't ready. I've watched people land in a round pen like a helicopter, terrify the horse to near collapse, and then make a list of bad behaviors that hadn't existed before. Have we always been so arrogant? We only prove we're predators. Some of us rebelled from those methods and became overtly loving. Now we invade their space and lurk, acting like stalking coyotes. Predators again and predators are famous for thinking it's all about them.
Rule one: human logic rarely works on humans and almost never on horses. We overthink in our frontal lobe, intellectually or emotionally. Horses don't have the same frontal lobe; they don't tell themselves stories about training humans. Horses exist in the physical awareness in their body. Survival depends on their acute senses focusing on the environment. If we want to converse with a horse, we need to use that same part of our brain. We need to stop intellectualizing and be more aware. Let the first question be about them. Then, listen from that place. Politely wait for his answer.
When a horse looks away, either with his eyes or whole head and neck, it's a calming signal. He feels pressure, sensing the person's emotion or agitation, and wants the person to calm down. He sends a calming signal, this time half-closed eyes maybe, to let the human know he's no threat. He's flashing a peace sign. In the horse's mind, he's being clear and polite.
There is nothing mystical about calming signals, they're no more complicated than learning Spanish. I think it's listening that we don't understand.
Listening requires patience and a shift in perspective. We need to see the horse's side, but not as it relates to our emotions or agenda. Let that go. Horses only care about how they feel. We must prioritize the horse's concerns and acknowledge that the things that matter to horses matter to us, too. It doesn't come naturally to predators. It takes a conscious effort but once you do that, it's amazing how many seemingly unrelated training issues disappear.
It was always about the horse's anxiety. When the horse tells us that he's no threat, we have to understand it means we are the threat. When we relieve that anxiety in ways a horse understands, the horse will finally feel safe. Training becomes obsolete. He'll work with his whole heart to do anything you ask because he knows his worth. You become trust-worthy together.
Words are only noise. Listen to his body. Then answer with yours.
…
Anna Blake at Infinity Farm
Want more? Join us at The Barn, our online training group with video sharing, audio blogs, live chats with Anna, and so much more. Or go to annablake.com to schedule a live consultation or lesson, subscribe for email delivery of this blog, see the Clinic Schedule or ask a question about the art and science of working with horses.