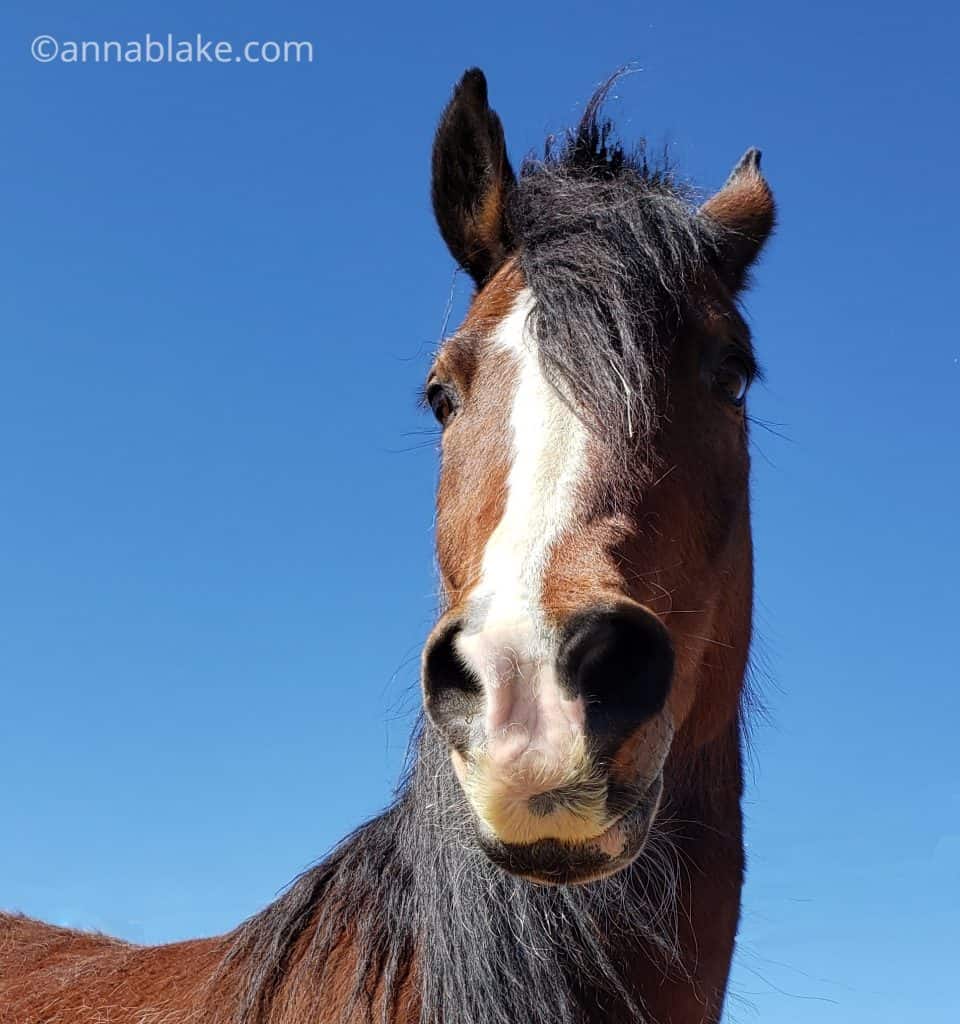 For us long-timers, if we've been lucky, it feels like we're always standing in a ghost herd. They're good company but they're not looking over us so much as being ready if we forget and start to feel a little cocky about knowing much. Then one of the herd will push past and an airy flash of his tail leaves us scrambling to catch our balance. How many horse-lives does it take to train a human to stop letting our brains tell us stories and pay attention to them? Perhaps the thing I feel the most regret about is confusing my horse's fear with disobedience. Could I be more tone-deaf?
The horse spooks. Maybe he freezes on the spot first, and you hold your breath until he explodes. Maybe there is less warning and he does a full-body flinch and launches into the air. He's spinning, his feet don't hold, and he flings his head to seek balance as his hind end engages the power to bolt. His eyes are rimmed in white terror, his nostrils tense from snort-breathing. He seems at least four hands taller.
Is this the horse to pick a fight with? Somehow, "they" decided that the horse was ignoring us. Like a prey animal can selectively ignore his environment. "They" said he had no respect for us, as if a horse understands the obscure human concept any better than we do. "They" said get his attention, and so we started yelling, snapping the lead line, getting in his face, making ourselves bigger by waving arms. Never mind that in front of him is his blind spot.
We make the horse's fear became all about us. We steal his fire in favor of our need to be the center of the horse's attention. Our need to control his every step. Our requirement that the horse be isolated from his flight instinct, while we go full-tilt predator. We bully him for being afraid. It's enough to put you off humans entirely.
Even if we fail at intimidating the horse, but we're as scared as them, soaring in our own panic mode. Now it doesn't exactly matter why it all started, here we are. Nobody trusts anybody and if fear wasn't enough, now it's worse. The horse has panic about feeling fear. When you and the horse look at each other, you both see dread.
What should happen when we're on the ground and our horse spooks?
Prepare ahead. Keep consistent daily habits that will help both of you. Throw out any of those silly lead ropes that are eight or nine feet long. If you listen, horses will tell you that you're usually a bit too close, even on a good day. It's contradictory to hug a horse part of the time and punish him for being in your space a moment later. Rather than bickering about who crowded who, be a leader and mentor space and peace. He doesn't want you under his hooves any more than you want to be, so train yourself to be stay light on your feet. Begin the practice of standing a few feet apart. Teach your horse how good autonomy feels by using a lead rope that allows social distancing. Instead of trying to exert control by pulling his head when he looks away, get into a habit of giving enough space that the horse can survey his surroundings without thumping your head. Are long ropes inconvenient to handle? Fine, use them until you become comfortable.
Once you decrease the horse's stress by standing away and not micromanaging his face, consider the idea that rather than one of you being in control, you are partners moving together through the environment. Adjust to each other. Make sure you hold the rope firmly in the grip of your hands, but let it slack to him. When he looks away, let your hand follow. He has a right to look.
Notice how often we correct things that aren't wrong. Spooking is an instinctual response to anxiety about his surroundings, the moment that anything might happen. You're the wild card.
When the horse does actually spook, it seems he can't even see you. Understand it's because he's hardwired, legs to brain, to panic. It's how his brain works to save his life. Once a horse is in his flight or sympathetic mode, he can't reason. It's why the old method doesn't work any better than cooing and coddling. Horses need to move, not in disobedience, but as a way of soothing themselves. You have enough rope; you can mitigate his fear. Now is a good time to notice neither of you is breathing and it's a cue you can give, as you keep yourself out of his way.
In this moment of tension and drama, being quiet will give you the loudest voice. You can embody a human calming signal, an affirmation that you are no threat. Breathe like a warrior, with depth and strength, feet fluid to earth. Find your self-control in an inhale, emphasize balance on the exhale. Horses do not seek conflict, and you can offer an alternative. Peace is no flimsy thing. It isn't merely the absence of aggression, it is the bold action of acceptance. Say, "Yes!" Give him a chance to calm himself. Breath has the magic ability to slow time.
Now, an enthusiastic, "Good boy!" Stand wide to the side, repeat the praise with confidence. He's smart. He knows you aren't rewarding him for being bad, but rather you're reminding him that he is good. Breathing is a cue to think. You're building his confidence that you won't throw a fit. Hold that space, let him learn it for himself, and witness a partner step up.
Horses expect us to act irrationally. We've done it in the past or others have. Humans are predictably prone to panic. We're widely known to spook when scared and attack when threatened. Humans can behave like wolves. In the crucial second when fear arises, a horse checks to see if we'll lose it like humans do.
We simply must stop taking that dare. We have to prove they're wrong, that we aren't that person. Instead, become a calm anchor in the storm, tether him safely. Make enough space for the horse to be safe from our misunderstanding and frustration. Safe from our fear and anger. When a horse is frightened, we must cherish the opportunity to slow the moment with an exhale and gift them time for a choice. The consistency that your horse needs most is your temperament.
…
Anna Blake for Relaxed & Forward
Want more? Visit annablake.com to see our new class schedule, book a live consultation or lesson, subscribe for email delivery of this blog, see the Clinic Schedule or ask a question about the art and science of working with horses. Join us in The Barn, our online training group with video sharing, audio blogs, live chats with Anna, and so much more.
Working with riders of any discipline and horses of any breed, Anna believes affirmative dressage training principals build a relaxed & forward foundation that crosses over all riding disciplines in the same way that the understanding Calming Signals benefits all equine communication.