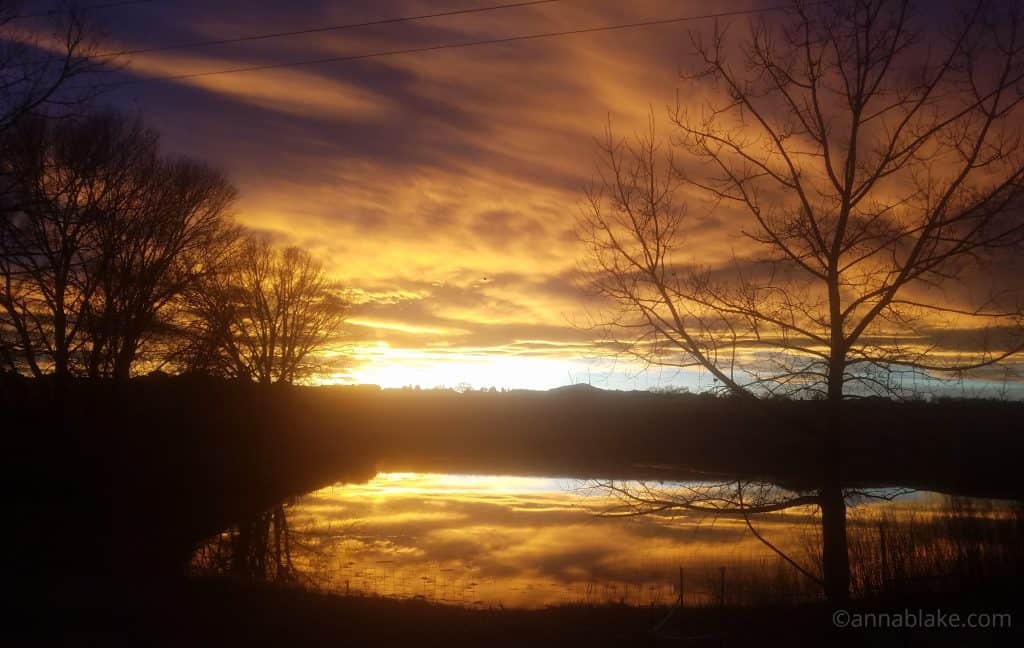 Talking with her while I walk the farm, I say look
what you've done with the new grass. Earth sends a
breeze to finger the dandelion fluff balls, a few seeds
released. I wonder if she's forgotten the elm tree, twigs
barren of leaves so late in the spring. The growling
sound of the four-wheeler is the new neighbor who
has no livestock, who has already burned a track in
the fragile prairie grass running laps, traffic roaring
to the pond's edge, pushing the Canada goose pair
to my pasture. I ask my friend, does she know, have
they quit their nest? She lets out a slow breath, the
wind comes to a rest as the sun rolls over the horizon,
each of Earth's colors leaping up to the clouds, then
lingering to mourn the day, reluctant to be swallowed
by the dark. I wonder how many bittersweet sunsets
are left for me now. And does she wonder the same.
…
Anna Blake for Relaxed & Forward 
Want more from this horse trainer who writes poetry? Visit annablake.com to see our class schedule, online courses available on a revolving basis on Calming Signals, Affirmative Training, and More. You can book a live consultation or lesson, subscribe for email delivery of this blog, or ask a question about the art and science of working with horses. Join us in The Barn, our online training group with video sharing, audio blogs, live chats with Anna, and so much more.