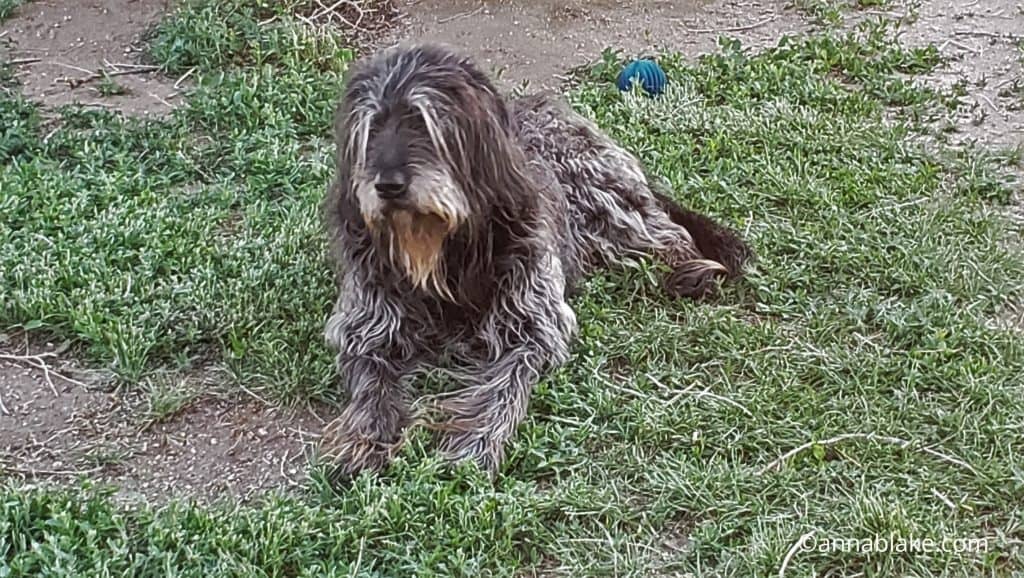 A deliberate old dog pacing the yard fence
with gray dreadlocks and a stiff stride. A
mixed-breed badly constructed, a heavy
body on spindly legs, but no longer content
to nap. He has worn a path but remains a bit
bewildered, not trusting his eyes or ears, his
nose intent on the breeze. The distance calls him
just beyond. Restless and thirsty, a scoop added
at dinner to hold his weight. Call his name.
He appreciates the reminder with a wag
but doesn't come. Old dogs do as they like.
It's cooler after dark, but he can't find his way
to the dog door, so he stands and barks in a
flat tone, one after another, plaintive and blunt.
Here. Here. So, I go there, welcome him up
one step and in the door. A drink, water trailing
from his whiskers across the linoleum, he goes
out the dog door. Soon he calls again. Here. Here.
Answer the bark, hold the door wide as often
as he wants. Come in, old man, welcome home.
…
Anna Blake for Relaxed & Forward
Want more? Visit annablake.com to see our class schedule, online courses available on a revolving basis on Calming Signals, Affirmative Training, and More. You can book a live consultation or lesson, subscribe for email delivery of this blog, or ask a question about the art and science of working with horses. Join us in The Barn, our online training group with video sharing, audio blogs, live chats with Anna, and so much more.