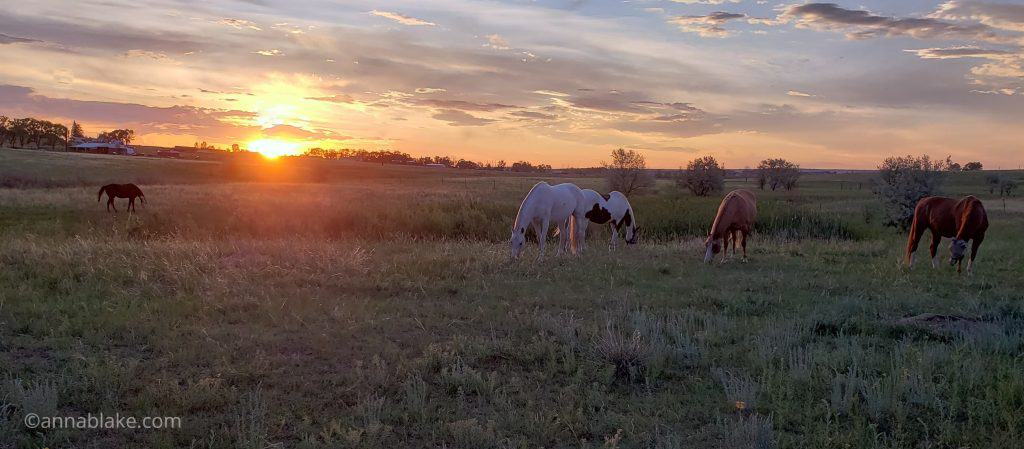 Midsummer, the mare stands square, hooves flat
and neck low, her muzzle faced into the corner
of a dark stall, her tail as still as the heat. Do not
disturb. Hat brim tilted for hot shade, dragging my
feet in small circles, searching dusty bins for one
more clamp needed to repair a gate. Water tanks
that were fresh in the morning, now lukewarm with
soft algae creeping up from the base, still rinsing my
hands, working them to my skull. Heat so dry that
a pale green sweat is welcome. Heat so still that birds
have gone silent. The bay horse stands apart in the
east corner, watching the shade from the tree inch
across the sandy ground, patient until the afternoon
clouds turn purple and roll out from the mountains.
A late breeze skims the pond, fluttering over prairie
grasses, seeping into our lungs, as relief always will.
…
Anna Blake for Relaxed & Forward
Want more? Visit annablake.com to see our class schedule, online courses available on a revolving basis on Calming Signals, Affirmative Training, and More. You can book a live consultation or lesson, subscribe for email delivery of this blog, or ask a question about the art and science of working with horses. Join us in The Barn, our online training group with video sharing, audio blogs, live chats with Anna, and so much more.