Walking the Dog
There was a message on my phone.
My dog was ready to come home,
they said. It was just her ashes,
they didn't say. Never one to be
put on a shelf, we took one last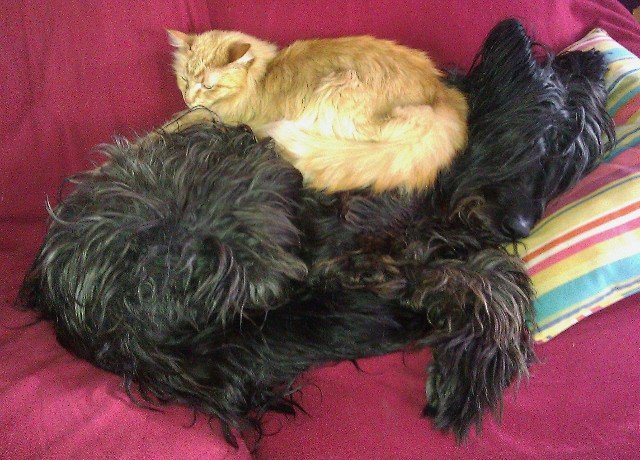 walk together around the farm, her
cremains, I guess, tucked under my
arm. She usually bounds ahead of me,
turning to make sure I'm coming.
She usually stands just beside me
when I stop. She usually has a wild
rambunctious pride. Where did she
love best? The truck, of course.
She'd be sitting there waiting,
ready to load up. The gate to the
barn; we met there several times
a day. The pond to the west; she'd
splash and bring that wild scent to
bed at night. A prairie breeze kicks
and I can see her profile; nose
lifted, her coat blown back. She's
facing down the wind. Shall I let
the wind have her now? I stroll
between memories, passing under the
barn tree, swings hanging in the
cool shade. Carrying the weight of
an old dog, nothing left but bones,
is heavier than I expected. Once more,
I wish her lightness from her used-
up body, as I go inside and put the
container on a shelf by a faded dog
bed. We'll take another walk tomorrow.
…
Anna Blake for Relaxed & Forward
Want more? Visit The Relaxed & Forward Barn School to see our class schedule, online courses and virtual clinics available on a revolving basis on Calming Signals, Affirmative Training, and More. Join our community there. Or go to AnnaBlake.com to find out more, book a live consultation or lesson, subscribe for email delivery of this blog, or ask a question about the art and science of working with horses. Join us in The Barn, our online training group with video sharing, audio blogs, live chats with Anna, and so much more.