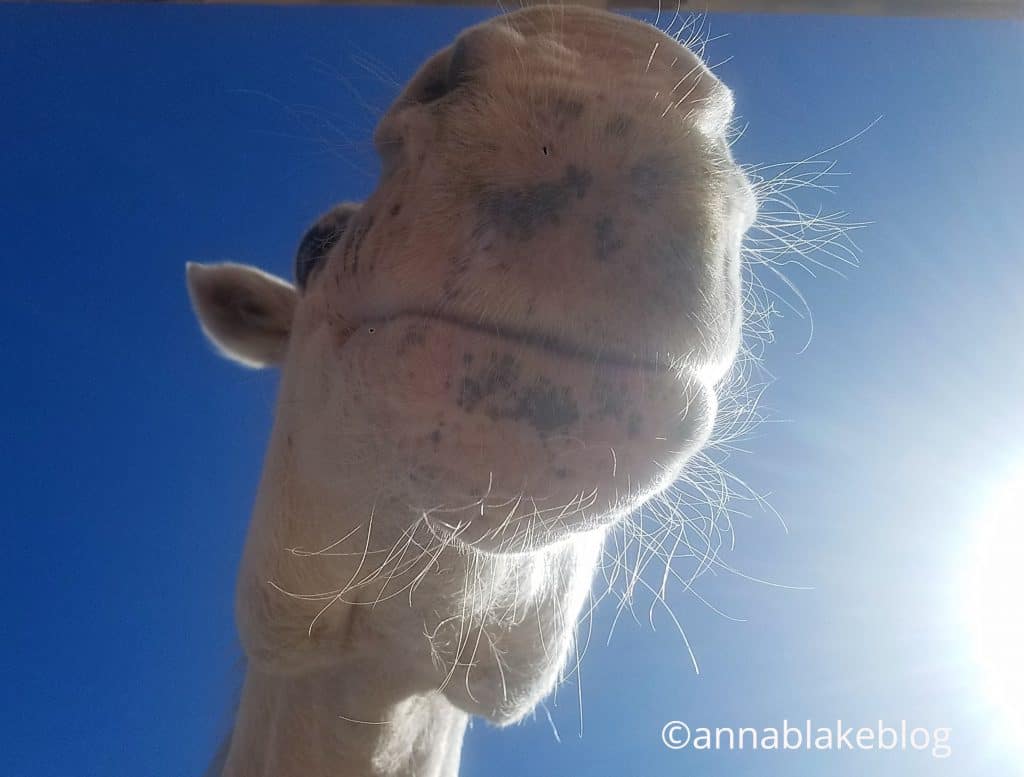 What is it about the snout of an old horse? Especially a pink and black muzzle? How can it seem so wise to me? Or is it that over thirty years with this horse, I finally got wise to him? I confess that I disregarded his opinion in the early days. Disregarding the opinions of an Appaloosa is short-sighted, but other breeds agree.
Is there anything we romanticize more than what we think horses say? We think they are lazy. We think they only care about food and make a joke about it because grazing inconveniences us. We decide they are bored as if a prey animal has the luxury of zoning-out in this chaotic world. We can tell what they don't like, hooves planted and ears flat, but we think there are things that they just love, although there isn't a ready sign of that emotion that is near the clarity of a horse spooking.
Then the day comes that we see a perfect horse. He is standing quietly while other horses are being flighty or looks steady because his head is still, or the angle of his nose is at a magical angle we arbitrarily judge as perfect. He's a push-button horse with church manners. Except when you get close and see his eyes are flat and dull. Is this what you love about horses?
Most of us started with horses but telling them they were wrong. We stood around mushy-eyed about loving horses and then wacked them for moving their feet or snapped their rope for coming too close, even if the other half the time we crowd in close to hug them. We created a language of fault and correction. 
It isn't that we don't listen to horses. We listen to stories we make up about them. While we are asking them to do something, we listen for the right answer. We correct the first five answers the horse gives us because the answer isn't the one we want. Or we disagree that the scary thing in the bushes is real. Sure, his senses are much more acute than ours, but we think we're naturally superior and if we say it isn't scary, the horse should agree.
Like simply telling a timid rider there is nothing to be afraid of would be a resolution to all her anxiety. So, you there, just stop being afraid. Poof. And you're welcome. Glad we got over that. 
But we didn't. We felt unheard and lost trust. Did people tell you your behavior was more important than your thoughts? That you weren't smart enough or that you should shut up and put a smile on your face when you were feeling the opposite? Anyone else being reminded of teen angst right now? 
I'm lucky. When I left home, I was so untethered that even I could tell I needed help. I fell in love with therapy because a crazy thing happened there. The therapist took me at my word. Unprecedented, it gave me footing and the tiniest shred of confidence that I wasn't as crazy as I felt. Therapy never starts with being told you're wrong and your feelings always matter. For some of us, that affirmation is a lifeline.
One day another trainer asked if I was giving a riding lesson or doing therapy. I realized I can't tell the difference and I'm proud of that. If your goal with your horse is trust and partnership, then we must take stock of how much of our conversation with them is even passively adversarial. It's a radical thought, but what if we just believe horses? What if we accept them, even at their worst?
This is not a simple task. Our personal safety is crucial. We're the ones who buy the hay. And our horses need to become solid citizens, for their own welfare. But once a horse is panicking, no amount of yelling RELAX! is going to work. 
What does a horse want to talk about? Himself, of course. He might be telling you he's in pain by resisting. His muzzle might tell you he has gastric distress, his ears might tell you there is danger, his breathing will follow his emotions without fail. But it's all about him. Is he being evasive because he has a bad work ethic? No, a work ethic is a human construct, made up by employers, is my guess. If he's evasive it's an honest opinion, most likely about being micromanaged. But even that is all about him. He expects you to remember his nature because he can't ignore or override it. He doesn't care about your goals or your shortcomings. Bottom line: it's all about him. 
Even this: Your horse doesn't care about arenas or trail riding. He cares about how he is made to feel. It's on us is to offer better acceptance of our horses, when it's our nature to think it's all about us. The resolution is that we postpone the response we desire and accept the one we get from our horses. The rest is negotiation and the art of inspiring confidence. If I work affirmatively toward a trot that makes my horse feel relaxed, the arena becomes a massage parlor.
Let's go back to the beginning before we made their normal behaviors right and wrong, good or bad. Start where your horse is at and say it's perfect. If he has anxiety, it doesn't teach him that anxiety is good. Horses are much smarter than that. It's a way of letting him know that there is a calm and positive way to deal with anxiety. When we look at the anxiety with curiosity and release him from the need to defend himself from our training methods, he can take the time he needs to resolve his emotions. Confidence is nurtured by allowing the horse to find his balance mentally. 
Can we be more selfless, receptive to his answer because it isn't personal? Have the strength to not jump to conclusions, to not react with emotion, but rather respond with acceptance, keeping your body soft and your cues small. Patiently maintain a quiet anxiety-free bubble where your horse can come to trust you. Not because you are kind, but because he feels safe. It's still all about him. 
Start by breathing deep and letting him hear you exhale. He might not mimic you on the first try, so in a clear soft voice, say "Good boy." Not because he is being good right now; throw it to him like a lifeline. Then ask for something simple, like a step forward, and reward him for that. Not because it's a complicated task, but because you want to remind him that you are capable of not complaining about everything he does. Find common ground with your horse in acceptance that regardless of your plans, it's always going to be about him.
…
Anna Blake for Relaxed & Forward Want more? Visit The Relaxed & Forward Barn School to see our class schedule, online courses, and virtual clinics available on a revolving basis on Calming Signals, Affirmative Training, and More. Join our community there. Or go to AnnaBlake.com to find out more, book a live consultation or lesson, subscribe for email delivery of this blog, or ask a question about the art and science of working with horses. Join us in The Barn, our online training group with video sharing, audio blogs, live chats with Anna, and so much more.