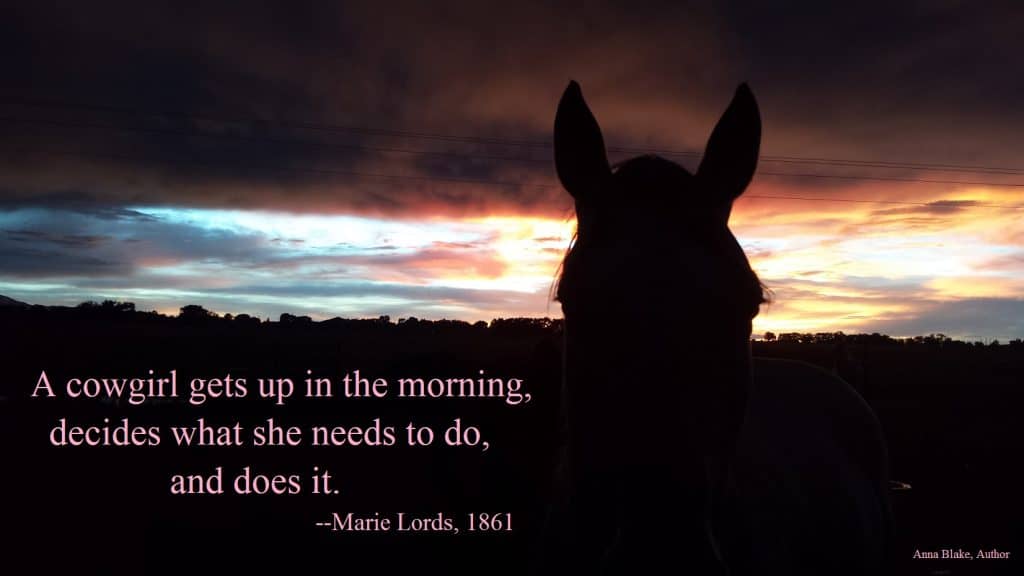 I've gotten sour on a word. Why does it matter? Words are how we understand each other but some words get borrowed as code words for something else. Sometimes they turn into monsters and sometimes they get stuck between your teeth like a raspberry seed. Words impact how we feel, trickle down to how we act, and eventually, we become something we were never meant to be.
When I was a little girl, I quit the Brownies because they were sissies. I didn't have braids because my mother hacked my hair into a pixie cut with an unintentional asymmetry. It seemed the only way to keep spider webs, mud, and hay out of her house. Once a week I was wrangled into a dress for church, told how to sit, (ankles crossed,) how to be a good girl, (smile pretty,) and how to behave, (don't say a word.) I'm not the only one who disappointed my elders, am I?
Horse-crazy girls weren't the sort for sitting still for long. We didn't fit that good girl mold but we weren't bad girls either. We did our homework and babysat to buy hay. We were strong readers and did our chores. We are mostly introverts. Some of us preferred the company of dogs to people. Some of us still do.
Along the way, we got the message that even if we got a straight-A report card, we shouldn't brag. Doing a good job was expected, but never really celebrated, as if it was almost rude to succeed. We shouldn't like competition because if we won, it meant someone else lost, as if there was a limited number of rewards and we should leave them for others. We learned to keep our victories to ourselves because it would be unsightly to be proud. Being a good girl meant being less, doing less, saying less. Some of us didn't fit that mold but we still knew being sideways from it wasn't quite right either.
Meanwhile, boys were going nuts, howling, and doing leaping chest-bumps because one of them caught a ball. Oops. Sarcasm is not a good-girl trait either.
We grew into women who became teachers, health care workers, mothers, veterans, and anything else we set our minds to, not that we bragged. We worked a career and kept a home for our family, and sometimes an extended family. We're smart and thrifty. Funny and brave. We're relentless and exhausted and we still think we can do better. We are the original first responders.
On top of all that, we manage to have horses. Add to our amazing ordinary skills, those of throwing bales, bandaging injuries, and building fence. We climb back on when we get bucked off. We cheer our friends on and we don't ask for help when we should. We've seen more than our share of blood and death but we're not quitters.
The crazy part is that we've done it so long that it seems normal. If someone does compliment us, we shrug it off. It's just our job to make the world run smoothly, even during a pandemic. If anything, we apologize that the pie isn't homemade. We undervalue the things we accomplish. We've been taught humility is a good thing.
hu·mil·i·ty /(h)yo͞oˈmilədē/ noun/ a modest or low view of one's own importance; humbleness. -Oxford Dictionary
Yes, the world has plenty of arrogant egotistical know-it-all elitist asshats who pontificate endlessly about their own achievements. None of us want to be mistaken for a blowhard. Being forced to listen to them makes us all scurry out to the barn to muck. Does the sort of person who drives us to think manure is a better alternative also work to encourage us, by their example, to sell ourselves short? Do we give them credence by politely excusing ourselves from the conversation?
Why is a horse trainer so wrapped up in this self-inflicted debate about a word? Because of horses, naturally. They are the ultimate in reading our intentions. Horses read bossy dominance and red-hot ego in an instant. Frankly, I don't work with that sort of horseperson. It isn't a decision on my part, they don't ask me.
Most of my clients think it's honorable to give the horse all the credit for a good ride and take all the blame for a hard ride. It's a barn definition of humility. A few other things I notice about my clients: whether their horses are high-dollar beauties or rescues, well trained or feral, brilliant young horses or crippled old campaigners, they are concerned for their horse's wellbeing first. They don't mention past achievements and you might think they're beginners, but they have invested in the very best for their horses in every situation. They admit that they are lifetime students of the horse, as I am, and but they have a tendency to forget how far they've come. As if a small stumble in the present could negate all the hard work in the past. As if horses don't know the truth of us.
We let ourselves have vulnerable conversations about confidence, confessing our weaknesses, but almost never sing our own praises. For all we've done with our horses to instill some level of confidence in them, we deny our own confidence for fear we've confused it with arrogance.
How do horses read humility? Do we seem inconsistent, doubting ourselves even as we ask for their trust? Do we only pretend to have the strength to lead or are we coyly denying the truth of who we are?
This is what I know. It's a horse trainers' job to see the big picture. We understand the desire of the person to learn quickly for their horse. We consider the past, with an affirmation about the future. We lay down tunnel vision of what's being trained because we know that horses must be keenly aware of the entire dimension of their environment. And we aspire to understand the big picture for our clients, too.
I'm overwhelmed with the commitment of my clients to do the right thing. The blind love they have for their horses. The ever-present compulsion to look at the tiny part not quite right that overshadows any previous success. I am in awe of the work my clients are doing improving the lives of their horses. I think the best word I know for how I feel about the work they take on is respect.
re·spect /rəˈspekt/ noun 1. a feeling of deep admiration for someone or something elicited by their abilities, qualities, or achievements. -Oxford Dictionary
If I was the Word-God, (see me as an old man with a long beard who should really be wearing a shirt,) I would send a bolt of lightning from my slightly pudgy fingertip to burn the word humility from your mental vocabulary. I'd replace it with words like courageous, confident, and dynamic. These words better define you because they are truthful.
…
Anna Blake for Relaxed & Forward 
Want more? Visit annablake.com to find over a thousand archived blogs, purchase books, schedule a live consultation or lesson, subscribe for email delivery of this blog, or ask a question about the art and science of working with horses. The Barn, our online training group with video sharing, audio blogs, live-chats with Anna, and the most supportive group of like-minded horsepeople anywhere. Courses and virtual clinics are taught at The Barn School, where I host our infamous Happy Hour. Affirmative training is the fine art of saying yes.