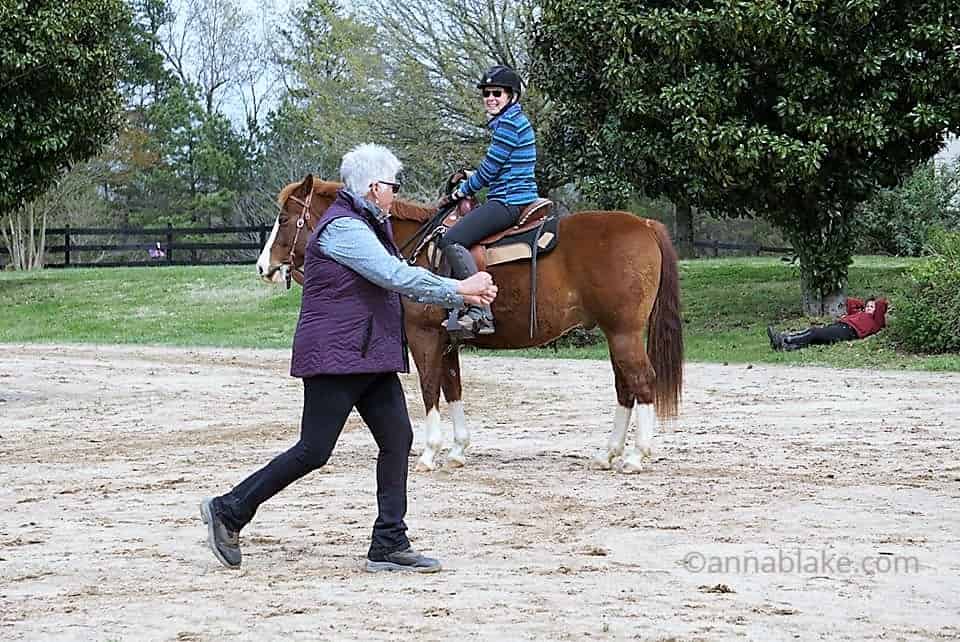 It was a conversation about riding lessons. My friend said she thought it was strange that I'd worked so extensively with trainers. Yes, I could have paid for a college degree with the money I spent on riding lessons back in the day. She said in her country, people didn't do that. I'm not sure it's a thing in my country, either. And it isn't easy to explain. My mother thought her adult daughter was some special kind of stupid to still need lessons after riding most of her life. Maybe she imagined that I just kept falling off the side. After a few years of my riding improving more than her attitude, I came up with an answer. I told her that even Olympic riders had coaches. But dad watched the Olympics on tv all those years and she hadn't ever seen any horses there. Mom had me on that one.
Do You Need Riding Lessons? No. I'm sure your horse is perfect. All horses are perfect and honest and right.
As for you, I'll give you the benefit of the doubt. You have no problems at all, most likely. None. Your cues are clear and your body awareness is amazing. All the transitions you ask for are easy and calm. No spooking, no vices. Besides, you "only" trail ride. (your words, never mine.) Or you have a friend who is more experienced, and it gives the two of you something to share angst about. Some of us like drama.
Maybe you stopped riding because your horse didn't like being ridden. You decided it was cruel to ride. If you have a sound horse who doesn't enjoy being ridden, that tells a story of cruelty that might not be flattering to his past owner. Does that purgatory have to go on forever? Has the horse quit or is it you? Because horses are resilient above all and you can change the world for him.
Maybe you stopped riding because you got nervous. I truly do understand that reason. I don't know a rider who hasn't hit that bump, myself included. If you can make that choice to walk away and it doesn't haunt you, then seriously, do it. Most of us can't.
Maybe you're addicted to the adrenaline rush from near disaster on a horse. Maybe you get a thrill when you wrestle with a horse in the "cowboy way." Okay, your horse is terrified of you, but maybe it's worth it for the rush. If that's true, you are an ass hat, and riding lessons won't help you. You got me; I don't understand you any more than your horse does.
Maybe you're too remote for a trainer to come, or you have trailer issues. The high side of this pandemic is that good trainers are available online for live lessons. It's different and horse people are famous for hating technology, but you've managed a cellphone, (the only requirement). The world is changing, we're all re-inventing our lives. The best reason to experiment with online lessons? Your horse gets to work from home.
Maybe you believe all the trainers are monsters. Sure, some are, like any professional field. But are the people telling me, these people who have not worked with me, that my hard-won vocation, my mentor's vocation before me, is deplorably brutal? Watch me take a deep breath, something horses taught me. I'll flash a big toothy smile and say, "Try me." Not taking things personally is in lesson one.
Maybe you've never had an advocate on your side. Someone who cares about your horse, whose job it is to listen to you. Most riders are introverts and it's a vulnerable thing to ask for help. Sometimes it can feel like your horse is a bad boyfriend or that things are a bit dysfunctional, riddled with misunderstandings. All you want is a better relationship. Yay, that's the right answer. If he was human, you'd break down and ask him to go to therapy. Well, horse trainers are couple's therapists. They're translators. The best are peacemakers.
Or maybe, and this reason is achingly sad to me, you've never ridden a relaxed, confident horse and you don't know there is an alternative. You haven't seen a horse's intellect, you haven't met them at a place of mutual trust. It's okay, you can love them anyway.
Most of the riding horses in rescue have a training issue that a good trainer could help the rider turn around but the rider thought would be easier to get a different horse. Mysteriously, the next horse they got had the exact same problem.
"I never sent a horse to training but when I finally starting taking lessons the world opened up. Here's to the great instructors. Everyone should seek help for themselves, even the greatest riders have mentors. My pet peeve is expecting the horse to retain training without the rider getting some too." -Tracie Calabro and her mares.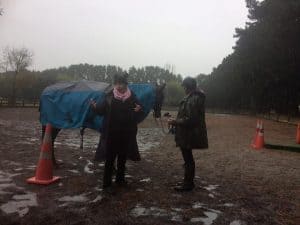 Does your horse think you should take lessons? Lordy. They never shut up about it. "Can you see she is kicking me every stride?" "You must tell her how much this saddle hurts, please, she can't hear me." And frequently, "Can you do something about her hands!? I can't breathe." said most horses, including some of my own. That inside hand thing? Everyone has that problem, you aren't special. An inside hand that pulls is just instinct. We're primates, after all.
The challenge in riding is humans and horses have very different instincts. It's hard for us to Take a Hint. It doesn't help that good riders make it look deceptively easy. If you're looking for immediate gratification, get a dirt bike. A lifelong relationship with a horse is a work of art. Riding horses didn't start with cowboys, it's been studied for centuries. For some of us, this hook horses have in us has been magical. The idea of working with a horse out beyond the truth of predators and prey is an amazing, addictive mission. The art of understanding and communicating with horses is a lifelong vocation without a final stop. If you do it right.
Do you need riding lessons? Nope.
But maybe you had a moment like I did. Things came apart. I made it worse, but my horse showed me grace that I probably didn't deserve. It's humbling, it's impossible to look away. In that moment, we get called to horses in a way that is hard to explain. We want to be the best we can be because it's what we see in them, but the words sound trivial as we say them. We want to ride the inside of a horse. They have been part of our dream forever, but now there's a favor we are obliged to return. And we fall in love with horses all over again. But real this time; accountably real.
…
Anna Blake for Relaxed & Forward
Want more? Visit The Relaxed & Forward Barn School to see our class schedule, online courses and virtual clinics available on a revolving basis on Calming Signals, Affirmative Training, and More.
Or go to AnnaBlake.com to find out more, book a live consultation or lesson, subscribe for email delivery of this blog, or ask a question about the art and science of working with horses. Join us in The Barn, our online training group with video sharing, audio blogs, live chats with Anna, and so much more.
Working with riders of any discipline and horses of any breed, Anna believes affirmative dressage training principals build a relaxed & forward foundation that crosses over all riding disciplines in the same way that the understanding Calming Signals benefits all equine communication.