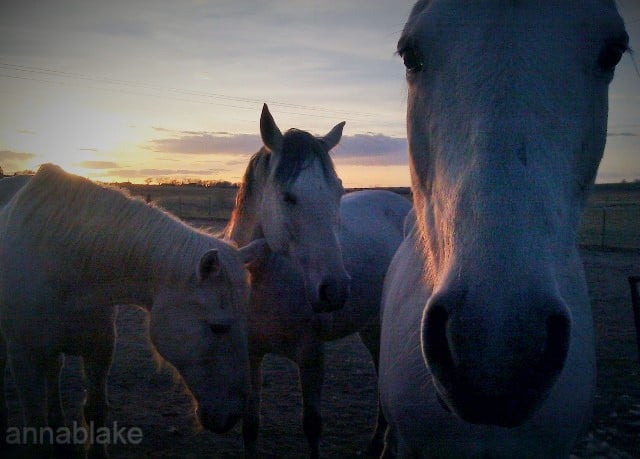 It's funny how something someone says can turn over in your mind for years after. I had a visitor, and since I am more comfortable in the barn than the house, I took her into my family pen. Back then, there were five horses, a couple of donkeys, a mini, and a pair of goats. Edgar Rice Burro sees himself as the perfect coffee table. He likes to be in the middle. We were all in a loose circle around him, quietly chatting for an hour or more. Think the way horses stand and swish flies for each other, we were just breathing, sharing space, and under-achieving. It was peaceful. In the horse world, we always say that less is more, but rarely demonstrate it. I think this is what it looks like: no anxiety.
My guest was preparing to leave. Her feet probably hurt; it isn't like I offered her a chair. She blurted out to the herd, "I have nothing for you," apologizing. Does she think they expect something from her? I explain that I don't feed hand treats, but she still checks her pockets. I'm fairly sure the herd thinks she's looking for chapstick. "Sorry," she tells the gelding, who reads her anxiety and furrows his brow, worried that he did something wrong. Moments before the visitor was gently touching his neck. "They are just so nice," she says. I thank her but her words stay with me. Her visit wasn't nothing. Company is always interesting to the herd. Does she think that peace and acknowledgment are not sweet?
When I write about not hand feeding, I think most people would rather read a description of how to remove a horse's eye with a teaspoon and no anesthesia, because that's less cruel than not giving treats.
Here's how it would go: The poor visitor pulls a couple of carrots out of her pocket and the herd goes on high alert smelling something they can't quite place… until they do. Then it's like a domino effect: the chronic ulcer horse is food-aggressive, he comes by it honestly, but he starts pushing. The mini would want some, but he is shy and won't come close; it's an existential dilemma. The donkeys get more cautious, but the goats, the most selfish and least likely to share, would start headbutting everyone. Then the young mare would have to bite somebody on general principle because she must restore order to the universe, and whoever she bit would need to escape. I'd be trying to grab the guest and run backward. Edgar prides himself on a slow and steady response so he would freeze on the spot and wait for things to settle, most likely on my escape route. Not to mention, there is enough sugar in an apple or carrot to create an incident for a horse with a gastric disorder. The food-aggressive ulcer horse has now dropped to the ground colicking. No kidding. A bite of sweet feed will do it, too. Sugar is poison.
Disclaimer: Obviously, I'm not talking about clicker training or treats in buckets. There's an argument that giving hard feed is a kind of hand feeding. You do use your hand. For crying out loud, if you want to split hairs, so is throwing hay.
There are two questions that keep her statement in my head. Why do we feel that we aren't enough around animals? That we must bribe them to come to us? Do we use food as a shortcut or abbreviation of something we feel? Can we articulate that better? Because being a partner should rise above being a treat dispenser. (Sorry/not sorry.)
And second, and more important, is it our goal to spread anxiety in a herd? Reading your horse's calming signals, is it possible that the reaction you take as happiness or affection might actually be anxiety? Does our presence unsettle the herd? When we finish working, we cheer the horse for licking and chewing, or yawning or rolling, but what would happen if we didn't create the anxiety that horses need to release later? What if we behaved as though less was truly more? If horses are looking for safety, then I want to be a respite from the chaos, I want to be the calm eye of the hurricane because horses crave safety most of all.
Trust his intelligence. If you want a better relationship with your horse, then reward them with just that: kindness, peace, and breath.
Affirmative Training is all about rewarding and affirming the horse. It isn't that we don't use treats, it's that we don't take shortcuts. We constantly reward our horses, but we do it in his language of calming signals. It's subtle sometimes, but we know the value of an exhale. We'll change our own personal human calming signals to adjust our body-voice, and take the time necessary to express affirmations to build his confidence. We'll use our internal energy to become the partner the horse needs. Feeding a carrot would take a whole lot less effort, but would it say the same thing?
As promised, an introductory list of inedible treats:
Self-awareness: Share the situational awareness your horse has in his environment. Literally see it his way. Less tunnel vision, more 'big picture' understanding.
Consistency: be the same person while training that you are when mucking. Be a source of interest and curiosity and not correction and aggravation.
Silence: Let the air be mostly still, give him a chance to get a word in edgewise. Learn the art of quiet focus and connection. Talk with people some other time.
Choice: Let your horse take you for a walk. Just go along with him, give him his head. Spoiler: he wants to graze.
Touch: Communicate peace, lay a quiet still hand on his neck, flank, or hind, but leave his face alone. Learn to be supportive, not intrusive.
Praise: Be generous with kind words and exhales and laughter. Horses read our emotions; they like us happy. Then let the air rest again.
Autonomy: Give him his space. Let him hold his own self up. Stay at least 3 ft away from his head, use a long lead, and notice his eye soften.
Listen: Learn his language and acknowledge his calming signals. Be aware of the anxiety you create, work for his safety. Answer in his language.
Slow down: Give the horse the gift of time to answer the question and then the time he needs to process. Quit before you want to, stay hungry for more.
Rhythm: No stiff coyote stares, move with a smooth rhythm while leading or riding or swaying in the breeze in the pasture. Movement is release.
Most of all, breathe as a cue. Trust that an exhale is more eloquent and effective than any training aid possible. Watch your horse agree.
Please, know that you have all you need; that you are more than enough for your horse. Horses always require some soul-searching honesty, but then begin the nuanced work of becoming your horse's partner. You can be his oasis of sanity. You can be the treat.
…
Anna Blake for Relaxed & Forward 
Want more? Visit annablake.com to find over a thousand archived blogs, purchase books, schedule a live consultation or lesson, subscribe for email delivery of this blog, or ask a question about the art and science of working with horses. The Barn, our online training group with video sharing, audio blogs, live-chats with Anna, and the most supportive group of like-minded horsepeople anywhere. Courses and virtual clinics are taught at The Barn School, where I host our infamous Happy Hour. Affirmative training is the fine art of saying yes.