If horse people know one thing, it's that it's never just one thing. Having horses also means we partner with the land. Sometimes it's hard to tell us from our land; we bear the same scars. Colorado is in a drought, as many areas of the world are. We have the two largest wildfires in history just ten miles apart. Friends are evacuating and while currently, no fire is close to my farm, it's impossible to not feel the loss and devastation of homes and lives, tame and wild. My little pond tells the story of this year as well as I can. Birds are gone, the ground hard and dry, the air stale. And we do what we can do.
At the beginning of the pandemic back in March, I was asked about how the pandemic was impacting my horses. We live on a dirt road. The suburbs are much closer than twenty years ago, but it's a quiet life and my herd does well. I'm sure they feel the drought more than COVID-19, but life is good here if you're a horse.
Horse people, as a group, are politely reclusive introverts. Social distancing is our lifestyle, we all joked about how lockdown wasn't much of a challenge. I also notice that we stayed in touch with our friends on social media, filling the feed with pictures of horses. Now it's deep into fall, and I asked my online group, The Barn, how it was going. I'm very proud to share their comments.
Some of us got more horse time: "Just spent plenty of time chilling out with my equine's. Live life to the fullest as you never know what is around the corner. Also making the best out of a situation that you can't control."
"Because of this year's unique conditions, I've spent more time away from others at the barn, and have spent time with my horses in the way that I want to."
"I definitely spend more time with Raymond. It's one place I can just BE without politics, news, or noise."
"I adopted my first horse in over 30 years just a month before this all started. There is a local dressage trainer I had planned on working with… The pandemic stopped that when she rightly stopped visiting area barns. This has left me to learn to work with Bella on my own. We could only be at the barn one at a time for months, so I didn't even have my friends to offer pointers. … It has been lonely at the barn but all the one-on-one time means my attention has been on her and I think has actually helped our bonding. I have Bella and my dogs and only miss people occasionally, lol."
Some of our horses got a break: "We are lucky enough to have not been too affected, things have changed in a lot of ways but for me, my job became a lot more hectic which meant a little less horse time… Probably just what my horse needs at the moment."
"I am so crazy busy at work and with moving and other family issues that I haven't had/made the time to ride or interact much. Probably better for the horses because I don't believe my emotional state is optimal right now. On the other hand, knowing that they're there and that I'm working towards a goal for all of us is keeping me going."
We found less was truly more. "I think motivation has been the biggest challenge for me. That lack of motivation… is because all of those other emotions, responses, intentions come together in a huge tangle. My horses are, fortunately, doing well but I don't want to share this murky, uncertain energy with them. So we don't do much in terms of what I would really like to do. The upside is that I've learned to accept that. Today, for example, I just sat around in the pasture with the horses. It was comforting and required nothing of them."
We noticed other benefits: "… in some ways I have enjoyed the "Big Pause" the world had in the beginning of the pandemic. A slowing down. Less running to and fro to shop or whatever. Being more mindful of each and every purchase as each foray out seemed risky."
A pandemic doesn't give a pass on the usual challenges. Cancer, injuries, and the loss of parents, family, and friends. Nothing reminds us of our fragility like the loss of a good horse or a sweet old dog.  "… it's given us extra time with our 15 yr old pup as she nears the end of her time with us."
"It's been really up and down. At first I was pleased that I could be more home-based and have time with the horses, then in the first two weeks of lockdown I had the vet out twice – one with laminitis and one with a chest infection. I was grateful I was home for all the extra care and soaking and dunking of hay, but it wasn't how I had hoped it would be. A month later we said goodbye to our old greyhound- which was sad but the right time for her.
"I think the pandemic has hit me in a similar to having a bad fall off a horse when post-menopausal. It's made me realise that I no longer bounce or bend, and can break when things go wrong. The realities of life during the pandemic are showing our weaknesses — food scarcity and the anxiety that causes, our reliance on natural resources which are under intense pressure because of climate change, our reliance on communities which we've generally not tended and so our ties to each other are tentative at best."
Inconceivably, many of us made friends with technology: "I learned that I don't really want to be a hermit as I previously thought but have learned to truly appreciate the relationships in my life, both in person and virtual. I'm thankful for a husband with a heart of gold and technology that has proven crucial in keeping us connected to the outside world."
"Really thankful for the technology that facilitated that and the lessons with Anna and the BITS course. Very grateful for this group and the online like-minded horse companionship."
Horse people know their first job is to buy hay. Some of us struggled as our income changed. "As a small business owner (and sole provider) who was impacted by COVID financially, the biggest horse struggle I have had has been keeping my boys fed. I am grateful to report that my community has been supportive…"
"I'm separated from my horses by 1000 miles [for work] and haven't seen them in person for nearly 5 months due to state border closures here in Australia. I'm lucky my hubby is looking after them and my friends, vet and farrier are all supportive. It pulls at your heartstrings. Must be similar for our defense servicemen/ women who have to leave their families and animals for extended periods of time. That's what I keep telling myself."
There is unrelenting stress. "It just seems to be life. This pandemic, uncertainty that our democracy maintains its root structure. Can I keep those I love safe? Adaptation, reinvention, compassion, contempt, civility, anger, prioritizing. I am worn out, depleted, and devoid of goodwill. Then the woman filling her water jugs turns to me and we both smile with our eyes…"
It called for the best in us. "My time with my horses has sadly decreased. As a veterinarian, I have not been asked to stop working. My staff and I have powered through restrictions on materials we use, never-ending phone calls, and stressed out belligerent people that refuse to protect others by wearing a mask. I have never worked harder in my life. I'm not a fearful person as a rule. I'm more of a "fixer" that will gladly step into a problem to find a quick solution, but I'll have to say fear has crept in around the edges on more than one occasion during this year. The pandemic in the US has also become an all-encompassing political battle. I have never been a political person, but am now forced into it on a daily basis. Disappointment in my fellow Americans has also been on my mind. I'm trying very hard to erase that feeling, but it is persistent. I truly believe we are better than this. We can do better and treat each other with love and compassion."
We're a herd, having each other is a lifeline of support, each in our own individual way. We weighed mortality against the quality of daily life, planted our noses deep into a friendly mane, and held it together. Because even over a mud puddle, a sunset reminds us to look up and count our blessings.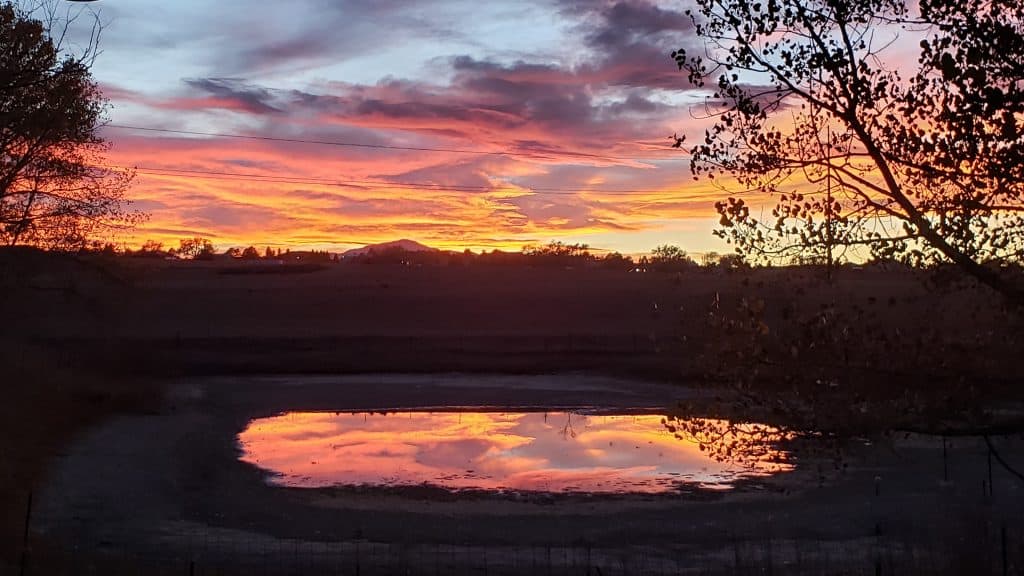 With gratitude to The Barn members for their honesty. I'm lifted and humbled and more grateful than ever to be part of this tribe of horse people. Thank you.
…
Anna Blake for Relaxed & Forward 
Want more? Visit annablake.com to find over a thousand archived blogs, purchase books, schedule a live consultation or lesson, subscribe for email delivery of this blog, or ask a question about the art and science of working with horses. The Barn, our online training group with video sharing, audio blogs, live-chats with Anna, and the most supportive group of like-minded horsepeople anywhere. Courses and virtual clinics are taught at The Barn School, where I host our infamous Happy Hour. Affirmative training is the fine art of saying yes.