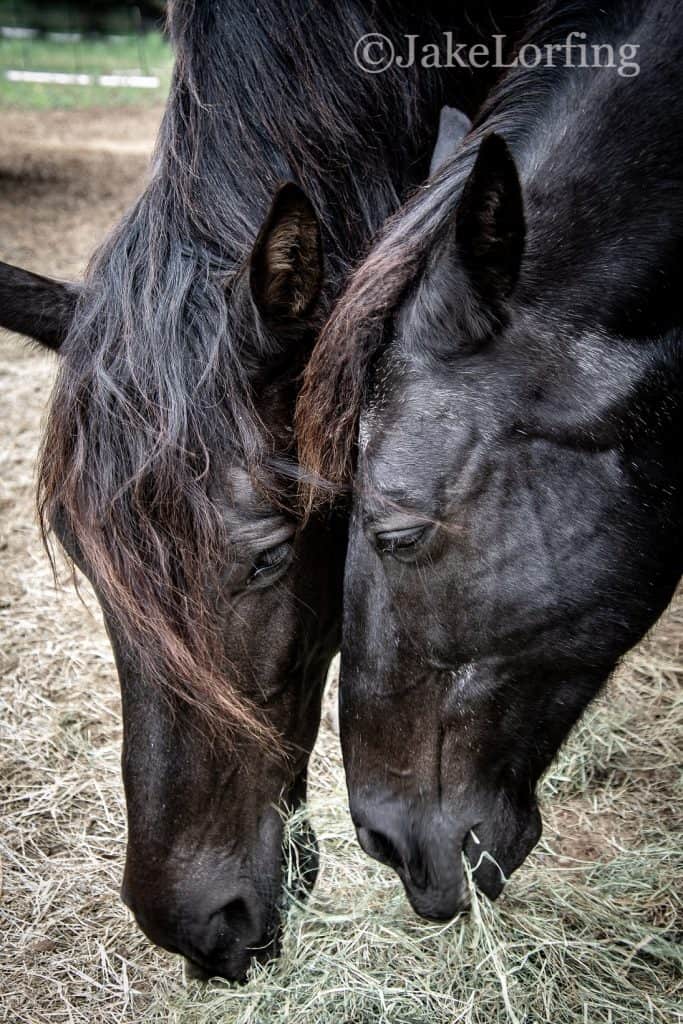 "Why can't my horse behave for the farrier?" Sarah isn't the only one who asks this question.
Picking up feet might be one of the most under-rated skills a horse can have. It's inconvenient for us that a horse must be a prey animal, but it's their nature. Horses will always be horses. We may think we're asking if we can clean their hooves, but we're really asking if they are willing to surrender their ability to escape and put their sacred hoof into the control of a traveling predator who smells like other horse's hooves. Is that much different than you cantering without a bridle? Trust is a question that is never really settled. If your horse is willing or even shut down, it's easy to take hoof care for granted. If it's a problem, or what I like to call a conversation, then it may produce as much anxiety for the owner as the horse. Bring a farrier into the mix and anything can happen.
But Sarah was asking all the right questions. "Is it an emotional or physical difficulty for him? What can we do to help him?"
When a horse has a challenge, it's usually caused by a combination of a few things. I've known farriers to pick fights with horses which can leave an emotional mark. Pain is a common reason, but pain can be a bit nebulous. Is the hoof hot or is his shoulder sore? Is he sore from compensating for a different hoof? Pain from ulcers is a good enough reason to make a farrier visit an event. And then if the situation has gone on for a while, some of it is a combination of memory and habit that adds up to worry. There are so many ingredients in this moment that looking for a guilty culprit isn't the point. Focusing on what isn't working is a negative start, serving only to isolate the horse with his faults.
Anxiety is a natural a component of a horse's nature; it's what keeps them alive. If you look at it that way, it might not even be about his feet.  It'll take some sorting out to find answers to all the nebulous questions but in the meantime, we can help him. Sarah's idea was that I join them for her farrier visit. Sarah's farrier is willing, we set a time and I'm there via messenger on the phone, so I can see and be part of the conversation. We say our hellos and affirm that we are all on the same page. We want to help Bear. We'll include him in the conversation, too, listening to his calming signals.
We start slowly because horses all agree that's a good idea. Bear gives us a tiny try and he is roundly praised. It isn't much but now we're in the conversation with him. Sarah's farrier gets credit here, too. She is the lead negotiator. It's so much easier to say we want the best, but trickier to act that way. Most of all, Bear isn't isolated; we're not scrutinizing him like coyotes. Instead, Bear has a squad of mismatched, mid-life cheerleaders who do more breathing than hopping up and down screaming.
Now is a good time to remind you, even if your horse stands well and seems calm, that most likely his heart rate is up, his blood pressure has changed, as well as his cortisal levels. Anxiety is the natural state of a horse and being stoic doesn't mean it isn't stressful. When was the last time you pulled your own anxiety out and gave it a scratch?
Sarah says, "You [Anna] don't have THE ANSWER but you recommend just doing two hooves each time she comes to trim, plus some other good recommendations." I always start youngsters with two feet per visit. Yes, it costs more. The farrier must make two trips. It's inconvenient for the humans but we're working for a life skill that goes against a horse's nature. We are setting a course for understanding. We need to show some willingness to be invested as much as the horse is. Bear is older; he has a life of experience in the balance and re-training requires patience. We start at the beginning again, and give the horse the time he needs to change in his mind.
Was having me there a miracle cure? No. There are no miracle cures and if a horse trainer says different, red flag! Trust isn't one of those things we can buy off the shelf.
Over a year later, Sarah says, "As Marcia [the farrier] and I go along, we are LIVING the question. We don't have THE ANSWER (yet). But we work a compromise. Perhaps someday this will no longer be an issue for Bear. But until then, I am cool with just LIVING the question. I don't have to have the solution to carry on."
As much as we like answers that are tied up with ribbion, the world is more chaotic than that. Ask any horse. What if the "problem" is us being too narrow-minded and hurried to see the resolution? What's the rush; if he lives to be thirty-five, the conversation will evolve. Living the question is a way to say it's all a work in progress. Isn't that exactly where we all are? Where we all want to be? Imperfectly perfect while living out our lives?
In the meantime, Sarah has invented a way of haltering. Or it could be that her horses suggested it and she listened. Either way, it's a thing of beauty. Bear is leading from behind comfortably; he has more confidence. Best of all, she's begun riding again. She didn't know that would even be possible. Recently a longtime friend noted that Cash, her other horse, was so calm that he was almost unrecognizable. The big picture reveals obvious remarkable improvement, even just two hooves at a time.
What if anxiety isn't wrong but instead an invitation to a conversation? Learning to make peace with the nebulosity of life, while holding curiosity and the willingness to listen to what we don't like, means the conversation with a horse can continue.
Sarah's final question is rhetorical, "Isn't it affirmative to just be able to 'sit' with uncertainty?" Yes, because healing starts with acceptance.
…
A special thank you to Sarah, and all my clients and horses. You've been a happy reminder, as I'm top-half dressed in a Zoom lesson, that there's possibility in this crazy year. Saying yes changes everything.
…
Anna Blake for Relaxed & Forward 
Want more? Visit annablake.com to find over a thousand archived blogs, purchase books, schedule a live consultation or lesson, subscribe for email delivery of this blog, or ask a question about the art and science of working with horses.
Join us in The Barn, our online training group with video sharing, audio blogs, live-chats with Anna, and the most supportive group of like-minded horsepeople anywhere.
Courses and virtual clinics are taught at The Barn School, where I host our infamous Happy Hour.
Affirmative training is the fine art of saying yes.