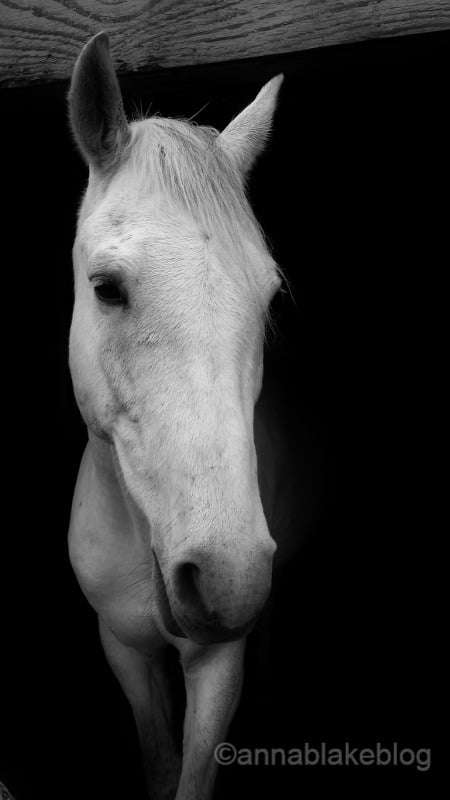 The reader said that an essay I'd written "brought to mind how many times my involuntary predatory instincts have surfaced and expressed themselves over the years with my horses. It made me wonder about the horse's capacity to forgive, and the time trajectory for establishing trust. …if a horse is capable of trusting humans in their present life, after negative human experiences in their past life." 
That's the downside of learning, isn't it? The day comes when it dawns on us that we can't keep scaring horses and calling it training. It's a breath of clean possibility. Humans might be capable of evolving in our relationships with horses after all. Not that we have ever been intentionally brutal or even mean; just that we have fallen short of our best intention. Humans scrutinize the past and any misguided stumble is magnified and demonized, even though it's how you were told to do it. If only you'd learned to read fear and anxiety sooner. It seems obvious now that adversity was never going to make a horse trust you.
The flood of emotions: guilt, shame, embarrassment, and just to round it out, why not add the failure of not being rich, young, and ever thin enough. Sorry for the attempt at levity. Aren't we just a little too good at taking the blame, when we'd be the last one to take credit for our sacrifices and efforts to do better for our horses? We are the ones whose hearts catch in our throats when our sway-backed arthritic elders lift their heads and nicker to us, as we bring mush, warm from the house, for the fifth time that day. 
This question is so important. We tend to anthropomorphize horse emotions. We live in the real world when we must deal with metabolic disorders or chronic lameness, but when we get to the nebulous mental questions, we make up stories we want to be true, as if horses had human brains. Stories with no more reality than the ignorant lunacy that horses will be spoiled forever if we don't command their respect immediately.
The short answer is yes. Except in extreme cases, horses are capable of trusting humans again. How horses answer us reflects how we interact with them. Kids are treated like treasure by mares who routinely buck adults off. Other kids are treated like poison by ponies who have been teased or mishandled. Horses stand for some farriers but not others. We call that their BS detector, proof that our intention matters more than our job title. And best of all, thousands of rescue horses find their way to new homes.
Yes, horses can trust again. But I wouldn't use the word forgive. Words matter when it comes to understanding how horses think. They do have simple emotions like fear, rage, confusion, and loss. I'd add trust, defined as a feeling of safety. Humans have those primal emotions, but also complex ones like guilt, shame, embarrassment, and respect. We're also capable of mixed emotions and ambivalence. We can have love/hate feelings, we can be sarcastic or duplicitous. Complex emotions scurry about in our frontal cortex and horses simply don't have the anatomy. We should be envious.
Better than forgiveness, the question might be what kinds of activity create the positive brain response in our horses that might incline them toward trust? 
Horses live guilt-free lives but are motivated by fear. They have a strong memory but can't hold a grudge or plan revenge. The biggest truth about how horses relate in the world is that while we're lollygagging around in our frontal lobes, talking about brain function, reading blogs, posting to social media, and just generally loving them, horses are constantly involved in their environment, engaging each sense, scanning for predators, longing for safety. They are not waxing on about loving us. They think about themselves.
If you are looking to train a horse in an affirmative way, the first step is ensuring he lives in a way that supports his nature more than your convenience. He needs a near-constant food source, the company of others, and room to move. Rescue horses, or any horse experiencing change, will need time to adjust, but let good care be your training foundation. Is he safe? It's a primal need and we must understand that pain or anxiety that wasn't resolved by fear-based training won't be fixed by kind words. Good intentions matter but only if they translate into the horse's currency. Warm blankets mean nothing to a horse isolated from his herd.
Memory is strong for horses. They don't forget bad experiences, but we don't have to breathe new life into the past by constantly bring it up. We can be polite and ask rather than demand. We can wage peace by giving the horse time he needs to believe us. Rather than constant correction triggering his flight response, we can choose to stand out of his space, let him volunteer for the halter, and let him sniff his way down the barn aisle. Horses are motor-reflex animals; hard-wired to save themselves from danger. Giving him choice and time to answer literally changes his brain chemistry, building new dendrites that will release dopamine, the "antidepressant" neurochemical. They have another neurochemical, serotonin, to make peace with the past in time.
If brain science ruins the romance, just understand that curiosity is the external activity that means a horse is creating new neuropathways. Curiosity equals mental health. It's science's way of saying you can train an old dog new tricks. It's never too late for new neuropathways. We can create new experiences for horses that dim the memory of bad history. To the degree that the horse is given time to decompress, trust can grow and flourish. We create new neuropathways in our brains the same way. We should praise our good efforts and let the criticism rot in the dark.
How do horses respond to our complex emotions like guilt, shame, embarrassment, or pity? What about the love bonfire burning in our frontal cortex? These complex emotions are strong, but horses have nothing comparative. I'd guess horses read those vague emotions as anxiety.
Horses never think about healing us. They are involuntarily concerned with their survival in our nerve-wracking, over-thinking world.
Horses don't want to rescue us from the anxiety of our frontal lobes. But they do give us calming signals to let us know we don't have to try so hard. Horses recognize a tense jaw and might suggest we stretch our necks because grazing is good. Horses are not capable of understanding our frontal cortex athletics around guilt or shame or low self-esteem. Horses are incapable of being our therapists. But horses do understand anxiety. They look away because it relieves some of the pressure. They pull inside where it's safer. They snort, a reminder to breathe, and then lick and chew. They mean to affirm our peaceful side. Can we let it be simple?
…Anna Blake for Relaxed & Forward 
Want more? Join us in The Barn. Subscribe to our online training group with training videos, interactive sharing, audio blogs, live-chats with Anna, and the most supportive group of like-minded horsepeople anywhere.
Ongoing courses in Calming Signals, Affirmative Training, Fundamentals of Authentic Dressage, and Back in the Saddle: a Comeback Conversation, as well as virtual clinics, are taught at The Barn School, where I also host our infamous Happy Hour. Everyone's welcome.
Visit annablake.com to find over a thousand archived blogs, purchase signed books, schedule a live consultation or lesson, subscribe for email delivery of this blog, or ask a question about the art and science of working with horses.
…Affirmative training is the fine art of saying yes.