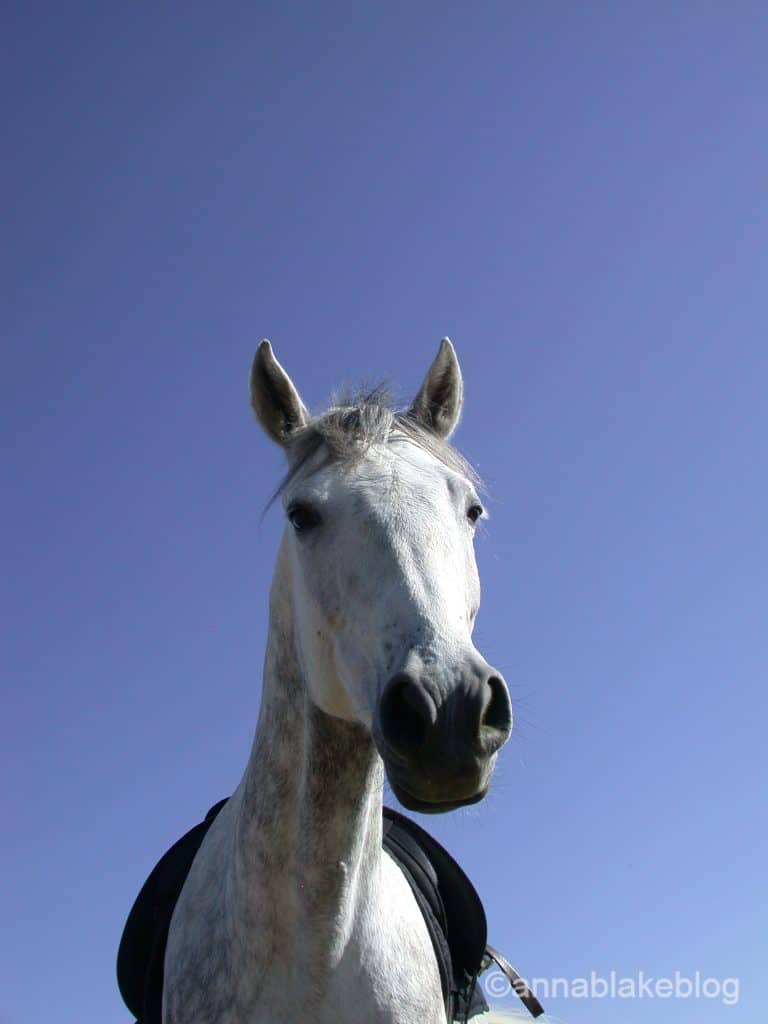 "I owned horses for 20 years until divorce happened," the reader said, asking me to write about it. "I think they are the only thing that kept me sane and leaving them was the hardest thing I have ever done."
The reader said it was literally a matter of life or death. I believe her because isn't that what it would take? Do you raise your voice with brassy bravado to say you would keep your horse no matter what? Well, bless you for the luck of your vantage point. May your life be a straight flat road.
It isn't always as dramatic as a hostile divorce. An ordinary divorce is challenging enough. Lots of us take a short detour even earlier and we only see how far we've wandered in hindsight. We step away from horses to go to college. Maybe we join the military and have a gypsy life, never in one place long enough. Along the way, we fall in love and have a baby thinking it won't change a thing, and then one or two more brilliant, beautiful children, and a decade has run past. Lots of us live in town and would need to board our horses, which ends up being practically a second mortgage payment. As if that first mortgage payment was easy, but we have a plan for an eventual horse, even as the distance grows.
Some of us are blessed with a career we are passionate about but it requires long hours and a few years to establish ourselves. We take the strength and focus that we learned from horses into our work, maneuvering our way over obstacles, and keeping our eyes on the horizon. We are aware of the personal price we pay, but like a good workhorse, we get the job done because we know the satisfaction that comes with making a difference. There is a price to be paid for birthing any dream.
Sometimes the separation happens later in life when, at a certain age, the impracticality catches up with us. Horses have always had an edge of danger, but people depend on us now. Horses carry the burden of our lost youth but we won't let go. Then it's our turn to care for our parents or maybe it's our own health that needs our attention. Some of us were born loving horses but never even had a chance as a kid and now the dream of a pony is just a small splinter that got under our skin but we never managed to pull it out. Now there is a hard lump of callus, a rock of pain and hope just under the skin, as true as a scar but without the initial injury.
We are no more in control of our lives than we can defy gravity. Maybe the hold horses have on us is that temporary possibility of flight.
Horse-crazy girls all start with the same plan. We know we'll have horses forever. We'll never give them up. Then life happens and we take detours, we build lives and we help others. We are indispensable in the world for all the best reasons, but we might get bucked off horse ownership along the way, no matter how hard we fight it. What then?
It takes a while to figure out that pain is equal to how much we cared, and then we're grateful in a bittersweet way for the gaping hole in our hearts that lets pain wash through us. We're tougher than most, so when the wound starts to heal, we tear the scab off. We look at old photos. We slow the car while passing horse pastures, and if it's spring and foals are landing, we just pull off the road entirely and let the pain and love wash over in equal measure. We can't do this alone, so we take in a couple of elderly stinky rescue dogs and a one-eyed cat who's a mouser. They sleep next to us on the couch while we watch the same horse movies we've watched a hundred times, bleary-eyed and hungover for days after. Sometimes late at night, slouched in a hoodie with a glass of whiskey, we ride the internet, looking at videos of competitions and horses for sale. There is sweetness that horses exist in this world, whether we own them or not.
We tell ourselves it's better to have loved and lost, loved and never had a horse at all, than to give up that sharp rock of a dream. After all, the dream of a ride and a memory of one reside in the same place, remarkably close at hand, and on the hard days, you can close your eyes and feel yourself be carried through. Some obstacles are jumped and some, we must outrun. We are born predators but still prey to the experiences of life. We're only human in the end, but the addiction to a notion of freedom, first borrowed from horses, has become our own. We can stop being victims of what we lack and rise to gallop at the sun. Our gaits might be arthritic or ungainly, with scars that are visible and scars that still cut deep inside, but we are also invincible.
Some of us find a way to circle back and find horses at another time in our lives and some don't. Either way, there comes a time we understand that not having a horse doesn't stop us from being a horseperson at all, a reality is as freeing as a gravity-defying gallop on the beach.
There is a call to arms, disguised as an adage, that when you get bucked off a horse, you climb right back on. It isn't about punishing a terrified horse or showing some caricature of woeful dominance. It's about the bigger picture in life; it means we aren't quitters. We get back up because we're strong enough to believe in second chances.
…
[The Back in the Saddle, a Comeback Conversation course is starting in a week in our Barn School. It's for humans getting back to horses, horses coming back from time off or rescue, or anyone looking to start over in an affirmative way.]
…
Anna Blake for Relaxed & Forward 
Want more? Join us in The Barn. Subscribe to our online training group with training videos, interactive sharing, audio blogs, live-chats with Anna, and the most supportive group of like-minded horsepeople anywhere.
Ongoing courses in Calming Signals, Affirmative Training, Fundamentals of Authentic Dressage, and Back in the Saddle: a Comeback Conversation, as well as virtual clinics, are taught at The Barn School, where I also host our infamous Happy Hour. Everyone's welcome.
Visit annablake.com to find over a thousand archived blogs, purchase signed books, schedule a live consultation or lesson, subscribe for email delivery of this blog, or ask a question about the art and science of working with horses.
Affirmative training is the fine art of saying yes.