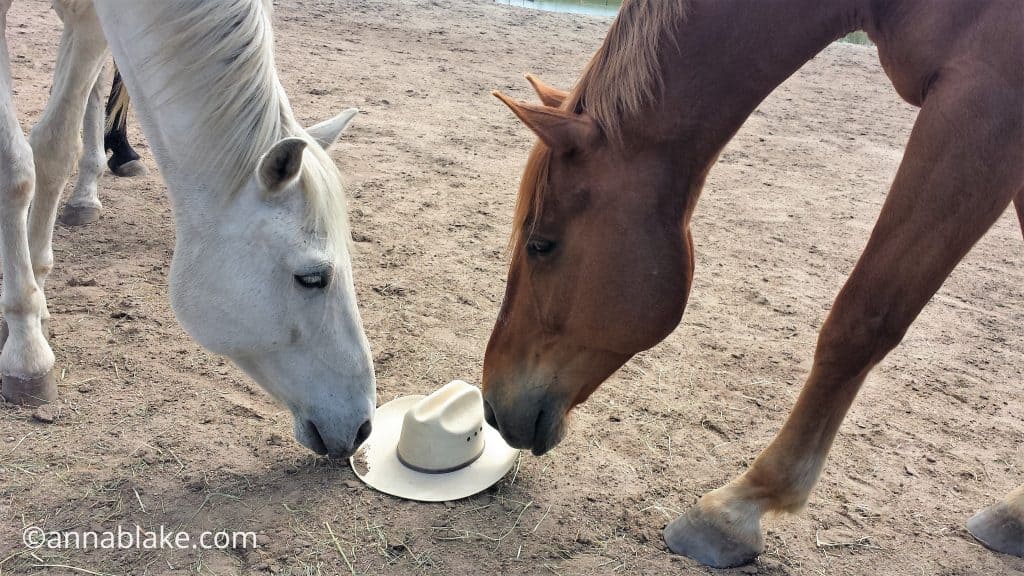 A cowboy walks into a bar. He's dusty, fresh from the barn. Shuffling his feet, keeping his eyes low, he crosses the floor. Voices stop as the cowboy collapses on a stool by the bar, pulling his hat off with one hand and burying his head in the crook of his other arm. The bartender smiles and sets a whiskey down in front of his friend. As the cowboy slowly exhales and lifts his head, his eyebrows in a tight line.
The bartender asks in a soft voice, "How is that new colt doing?"
The cowboy's eyes fill at the kind words and he can't the emotion hold back, "So good. He tries really hard. I'm going slow and listening to his calming signals," the cowboy says, tears spilling down his cheeks leaving muddy tracks. "I just don't want to mess him up."
Wait, maybe it wasn't a cowboy. Not a sober one, anyway.
Now that I think on it, it wasn't a cowboy after all. It was a woman. A friend who has a passion for horses. And no, it wasn't a bar, it was your kitchen, and you made her tea.
Or it was you, alone with your passion, and you made yourself tea while you worried about ways you might fail your young horse. Or fail the rescue-rehab in your pasture with frightened eyes and a stiff shoulder. Or fail that old campaigner, long retired now, but you wonder again if he has another cold winter in him. The bottom line is you care too much and you know it. Can worry be affirmatively focused? We do our best thinking in a pinch. It would be a shame if self-criticism blinded us to worry-fueled solutions.
Maybe you think the railbirds are judging every move you make. They can be real folks wearing celebrity-trainer hats, trying to pass by parroting things that sound tough, saying you'll spoil that horse. They can be imaginary railbirds, who live in your head and are even worse. They sing-song in your ear, "You pansy, are you afraid? Can't you make him do it? Show him who's boss." The imaginary railbirds say the meanest things.
So, you put the cup down, grab your gloves. No, you won't start that colt at two. No, you don't start working with that rehab horse right away, you give him time have time to settle in. And because it's always better a day too soon, than a week too late, you won't let that old gelding suffer. You do the right thing, staying true to the horse.
You will be the first to take the blame for your horse and the last to want to draw any attention to yourself. You patiently work through problems with your horse, not that you'd ever brag about it. And then, as if it was nothing, you practically forget because you are working on the next good thing, worrying that you will fall short again. If we take care of a horse's primary needs, are patient and go slow, is it even possible to fail a horse?
In our world, it's considered good manners to praise the horse on a good day, and for the rider to take the blame if things go sideways. There is nothing worse than watching a horse get punished for a rider's frustration. So yes, take the blame, but if in this process, as we slouch and mumble about our shortcomings, what does the horse see? We act humble for the humans nearby, as if horses don't keep us humble without us acting it out.
You'd think that confidence was the exact same thing as arrogance, some sort of poison to be avoided. Or like there is some reward for seeing ourselves in a lesser light. Does it tear us down a little bit, contributing to a self-fulfilling prophesy? Do we become a club of false humility? Some of us will only say a nice thing about ourselves, if we disclaim it three times first by listing other faults. I swear, the way we talk about ourselves, it's amazing our dogs like us.
Is it that we think we're the only ones who falls short? Is it a poorly kept secret that mistakes happen? We've got this backwards. We're human, we screw up. It's our nature. Normal. Ordinary. No reason to constantly point out the obvious. It's dull conversation.
Being an affirmative trainer, it's our job to praise horses. Obviously, that extends to the human with the horse. Praise builds confidence and isn't that the thing we most want to give horses? And secretly crave ourselves? What would it mean to say it out loud? "I'm getting good with horses." Would a moment of pride in a job of training well done spoil us? Could we show the horse who's boss by standing tall with squinty eyes from a big-toothed smile? Can we let confidence fit like breeches, like our favorite jeans?
It's time to turn "good manners" humility into self-confidence we can honestly depend on. A confidence that can lift our horses in a way humility leaves them hanging. Here are three tips for those who fear they will collapse into false pride:
Stay grateful for your wild luck of being with horses, thankful for the help you've had along the way. Let every "Yes!" affirm your gratitude for standing next to a horse.
Having a good day is worth celebrating. Let a good day lift you, knowing there will be enough challenging days ahead. Horses are never a static quantity. To be with horses is to ride a wave of constant change. Congratulations. Nice job of staying on!
Accept praise graciously and authentically. Remind yourself to simply say "Thanks, it felt good to get that right." Being humble doesn't mean under-valuing yourself.
For all the cowboys in western movies who flap their arms like chickens and jerk that horse's head sideways with a shank-bit, while stabbing spur rowels into tense flanks, egads, would you give yourself some credit? I'm not saying they'll start making movies of women standing next to horses and breathing. Affirmative training, working peacefully with horses, will never be as flashy as whip-cracking domination, but the world for horses will only change when we stand and bear witness to our skill and value.
We can trust horses to let us know if we manage to become arrogant asshats, have no fear. And we will always be learning, but in gratitude to all the horses that came before, let's brag about ourselves, too. Be proud, we are their legacy. Let's claim the credit we deserve and see what happens next.
…
We've initiated a Brag Club over at The Barn School. Who knew it would be so fun?
…
Anna Blake for Relaxed & Forward 
Want more? Join us in The Barn. Subscribe to our online training group with training videos, interactive sharing, audio blogs, live-chats with Anna, and the most supportive group of like-minded horsepeople anywhere.
Ongoing courses in Calming Signals, Affirmative Training, Fundamentals of Authentic Dressage, and Back in the Saddle: a Comeback Conversation, as well as virtual clinics, are taught at The Barn School, where I also host our infamous Happy Hour. Everyone's welcome.
Visit annablake.com to find over a thousand archived blogs, purchase signed books, schedule a live consultation or lesson, subscribe for email delivery of this blog, or ask a question about the art and science of working with horses.
Affirmative training is the fine art of saying yes.