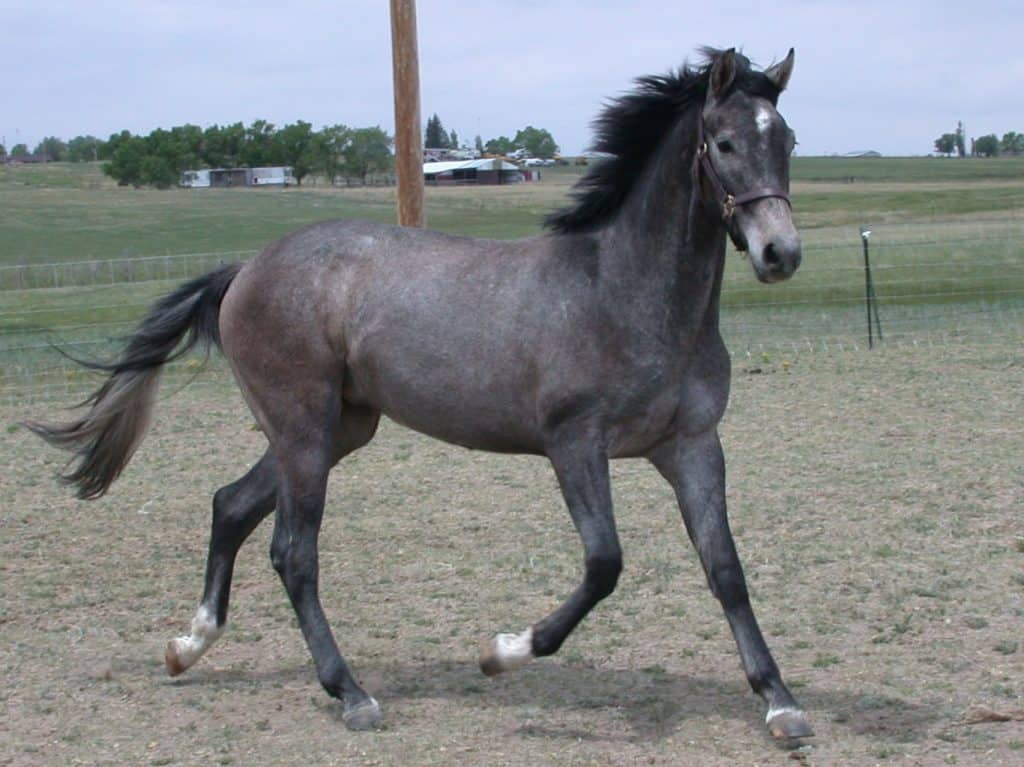 He was a bright young gelding. Alert, athletic, and so willing. One day he would become the kind of breathtaking dressage horse that his sire was, I hoped. It would be years before he'd be started under saddle, but it was the perfect time to start arena work. Did you just seize up a bit? Does taking a young horse to the arena sound like punishment? Do you shake your head, knowing dressage is all micromanagement and dull repetition? Don't feel sorry for him yet.
We'd enter the arena and pause. He knew what came next and his eyes got brighter, but he stood still as I undid the buckle and paused with the halter dropped off his muzzle but still around his neck. Another moment of wonderful anticipation. Then I'd drop the halter and pause again… his head was up and ready. Then one cluck. He'd bolt away, gallop the long side, and stop at the far end of the arena to snort. By then, I had walked to the middle of the arena and he'd turn to gallop the long side again with loud cheers from me. If it was a good day, he'd buck a few strides to get the kinks out of his back and the crowd (me) went wild. And he'd slow to a trot that had more the feel of a prance with his back lifted and his neck relaxed but high enough that he could push his chest out, good boy! Some days he'd drop and roll, and then leap to his feet, a gallop in the first stride. Now that's a transition, whoop! 
He'd canter to me and halt. This game had two players. I'd go as still as he was, and cluck. Game on again, he'd run, and I'd clap. What if the arena was the place where no one ever got punished but all the best games happened? Once he'd sprayed the entire arena with exuberance, and I had warmed up my lungs sufficiently, things slowed down. Our groundwork included taking turns mimicking each other, reversing in a spontaneous dance of movement and halt at liberty. Pauses, leaps, and spins that one of us did more beautifully than the other, but that was the goal. I wanted him to feel beautiful in his body. No whips, no ropes, no treats. Just a shared conversation, the only word was yes.
One morning, after running through everything I could think of, I needed to catch my breath. My eyes dropped to his left knee, just for a pause, and that knee rose from the ground and slowly extended, holding in midair. Two things happened then. I cheered his brilliance and I realized I needed to up my game. The line between horse and trainer got blurred in a way that I wanted to continue. 
How many times do we approach a horse with the goal of manipulating his behavior? Some of us flat-out want total control. We bark orders and destroy the brilliance of a young horse when we could get a dirt bike and be happier. But not you. You want a partnership (as long as you lead.)
The horse must behave so we begin making small adjustments. We don't pick a fight, we just correct him for not standing still, we back him up, we jiggle a rope. Now we've trained him to jig. You can tell because it's what he's doing. We crowd into his space and then demand he get out of our space. He tries to figure out what we want. Stand still, we say, as we cue him to move. He pauses and we watch closely so we can pounce when he moves again. As if training was a process of elimination, we tell him he's wrong until he quits trying. Nothing harsh has happened but there's no opportunity for brilliance because we've dumbed him down, his eyes in soul-killing, unreliable surrender.
Why do we do it this way? It's simply easier to say no. We feel more secure when we're correcting the horse. It allows us the illusion of control. We fault what's been done instead of inspire the next great thing.
Training a horse begins with a choice for the human. Who do you want to be to this horse? What do you bring in your body language? Can you offer him something that feels good? Because I want the day to come that we move together in brilliant, relaxed unison, I won't fight now. I'll stay on his side. Horses understand the value of getting along. We can trust his intelligence enough to not talk down to him, but rather let him feel the confidence of getting it all right. Most importantly, we can prioritize his willing attitude by not adding to his anxiety. Instead, ask a question and listen patiently, holding for the possibility that he might offer a better answer than expected.
Flash forward a few years. Our rides still start by him galloping at liberty, with his saddle on now. He shakes it all out before the fun at the mounting block. He's young and struggles with balance in his canter depart. It's natural, the canter isn't the solid, two-feet-on-the-ground gait that a trot is. The canter is naturally unbalanced, without a rider. We don't drill it; it would be a truly stupid mistake to rush a canter.
Instead, I was suggesting that a longer trot stride might feel more relaxed than a shorter one. And by that, I mean I was focused on myself, staying in rhythm with him, balanced in my stirrups, carrying my body lightly so he might lift his back. I'm focused on riding the up-stride of the trot rather than the down-sit, thinking up, up, up. Then I listen to him. He answers with the sweetest canter depart ever, but because I was aware of my body at the time, I noticed a small movement in my inside hip bone. It was as if he said, "Feel that place right there? Just lift that a quarter-inch and leave your legs out of it. Less is more, Anna." That was it.  No stress, no friction. He taught me how to lift to a canter as he does in the pasture. It felt absolutely euphoric. And go figure, it's worked on every horse since.
I like to think this particular horse was special. He wasn't, it was just his luck to show up when I was able to listen better. No pretend connections or claims of artificial partnership. I was receptive to his intelligence. Instead of a trainer and a horse, we became explorers.
It's his birthday this week, this beautiful horse who is long retired. It's all play now that I understand the game. He still pulls to the arena. I cluck once, the invitation to say yes. I wouldn't think to correct him. I'm too busy listening so I can ask better questions. We're all about what's up ahead.
…
Anna Blake for Relaxed & Forward 
Want more? Join us in The Barn. Subscribe to our online training group with training videos, interactive sharing, audio blogs, live-chats with Anna, and the most supportive group of like-minded horsepeople anywhere.
Ongoing courses in Calming Signals, Affirmative Training, Fundamentals of Authentic Dressage, and Back in the Saddle: a Comeback Conversation, as well as virtual clinics, are taught at The Barn School, where I also host our infamous Happy Hour. Everyone's welcome.
Visit annablake.com to find over a thousand archived blogs, purchase signed books, schedule a live consultation or lesson, subscribe for email delivery of this blog, or ask a question about the art and science of working with horses.
Affirmative training is the fine art of saying yes.