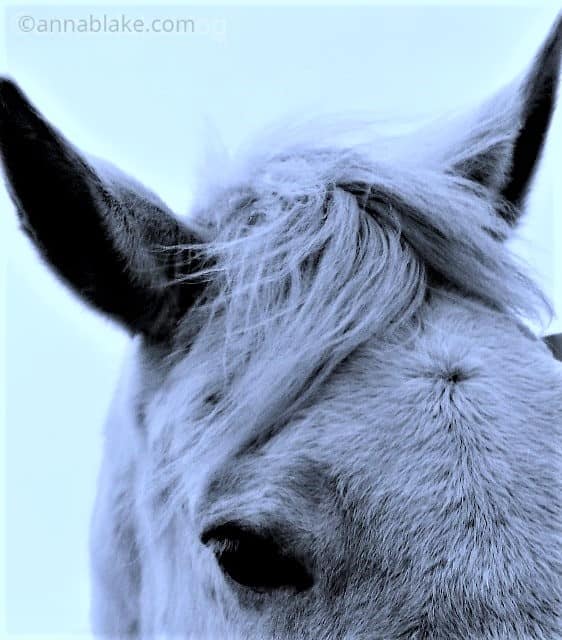 Imagine what it means to have senses as keen as a prey animal. Feel the roar of nature even on a still morning. The scent in the air during the spring mating and birthing season for all mammals. The blustering storms stirring up musty leaves and revealing death and new growth. The jangle and hum of the environment that goes on below human radar are critical events, yet when a horse is standing quietly, we assume he is dozing off or spacing out. 
Perhaps you're multitasking while you think the horse is doing nothing. You might be grooming his tail and adjusting your boots and looking around for your hoof pick and saying hello to someone passing and thinking about errands that need to be done and what you might cook for dinner. Add to that the usual stray mixed emotions attached to each passing thought. Then include that strange combination of love and fear we feel about horses if we're honest.
How often we think the horse is distracted when in fact, the horse is focused on our mixed body language? We talk about flooding horses with aggressive training approaches but is it possible to flood a horse into shutting down with something less than a whip?
Start at a simple thing like a hug. Humans are capable of simultaneously giving and receiving a hug. It's done effortlessly as a shared experience without a question. Horses are not capable of the same multi-tasking. Horses can consciously receive input or give a response to input, but they cannot do both simultaneously. They focus on one thing at a time.
Say you walk up to a horse and he reaches his muzzle out to sniff you. He can't see his muzzle because of the position of his eyes but his whiskers transmit messages to his brain with such clarity that they are nearly visual, so he sniffs to "see" you. It's curiosity. He isn't trying to bond, he isn't forging a partnership. Those are complex cognitive functions. He's just sniffing but if we reach out and pet his nose in response, he will stop investigating. Did we mean to hush him?
What does this inability to give and receive input at the same time mean when building a partnership with a horse? We might give a horse a cue and if we don't get an answer immediately, we cue again. We want to help so we interrupt the horse with another cue before he can answer the last, each time the cue a bit louder. It isn't mean or abusive, it's impatience. We chatter on, so busy asking for what we want but not waiting for an answer. Soon we've flooded the horse with cues and contradictions.
Say you cue a trot. Now it's the horse's turn to give a response so he checks his balance to prepare for the transition but before he can go, he's gotten a second kick in the ribs. He's been interrupted mid-effort, corrected for trying, and now a third cue louder yet. He's lost confidence, is too anxious to try, and braces his ribs instead. Some horses will shut down and we think he's dead to the aids when he has been overwhelmed by them. Others will get tense and spooky, overwhelmed to a boil. It's easy to flood a horse by just not giving him time to answer. The more we push and cue and repeat, even kindly, the more confused the horse becomes. It's too much input.
Now, filled with anxiety, the horse tries to communicate his anxiety. He starts with small calming signals, but if the rider's in a rant of cueing, she can't listen. His anxiety creates tension in his poll, so the rider pulls the inside rein. Then his flight response gets triggered and maybe he braces in a stronger counter bend, so the rider pulls harder. It started out as a simple trot cue, but it's degenerated into a bar fight about something else. The rider gave a flurry of contradictory cues, her legs say go and her hands say stop. The rider is rapid-fire multi-tasking, she's lost focus on the original trot cue and the horse literally can't get a response in edgewise. He can't breathe, he can't soothe himself, he's being pushed forward and pulled back simultaneously. His calming signals escalate as the rider's cues escalate.  
The rider is fighting for control and as always, horses ask just one question. "Am I safe?" 
The rider, frustrated that her horse won't listen, has a dream in her mind of how this is supposed to look. A dream of a horse and rider moving as one, the horse light and the rider effortless as they transition through the gaits in intricate patterns. A light breeze plays with the horse's tail and the rider doesn't have a drop of sweat. To make it all the more beautiful, and worse, the dream-rider is using a neck ring instead of a bridle and her horse has perfect bend. 
SNAP OUT OF IT.
When you see a horse and rider with that kind of sweet dance, know it wasn't their first ride. A partnership cannot be forced but must be coaxed, one affirmation at a time. Allowing the horse to be curious engages the horse's mind. Work looks effortless when the horse is given time to respond without interruption or nagging. Knowing that the horse's confidence was more important than his speed in responding, the rider spends time building the horse up. Corrections destroy trust, so the rider rewarded what she liked, as she looked for another way to ask with peaceful persistence.
In time, we can layer cues successfully, asking for a forward trot first and then adding lateral steps for a fluid leg yield. Or asking for a change of lead at the canter that's smooth and willing, with no poison ears or loss of rhythm. Horses only dance when they feel safe.
By asking for one simple response at a time, not allowing herself to be distracted or impatient, the rider held herself to the temperament that she wanted her horse to have. She took the time needed because she understood that the horse processes information differently than we do. The horse reads that simple clarity as kindness. Once that foundation is laid, speed and seamless response are effortless. All the "go slow" and "less is more" adages make sense.
Slow can become quick but forced can never become relaxed. For the rider, it was a choice to not be adversarial. For the horse, it was simply his nature to cooperate.
If you feel sorry for the horse's simple mind and inability to multi-task, researchers now say that multitasking drops human productivity by 40%, and can make tuning out distractions harder, and for some, can actually impair cognitive ability. Does that mean multi-tasking makes humans less trainable?
…
Anna Blake for Relaxed & Forward 
Want more? Join us in The Barn. Subscribe to our online training group with training videos, interactive sharing, audio blogs, live-chats with Anna, and the most supportive group of like-minded horsepeople anywhere.
Ongoing courses in Calming Signals, Affirmative Training, Fundamentals of Authentic Dressage, and Back in the Saddle: a Comeback Conversation, as well as virtual clinics, are taught at The Barn School, where I also host our infamous Happy Hour. Everyone's welcome.
Visit annablake.com to find over a thousand archived blogs, purchase signed books, schedule a live consultation or lesson, subscribe for email delivery of this blog, or ask a question about the art and science of working with horses.
Affirmative training is the fine art of saying yes.