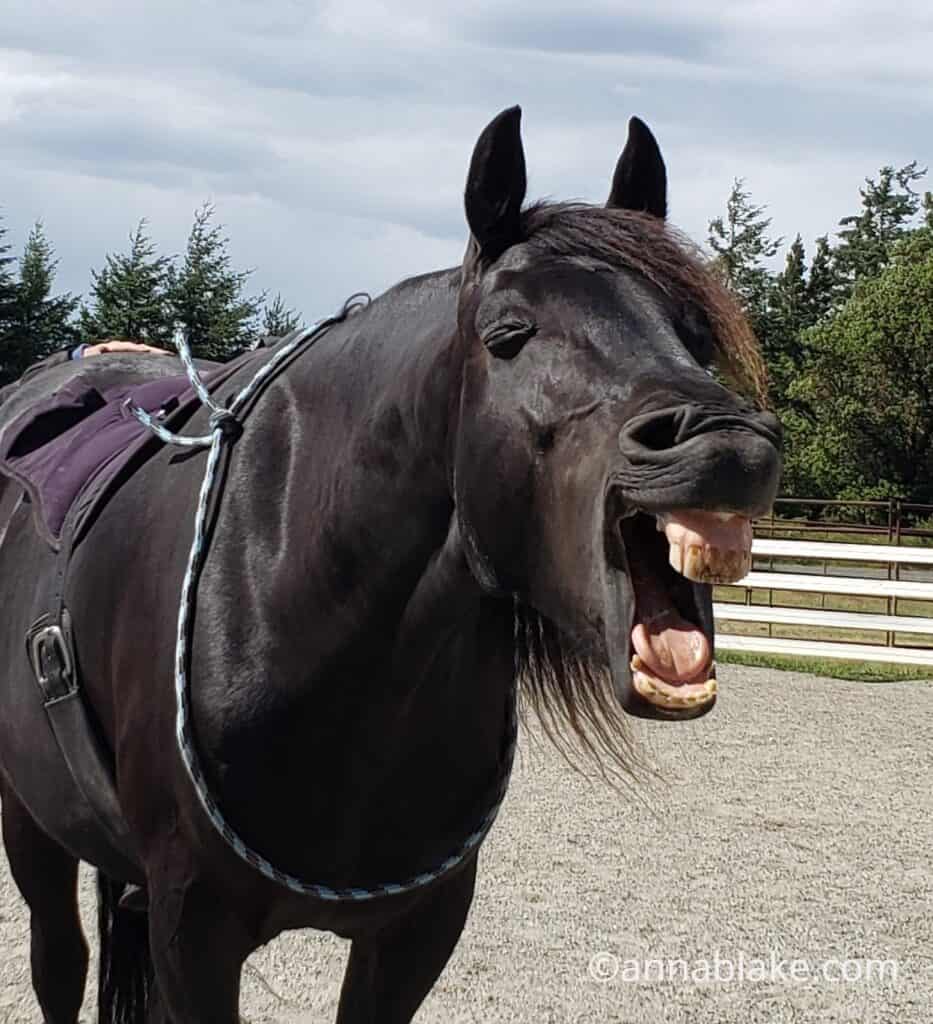 Calming signals are an animal's emotional response to their environment, expressed in body language, sometimes in increasing anxiety moving toward a flight, fight, or freeze response and sometimes decreasing anxiety while returning to a relaxed or restive state.
It's the most natural thing in the world for a horse to feel stress. It might be anxiety about another horse in the herd or the anxiety caused by isolation. A scent on the air or a sudden movement or a sharp sound. Horses have a hard-wired fear of restriction or confinement. We might feel better if we call it a survival instinct, but it's a stress response that keeps a horse alive in his environment. Part of knowing your horse is being aware of his particular stressors. In a sense, they become our own. .
Add to that, the many kinds of anxiety that humans have around horses because we love them: An ongoing stress that they will get sick, that they will die, that they will hurt people. We might worry that our horse won't like trailers or picking up their feet or going over bridges. We might begin to scan the horizon for plastic bags or mud puddles. We plan for issues that our horse may or may not have. Horses can lose confidence by reading the stress level of their human. Knowing that horses read our fear, now we have a low-level fear of our own fear.
Yikes, it's a runaway!
Humans tend to define stress as a bad thing, so we set about trying to force our horses to be calm, as if that was ever a natural state. We might try to control the environment, walking on eggshells, and being unnaturally peaceful, but your horse reads your body language as coyote-like and goes on alert for what is putting you on alert. Or we might think we can desensitize the horse from all scary things, continually pushing him to face the fear that we've created for him to learn from. That constant pressure in training can overwhelm, putting your horse into a state of learned helplessness. With good intentions, some of us create more stress, as we try to relieve stress.
Stress is more fluid than we think. Humans can have anticipatory anxiety because we love Christmas or will be leaving on vacation or are shopping for a new horse. And a minute later, the Christmas to-do list leaves you in a puddle, you get sick in the Uber to the airport and miss your plane, or your new horse arrives and is totally unrecognizable from the one you bought. If the same event can flip-flop between good and bad, it seems like a bad idea to pick sides. Rather than leaping to judgment, can we simply keep an open mind?
We'll keep it simple: Define stress as being alive. And that means stress is inevitable and dependable. It's time to make friends with it.
Is it possible for us to control a horse's emotional response? Of course not. The only control we have is over our own response and one thing should be obvious: If your behavior doesn't contribute to less anxiety for your horse, then change what you're doing. It isn't working.
There is a natural behavior that toddlers have. Perhaps they stumble and plop on the ground. It startles them, so they look to a parent to see how they should feel. If the parent looks alarmed and confirms the danger, the toddler cries, but if the parent, seeing no injury, smiles and cheers, the toddler will become more confident in his exploration. Toddlers are born with a survival instinct, but we can make a choice of how to negotiate that. We can choose what calming signals we give, looking beyond the instant of a small stumble, with an eye toward the big picture. Isn't confidence always the goal?
We also know that horses read human facial expressions. What would happen if we became more focused on the messages our bodies send, rather than the latest training technique we saw. What if instead of trying to evoke a response in our horses, we paid more attention to our own response.
Just as you know the things your horse is likely to feel stress about, you also know his favorite calming signals. Can you offer him an opportunity for self-soothing? Can you bring the release of anxiety rather than being the cause of it?
Embrace the normal status of stress with less resistance. Everything doesn't have to include suffering. Hang a hay bag when tacking up. Give the horse an opportunity for an affirmative calming signal in the release of his jaw chewing, rather than standing in cross ties with no way to move. Plan ahead with gastric support for a trailer ride, knowing it is always a challenge. Wouldn't an antacid be a positive step, even if your horse walks right in? Think less about how you should control the horse's response and more about how you might help him feel safe. Empathy is a universal language that we all understand, but traditional domination training methods make us feel wrong for being weak, when in truth, vulnerability is the finest goal for a horse and human relationship. There is strength in having compassion.
Horses and humans both feel stress as a natural response, but humans have more choice about our response. It takes energy and focus, but could you trouble yourself to smile? It can feel counterintuitive to be affirmative in the face of stress, but could you put a genuine smile on your face when you look at your horse, whether he's doing exactly what you want or falling short of the mark? Could you give him a smile to relieve his stress; give him a smile to remind him that you're not that person who is impatient, not that person who has a temper, not that person who thinks nothing is ever good enough.
The world will always be chaotic. We will always face the things we never saw before, and we cannot desensitize our horses or ourselves to life. We can learn to lay down our natural leaning toward dread and train ourselves to say yes. To become the sort of human a horse can rely on. They say horses make us better people, but the work is ours to do.
…
Go to The Barn School for classes in Equine Calming Signals and Human Calming Signals.
…
Anna Blake for Relaxed & Forward 
Want more? Join us in The Barn. Subscribe to our online training group with training videos, interactive sharing, audio blogs, live-chats with Anna, and the most supportive group of like-minded horsepeople anywhere.
Ongoing courses in Calming Signals, Affirmative Training, Fundamentals of Authentic Dressage, and Back in the Saddle: a Comeback Conversation, as well as virtual clinics, are taught at The Barn School, where I also host our infamous Happy Hour. Everyone's welcome.
Visit annablake.com to find over a thousand archived blogs, purchase signed books, schedule a live consultation or lesson, subscribe for email delivery of this blog, or ask a question about the art and science of working with horses.
Affirmative training is the fine art of saying yes.