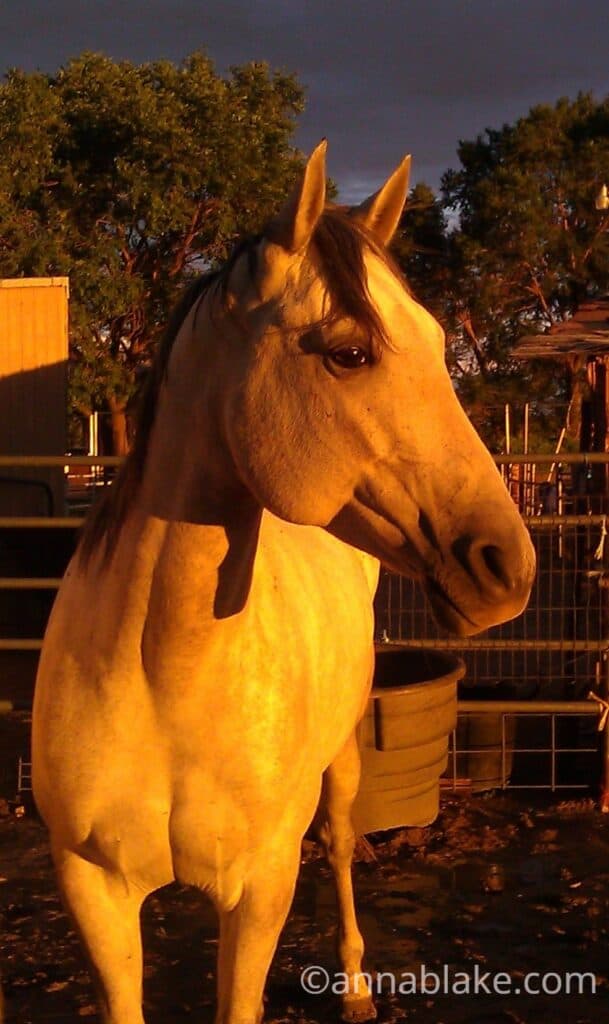 You have made some changes in how you work with your horse and you're both much more relaxed. You've evolved beyond the old voices that demand you show your horse who's boss. Those debunked methods threatened and shamed you as well as your horse. Now, you believe in building the horse's confidence and training affirmatively. It seems obvious in hindsight that fear and intimidation would never get the best answer from either of you.
You've learned the value of going slow to understand your horse's particular calming signals, and you've learned to exchange human calming signals back. You keep your lead rope slack and stand at your horse's shoulder, leaving clear space for the horse's head. You take the time to acknowledge your horse's emotions. Things that were problems have been mutually resolved. Both of you are quieter, you listen to each other. When the initial change happened, it took a while for residual resistance to soften. First, the threats had to be eliminated, whether it was a harsh bit or other kinds of chronic corrections, but then the changes started to happen. You taught yourself to breathe, or your horse has taught you patience, but either way, it means less anxiety for both of you and more of a conversation. Rides are peaceful, progress comes easily, and crank up the music, this is fun. 
Meanwhile, for those who believe in dominating horses, everything else looks like weakness. 
Then comes a day when you call a new vet or equine dentist or farrier. To keep it simple, we'll call that person a specialist. You liked your old specialist, and it can take time to break a new one in, but change is inevitable. The specialist arrives in a bit of a hurry. You are a woman of a certain age, not new to horses, and your herd has experience as well. You can see a question wash over your horses but has there ever been a time when you've seen a horse or dog behave "normally" around a specialist?
The work with the stoic geldings goes quickly and it's time for your young mare. You ask the specialist a question in hopes of slowing things down a bit. But before the specialist can answer, the assistant takes the lead rope from your hand and pulls. Your mare tries to look away, a calming signal to let the assistant know she's no threat, that the assistant doesn't need to pull. But humans get defensive so quickly. Now the assistant has a death grip on the mare's halter and the specialist has joined in, pushing her into a fence panel, and pinning her for a shot. Your young mare looks to you in full panic. 
Talking will do no good; it's too late to slow down and they're too far in to stop. Your mare is looking to you for an answer and telling the specialist what you think isn't going to help. Breathing is the only rational response. You hold her eye and exhale slowly. Then a rhythmic inhale and as you exhale for the second time, your mare's eyes soften. She stops trying to toss her head; a horse's response time is seven times quicker than ours, not that the specialist notices. For humans, it's hard to quit fighting once we start, so they push on, gripping and hurrying, the work done quickly, as if it's a race to win.
Are you meant to be impressed? How have we come to a place of normalized aggression? How does a peaceful herd animal learn to fight in the first place?
A flight response is normal for a horse, as we all know. We talk less about the human response to fear, which is frequently transitioning into fight mode. Humans usually get defensive, if not physically then verbally. Ever noticed how ineffective it is to tell a professional how to do their job? It isn't just traditional vets who keep a twitch handy or farriers who hogtie horses. No one likes to be criticized. You won't get a palmed forehead and an embarrassed apology.
The woman understands how things work A friend had recently complained that her trainer wouldn't agree to work her horse the affirmative way she wanted. She thought the trainer was wrong, but it wasn't a fair request. You can't order specialists up like an ala cart dinner. Each specialist works their way intentionally. You can't insist a dominating specialist be gentle any more than you can insist an affirmative specialist use a whip or see-saw a harsh bit. Right or wrong, your only control is to take your business to another if that's possible in your area.
But there you are, a woman of a certain age, why bite your tongue? It isn't the first time something like this has happened and you can't change even the recent past, but maybe you can learn something to use in the future. You decide to ask for the specialist's opinion. You say you've never seen your mare react so strongly. Does the specialist know why? Well, she was resisting, the specialist explains. You ask was the mare being aggressive? No, she wouldn't stand, the specialist responds. Was she afraid? Now the specialist gives you the withering look. That's when it dawns on you. You ask if it could be something in her environment that sent her to a flight response. No, the specialist says, it was just her.
The specialist doesn't see himself as part of the horse's environment. You let this sink in. 
The specialist might notice the change in your tone but if so, won't imagine their behavior made you change. It's just how women of a certain age are.
You wonder how many less experienced horse owners look to specialists for training advice, assuming if they know about teeth or hooves or colic, then they must know about problem-solving. You wonder if while attempting to heal one part, the specialist does more damage to other parts of the horse.
But now you have your mare back, standing at your hip with her neck long and her eyes half-closed. Unconsciously, you match your breath with hers or she matches hers with you, it no longer matters who cues who because that's what partnership means. You know she's processing what just happened. The mare has only had her face manhandled a scant number of times in her life, and always by a specialist. She's is smart enough to recognize a predator when she sees one.
Rolling down the driveway, the specialist looks in the rearview mirror and sees an older woman and a badly behaved horse.
…
Anna Blake for Relaxed & Forward 
Want more? Join us in The Barn. Subscribe to our online training group with training videos, interactive sharing, audio blogs, live-chats with Anna, and the most supportive group of like-minded horsepeople anywhere.
Ongoing courses in Calming Signals, Affirmative Training, Fundamentals of Authentic Dressage, and Back in the Saddle: a Comeback Conversation, as well as virtual clinics, are taught at The Barn School, where I also host our infamous Happy Hour. Everyone's welcome.
Visit annablake.com to find over a thousand archived blogs, purchase signed books, schedule a live consultation or lesson, subscribe for email delivery of this blog, or ask a question about the art and science of working with horses.
Affirmative training is the fine art of saying yes.