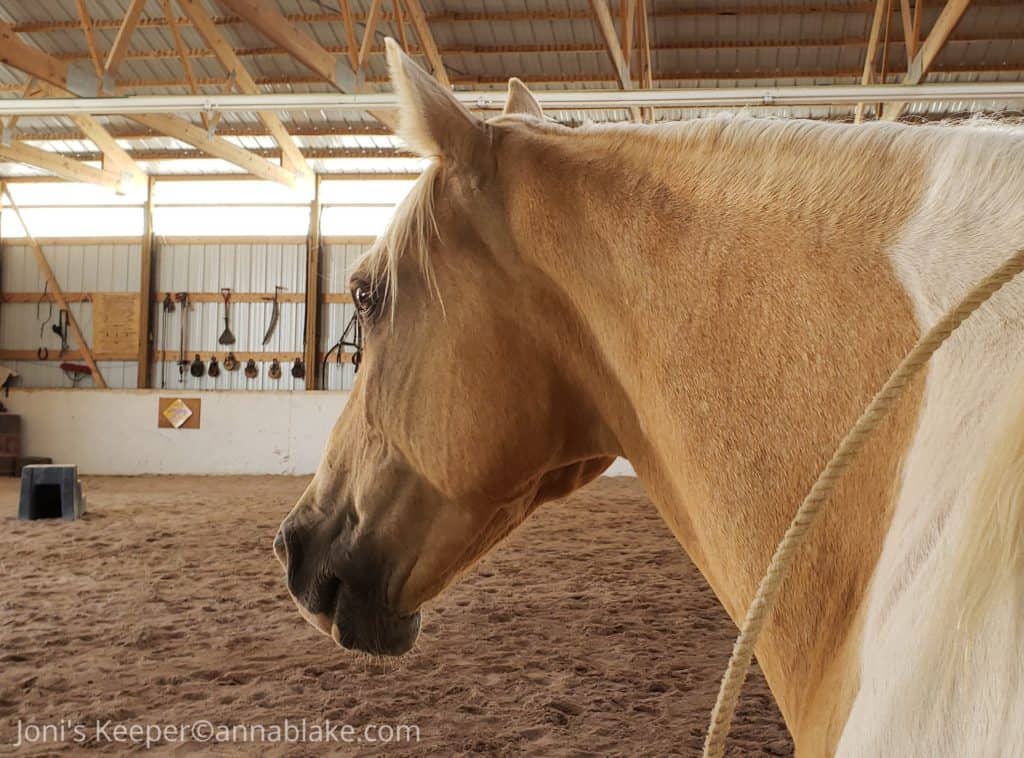 Horses gallop on pounding hooves that cut the ground and then melt to a stop, whiskers floating in the light. A masterpiece of contradictions, horses frighten easily but are forever curious. Wilder than a dog, much bigger than a cat, with a certain animal magnetism that drew you beyond childish reason. Can you remember your earliest thoughts about horses? It was like a fairy tale.
It isn't until we meet a horse in real life that the gray areas in the fantasy appear. One of my first memories was sneaking into the pasture to scratch "my" horse, Snickers. I usually had some sugar with me, so I thought he loved me. That day I had no sugar, but he rushed up, planting one hoof on my little tennis shoe, pinning me while he did a body search. It hurt so much, I couldn't scream and no matter how I pushed on his shoulder, he didn't move. I did have time to think my first tearful complicated thoughts about horses. It's all fun and games until someone gets hurt.
Soon after, I got the lecture about respect. My father taught me all the myriad of crimes I should punish horses for, so they would respect me. There was nothing I wanted to hear less. Besides, I worried that my toes might turn black and fall off. My youthful working definition of respect was fear. I was afraid of the adults I was supposed to respect, so respect must equal fear.
Does that mean we should scare the horse? By then I was falling off my terrified pony and told to not be a sissy about it. Show that pony who's boss. My pony and I were both extremely clear about who the boss was, and it wasn't either of us.
When did the reality of horses get more complicated for you? Sometimes we sneak them treats and hug his muzzle, sometimes we make ourselves big and chase him out of our space. Sometimes we scare him and sometimes we stalk him like a coyote and sometimes we bury our faces in his mane and cry. As our emotions run the gamut, the horse gets confused and may start developing bad habits. All along, he had emotions of his own. He seemed to greet us with pert ears and a slight twitchiness to his muzzle, which we still want to think is love, but is it the look he gives dogs as he tries to suss out if they are friendly? One day we might coo and the next day, feeling a bit threatened and bowing to the rule, we'd make ourselves big, waving arms overhead, insisting the horse get out of our space. We were told to set our feet and demand that the horse moves his hooves, this horse who we'd been noodling with hours before.
Show the horse who's boss, they say. But all we wanted was to get along. We didn't know then what we know now. We're right in front of a horse but his vision is so much different than ours, he might not see us. We were all taught fear-based domination training, but that approach has been debunked for years. Do we think that making ourselves the scariest thing in the environment will engender trust simultaneously? Horses want safety and we give them erratic emotional outbursts.
Now that we know more now about how horses think and learn, we can be more effective in training. We may not want to think about the question of boundaries, but we know they are needed for our safety and our horse's sanity. And there is a much easier method to train horses about boundaries. And by that I mean, ways to train humans since we're the ones who create the issue with horses.
Try to see the horse's side. Maybe that look on his face when you arrive is truly apprehension. "Who is she today?" Some mares will mutter under their breath, "What fresh hell is this?" because Dorothy Parker and mares have a lot in common.
Begin here: We're standing in the horse's pasture or in the barn. Where do we get off thinking that is our space? If the horse was standing in your living room, he'd think it was your space, but it's us visiting his home, and although horses can be territorial in some cases, humans are the ones who love to fight wars about borders and boundaries. We are predators. I don't think horses are even on the same topic as we are when we "make ourselves big."
And yes, I know I'm talking environment but that is where our personal space exists. The horse has his personal space and we have ours, but both are located in the environment we share with all other animals, machines, and weird light patterns. We think it's us and him in isolation and he should pay strict attention when his life depends on situational awareness.
But isn't this whole conversation a bit arrogant? Who made us gods? Humans think we are the obvious superior animal through evolution, but we can't see or smell or hear as the horse does. We might seem smart in front of a computer, but that all falls apart lost in the woods, or working with horses. Most of us would have no idea what's happening without our horses telling us.
Let me pose this boundary question again. Is it my space to defend with dominance because of our privileged status as humans? More importantly, is my horse responsible for my safety?
Horses learn by example, expressing their feelings through calming signals and watching what other horses do. We have a choice to communicate as a predator or in the language of horses. As an affirmative trainer, I'll teach respect by demonstrating it. I will step out of my horse's space. He feels that as a release, they are always more anxious when we are closer, no matter how much we wish it wasn't true. Listening to his calming signals, I'll provide safety.
When we step away, out of their space, we become clearer in his vision, give him room to breathe and assess the moment. Then the horse also recognizes he feels better, relaxes, and feels safer. He is certainly intelligent enough to return our calming signal. Soon the two of you are closer than ever because the space between you is consistent. You've taught him to release anxiety by standing in autonomy and that boils down to a more confident horse, and a safer horse.
When you respect your horse, you acknowledge that he is a hardwired flight animal, and it is your responsibility to keep yourself safe by teaching yourself situational awareness. It is your responsibility to respect his space and discipline yourself to be consistent and trustworthy about your own boundaries, so he can do the same.
Partnership will never be about staked out space; it will always be about existing together. No one feels safer when dominated. The animals of the earth live together in a multi-species herd. Horses want peace and that's the behavior we should mimic.
…
Anna Blake for Relaxed & Forward 
Want more? Join us in The Barn. Subscribe to our online training group with training videos, interactive sharing, audio blogs, live-chats with Anna, and the most supportive group of like-minded horsepeople anywhere.
Ongoing courses in Calming Signals, Affirmative Training, Fundamentals of Authentic Dressage, and Back in the Saddle: a Comeback Conversation, as well as virtual clinics, are taught at The Barn School, where I also host our infamous Happy Hour. Everyone's welcome.
Visit annablake.com to find over a thousand archived blogs, purchase signed books, schedule a live consultation or lesson, subscribe for email delivery of this blog, or ask a question about the art and science of working with horses.
Affirmative training is the fine art of saying yes.