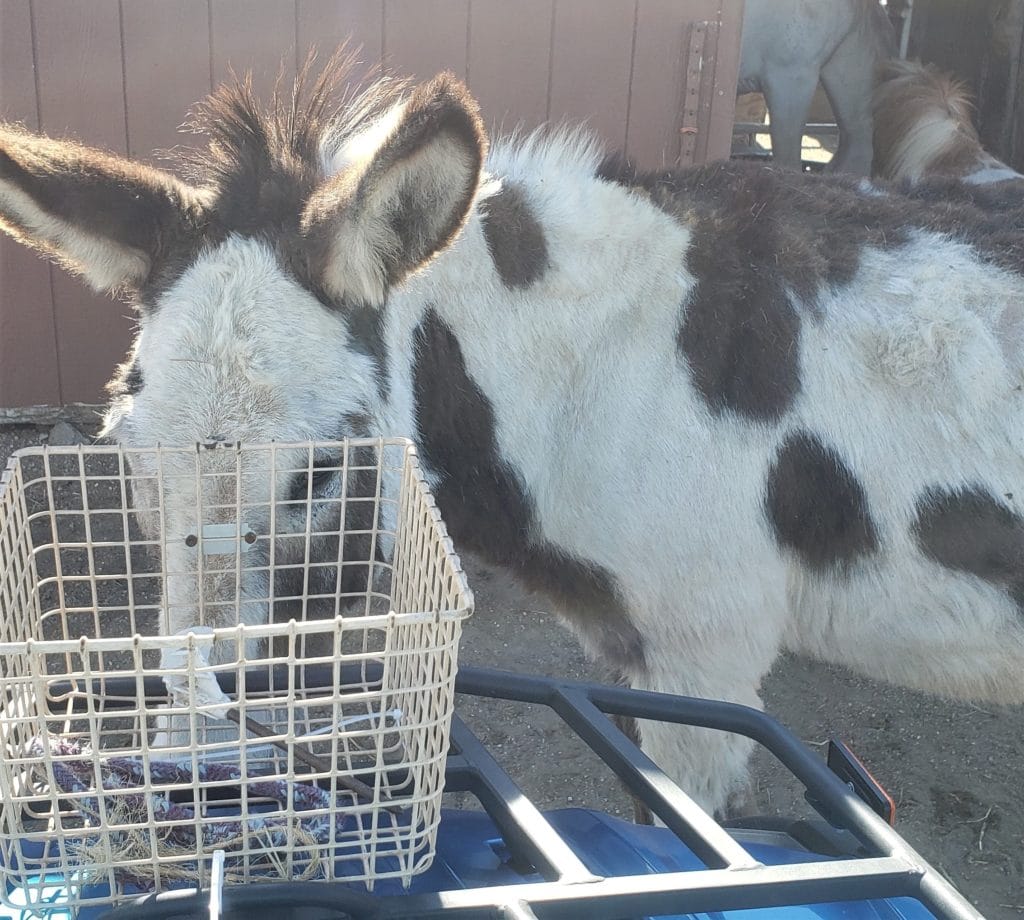 I am the great-granddaughter of pioneers. They traveled far, mixed their blood with those not like them, and built lives out of thin air and hard work. My farm needed a storage shelter. Not big, and a tarp would do for a roof. I saw small Quonset huts online. They were reasonably priced and just about right, but they all had marginal reviews. As I pondered which might be the best not-near-five-star shelter, my eyes fell on some fence panels beside my barn. They were made with heavy stolid iron rods, not those new-fangled hollow pipe kind. A normal woman doesn't build shelters, but I'm special. I have horses. 
I am the granddaughter of a man who built roads with a horse-drawn road grader with a home-bred six-up team, and a woman who bragged she'd delivered more calves and foals than any woman in North Dakota. She was whip-smart in her eighties. I dragged the fence panels to the desired spot with the ATV while making sure to not tear out any fence or let the horses out, but my real superpower is truly understanding that brains and the right tool will do the task better than brute strength. Besides, out-thinking a fence panel can't be that hard. 
I'm a daughter of depression-era parents. Farmers invented recycling. We are stewards of our farms and the earth. We do what needs to be done, taking pride in wasting nothing. I tied two panels up with twine, perpendicular to a previously standing panel fence, set at an angle that won't fight the prairie wind. Three walls; it might work, I thought, and drove some t-posts in to anchor the panels. Now to get the last panel on top for a roof. Did I mention the solid iron part? I'm no frail flower but it was all I could do to stand one up. There was no way could I lift one over my head. Here's where being of the "weaker" sex starts to pay off.
It would be totally reasonable to ask for help, but so many times things go wrong. Sometimes the muscles come with egos. Or the project goes slow and helpers get impatient and "emotional." Some part needs finesse, and instead of slowing down to consider options, the energy gradually gets aggressive, until suddenly it's a life-and-death fight with gravity. Fingers or toes get smashed, profanities screamed to the heavens, and worse of all, the animals look at us squinty-eyed. One other thing: I'm told the first thing I ever said was, "I'll do it myself." That was right before I started pretending that gates were horses and riding them with saddles made from twine.   
I'm a woman with negotiation skills. My first idea was a pully but I couldn't relieve enough weight to make it work. So, I wedged the panel up from an inverted bucket to a muck barrel, to an upside-down water trough, each time shortening the twine that was a safety catch against it falling on me. Slow and steady, a few inches at a time, using balance and leverage. Mostly, using my brain. I didn't hurt my back and this new shelter is sturdy and perfect. Bring on the wind. 
This is the secret to building a recycled shed or working with horses: Change your energy in the moment of resistance. You can't force a fence panel into submission, but you can dance it there. After all, that the fence panel isn't your enemy, it's doing you a favor. You can't intimidate a horse into partnership by treating him like an enemy, but you can control your emotions and make a better choice. You can be calm and negotiate a safe place for the horse. Then watch the trust grow.
The moment you don't know what to do next; when you are about to snap and resistance sits heavy on your chest, flattening your heart, is precisely the moment where fundamental change is possible. At another time we might have thrown a hammer or picked a fight with a horse, but now we slow down, breathe, and realize the strength in having nothing to prove. Just then a better idea pops up. The strength we are building has a softness because it begins with first making peace with our own imperfections and vulnerability. We look within and make the best of what we have. Miraculously, it is plenty.
Our ancestors were not perfect, but they got us this far with homegrown ingenuity and bull-headed confidence. We are their legacy and not to be underestimated. Remind yourself that you are on your side. You're on your horse's side. If you look at it right, there is only one side. 
Horses know humans are all born predators, but some of us are in recovery. When we know better, we do better and this is how it happens. Our motto has matured to "I do it my way, without apology." We've learned that we have all we need right here. We are works of art in progress. 
Perhaps we each pioneer our own lives. In the beginning, we're disoriented and without balance or rhythm, but we don't back away from hard tasks. Some of us work in untraditional jobs or face resistance in relationships. We didn't start out this tough but we've been work-hardened by life. Given the choice of becoming bitter or using our gifts, we found our true height. We replaced impatience with cool planning and the stubbornness of a longear. We don't like being told what to do and that gives us a head start understanding horses. Realizing we have more in common with them than we thought, especially when the going is tough, we know we'll be fine. Our vulnerability is strength; we may bend but we don't break. We have our wits, rely on the Golden Rule, and trust horses to let us know where we need work.
Meanwhile, I have a new shelter and a little extra hay money going into winter. I could have bought an online Quonset hut and it might have been prettier. But I'd have to replace it every year after it shredded in the wind or flew off to Texas. I know this because of the number of buckets and lawn chairs that have already headed across the prairie in that direction and because I know what I know. I'm special. I have horses. And a donkey.
…
Anna Blake for Relaxed & Forward 
Want more? Join us in The Barn. Subscribe to our online training group with training videos, interactive sharing, audio blogs, live-chats with Anna, and the most supportive group of like-minded horsepeople anywhere.
Ongoing courses in Calming Signals, Affirmative Training, Fundamentals of Authentic Dressage, and Back in the Saddle: a Comeback Conversation, as well as virtual clinics, are taught at The Barn School, where I also host our infamous Happy Hour. Everyone's welcome.
Visit annablake.com to find over a thousand archived blogs, purchase signed books, schedule a live consultation or lesson, subscribe for email delivery of this blog, or ask a question about the art and science of working with horses.
Affirmative training is the fine art of saying yes.