What does it mean to have a connection with a horse? You just know I'm going to be a loudmouth party-pooper on this topic. It's like T-ball. The topic sits still, just begging me to wack the bejeebers out of it, because I am a killer of romance and anthropomorphism. If you are on the horse's side, I think it's required. 
There are words that we use without understanding because they flatter us. And since horses don't talk, we make up the story. In the last year, it hit an all-time low with several published lists about how to tell if your horse is bonded or things to do to connect with a horse. The lists were wildly popular on Facebook but they had no research footnotes. They seem more akin to articles about how to get a boyfriend in Teen Angst magazine.
The behaviors listed are contradictory, superficial, and stupidly dangerous. Some claim you make a bond with a horse by feeding treats. It doesn't consider metabolic disorders or gastric conditions. Some held the carrot and teased the horse until the horse's face distorted into anxiety. Some horses become food aggressive but we smile and think it's love and not prostitution.
One of the lists compared mutual grooming between horses to girls doing each other's hair. Ironic when I think of the horror stories told about hair being "accidentally" ripped out, broken noses, and in the worst case, a series of plastic surgeries needed. As much as we wish it were mutual grooming, we aren't horses. The horse becomes confused about boundaries because sometimes we noodle with them and other times, we punish them for crowding us. We want it both ways.
Then there is the pseudo-mystical exchange of breath. Who doesn't thrill breathing in their spent air? But how do horses feel? Their muzzle is the most sensitive area on their body with millions of nerve endings. Some post photos of horses "smiling" (flehmen response) or making "funny faces" (calming signals) as if horses were emojis. Research says the visilli (whisker) sensitivity sends messages to the brain so keen that they are almost visual, which makes some sense since horses can't see what they are eating or sensing below their muzzle. They sniff us because we're in their blind spot, or we have contradictory smells, or food in our pockets, or because they are curious. They have their own reasons, but we should be listening to their calming signals, their emotional response to their environment, instead of humanizing horse behaviors. 
Still, we look for proof of a special bond. We try to evoke a response, even if it's anxiety that we try to see as affection. We want them to acknowledge us, even if we have to bait them into it. We want horses to love us as much as we love them. Sorry. 
While we're looking for validation, horses are simply horses. Forever flight animals, horses are ruled by their response to their environment. It doesn't matter how many generations they've been living with humans, no matter how long you've owned that particular horse, they remain in fear for their survival. Horses are equally dangerous to dominating riders as they are people convinced their horses love them. Sorry again.
Why am I such a loudmouth party pooper about these silly articles? Because this kind of trivializing of horse training is insulting to horses and good horse owners, those who hold themselves to a higher standard. Whether rescue horses or well-bred competitors, we know reliable horses are trained with kind, confidence-building experiences. We understand horses cannot change their nature, but we can change ours. We can be more concerned with using our breath than feeling theirs. We remain slow and consistent, even when railbirds cluck and tsk. We inch our way toward something real. 
A bond is a promise of safety, a pact of honor, a treaty of trust. A bond has to count when it matters to the horse. Having a bond or connection with a horse means that we listen, putting his safety above our desire for selfies. A bond means that the horse isn't perfect for the farrier but gets a little better each time. A connection shows when a horse lets us dress a wound, even when it hurts. Or trusts enough to load in a trailer when there is a fire and he's afraid.
I'm not trying to make horse-crazy girls cry or ruin the carrot business. Of course, we all love horses, but love isn't the goal; it's the fuel. The important question is what does your horse need to feel safe?
I want to celebrate those who are in for the long haul because a bond can't be bought with a carrot. I want to celebrate the horses who didn't get a solid start but find their footing eventually with a human who leads them back to peace, earning every release the horse gives. It takes consistent, patient work over time to build a connection strong enough to support a horse. 
But if you still want evidence of your bond with your horses, I know a way.
It happens when someone comes to visit, usually adults and kids, wanting to meet the horses. I guide them through the pens, introducing the horses while Edgar Rice Burro quietly positions himself for scratches when the truth is that he is the herd sentinel. Seeing it's safe, the horses stop eating and come over, stand still, drop their heads. I ask visitors to not touch their noses, but it's irresistible and they do, pushing into the horse's space and mugging them. My horse might close his eyes, pulling inside because the visitor is too close, but no horses shove or resource guard or make faces. A visitor might kiss a horse and think it's a big achievement. The horses and I exchange glances, they mostly tolerate the intrusion with patience, although my mare will give me the side-eye. I move the visitors along when each horse gives me the sign, so slight the visitors don't see it. Some horses volunteer nothing at all, still works in progress. 
Of course, the visitors fall in love. I smile at all they don't know as they tell me about a special connection they had with one of the horses. I know that horse's history. If the visitor could get a halter on, they couldn't lead the horse away from the herd. There is no bond with the visitor, but still, I nod.
It's taken me this long to find the words for the scenario. There is a bond there, but horses who are okay with strangers, whether visitors or veterinarians, have learned to trust. What the visitor is experiencing is a ripple effect of the bond the horse has with his owner. Kind and polite horses are a result of an owner who works daily to build a bond deeper than her love of horses. It's a bond that allows the horse the freedom and confidence to choose our company. 
…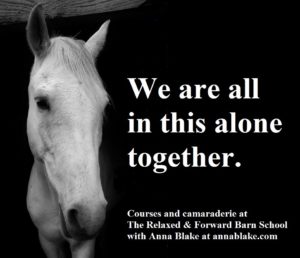 Anna Blake for Relaxed & Forward 
Want more? Join us in The Barn. Subscribe to our online training group with training videos, interactive sharing, audio blogs, live-chats with Anna, and the most supportive group of like-minded horsepeople anywhere.
Ongoing courses in Calming Signals, Affirmative Training, Fundamentals of Authentic Dressage, and Back in the Saddle: a Comeback Conversation, as well as virtual clinics, are taught at The Barn School, where I also host our infamous Happy Hour. Everyone's welcome.
Visit annablake.com to find over a thousand archived blogs, purchase signed books, schedule a live consultation or lesson, subscribe for email delivery of this blog, or ask a question about the art and science of working with horses.
Affirmative training is the fine art of saying yes.