You are a horse trainer. It does not always give me joy to say so, but it's true and other professional trainers agree. If you are holding the rope, you qualify whether you watch videos or not, take lessons or not, have already paid a trainer four times what you paid for the horse or not, read this essay or not. Most of us have a persona for mucking and grooming, and a whole other persona for training. Your horse wishes you didn't but if the halter and rope are on (or saddle and bridle) and it all changes. We have leverage and the horse knows it. 
But we have a frontal lobe pontificating in a longwinded board meeting offering suggestions. Do this, do that, we think. Is someone watching? I want to be good at this. My horse has issues that must be fought corrected retrained. Our horses must not embarrass us behave. 
Maybe he wants to graze, which is horse calming signal language to tell us to soften our hold. To us, it's rude and we have all been told if we don't correct that, we will spoil our horses. Meanwhile, our horse thinks we didn't hear him or we're mad. He feels the session starting to spoil, but not the way we have been warned about.
We correct. We aren't nasty, but short and sharp, we correct. Then we half-bait to see if he's learned. The horse should know better than to do that, even if he's nervous in a new place, even if it's spring, even if he doesn't want to leave the herd. Now we're guarding the rope, ready for him to falter. We don' want to get hurt, after all, not noticing that's his primary concern, too. He continues to try to graze; it's a calming signal. He is saying as clearly as he can that he is no threat. He knows he's still in trouble and he doesn't feel safe. 
We don't praise him of course. The horse isn't being good enough for praise. We think if we praise a bad horse we'll train him to be bad. So the horse lingers in purgatory, uncertain in a cycle of punishment. Horses don't praise us either, but we're the bossy and impatient ones more evolved species with the frontal lobe. It's our job but you have to wonder why we think praising bad behavior will profoundly train a horse when all the rope pulling doesn't.
Finally, time for groundwork or the ride. It doesn't matter to the horse whether we ride or do groundwork but we have all kinds of emotion opinion on which we do. Either way, we want control. We are still guarding the rope or reins, still thinking we can control him by acting like a coyote (?) dominator trainer who can hold a rope. We've corrected him a dozen times not that we notice. Our horse lightly suggests he needs more room by looking just an inch away, and after all, a counter bend is a calming signal. We know this one. Horses look away to tell us they are no threat and we don't need to be so loud. The more we pull for bend the more he looks away. It isn't about training, it's about the horse's anxiety.
Horse: I'm no threat to you.    Human: You know how to do this. 
Let's flip the story. Let's say it's a different day and we're exhausted, distracted horse trainers. We've worked a long day and didn't sleep well last night. We decide on a trail ride because we don't feel up to forcing behavior training. That should be the first clue, not that we notice. When horses tell us they don't like arena work, what they mean is they don't like who we are in the arena. We become repetitive, slow-thinking, micromanaging asshats riders with tight hands and no ears. Truly, horses think we're a bit slow. Eventually, they become reluctant, shut down. Why would any horse go willingly to the principal's office arena. It's no fun there.
But okay, trail ride it is and both of you are glad there won't be a fight. The horse's poll relaxes and his neck is stretched out. Our bodies are soft, the reins long. He moves at a normal walk gait because his mouth doesn't hurt, his sharp rope halter hasn't been jerked. If we are in the saddle we might let him pick the way. If we read this blog and know the joy of leading from behind, we might let the horse take us for a walk. The horse daydreams about what would happen if humans rode on the trail like we were in the arena and rode in the arena like we were on the trail. Could humans confuse themselves enough to give up and just act like they do when mucking?
But the human is tired, the horse relaxes, the day is lovely, and we fall in love all over again because we're too tired to pick a fight train.
Horse: See? You know how to do this.   Human: I'm no threat to you. 
Notice what happened there? It isn't a coincidence. When we're in that mucking persona, we negotiate. We breathe, our shoulders release, we just say yes. We can train affirmatively. Our horses would like to train us to be this way full time. They only have body language and we have the frontal lobe. We make a choice about who we are every moment but too often unconsciously.
Then the next time in the arena, the horse (huge amygdala, wonderful memory) knows that we can do better. We've shown them. They know that we are capable of being soft and pleasant and they know the ogre trainer lives in the arena. Some horses will shut down and quit trying, and some horses, the very best horses, will hold us to that elite mucker/trainer standard forevermore. 
Expecting us to communicate with lightness and perception, as horses do, is the finest gift horses give us. They think we can learn; that we're trainable.
…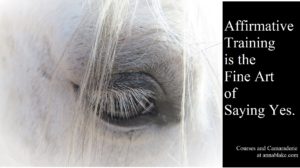 Anna Blake for Relaxed & Forward 
Want more? Join us in The Barn. Subscribe to our online training group with training videos, interactive sharing, audio blogs, live-chats with Anna, and the most supportive group of like-minded horsepeople anywhere.
At The Barn School, ongoing courses in Calming Signals, Affirmative Training, Fundamentals of Authentic Dressage, and Back in the Saddle: a Comeback Conversation, as well as virtual clinics, are taught. I also host our infamous Happy Hour. Everyone's welcome.
Visit annablake.com to find over a thousand archived blogs, purchase signed books, schedule a live consultation or lesson, subscribe for email delivery of this blog, or ask a question about the art and science of working with horses.