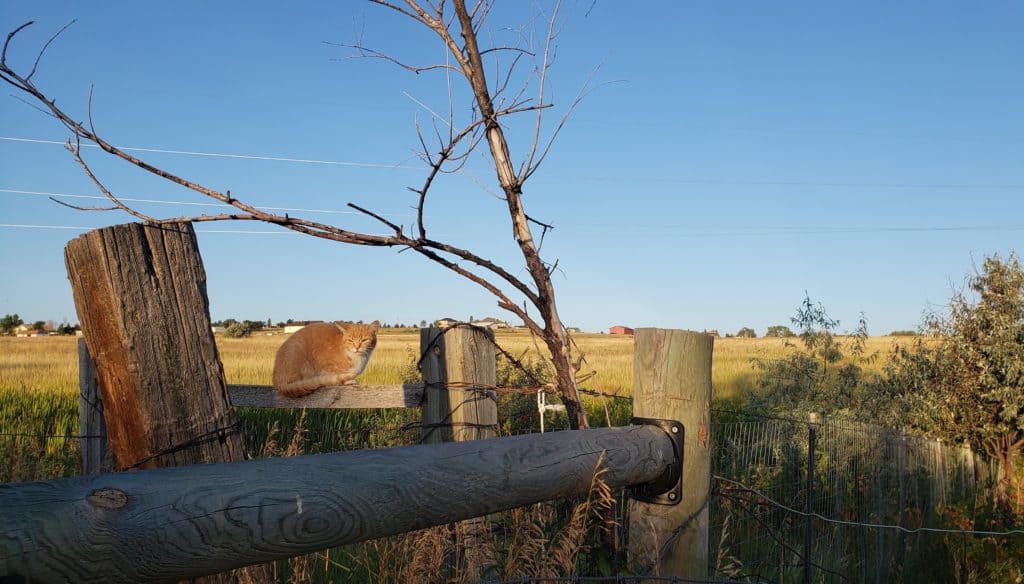 I walk in my pasture. Women of a certain over-thinking age do well to put a few miles in a day. Here on the high prairie, it's scrub weeds, intermittent wildflowers, and big black beetles. It's a win to see birds or salamanders. The high desert land fascinates me but we've been in the "historic drought" range for a while. I never used to think pastures needed protecting. One night at dusk, I marched into the far corner of the pasture and lifted my eyes to see a small ginger cat on the wooden corner post. I stopped flat, as if it was a mountain lion. It was so young and its flank curved in where it should curve out.
If you are bilingual, if you speak calming signals as well as words, (you do) then you give an exhale, keep your hands to yourself, and look away. The ginger looked back with half-lidded eyes. It might have been napping. No hissing, probably not feral but it had been living rough. A second later, it flew off the fence and disappeared into the weeds. We've got some Nicholas-Cage-tough tomcats in the area and a Great Horned Owl on the pond that looks well-fed, but most small animals get eaten by hawks here on the open prairie. The ginger had a white bib and mittens equaling high visibility. I wasn't sure I'd see it again.
"You can't save 'em all." My parents said it first, but many others over the years have frowned dispprovingly. It might be the most obvious warning ever. Right up there with "You'll get wet in the rain." My first "rescue" was a kitten I shoplifted. Naturally, I got caught. I'm sure I walked too fast toward the door of the pet store, clutching it to my chest and protectively rounding my shoulders. A man called me to pay for the kitten but I indignantly blurted that it was sick and started run-walking. I was in high school and knew better than to announce it to my mother but she recognized the guilty body posture. A tiny black kitten, too young to be weaned with snotty eyes and nose. It died later that night but fifty years later, I'm the same girl
I caught a glimpse of the ginger the next week on the corner post again, and with all the l skill I use catching fearful horses, I moved closer as passively as I could. Horses and cats have more in common than we think, but calming signals are a universal language. If I could make friends, I could get it neutered. Would I need a trap? A few days later, I got close enough for a quick touch, and I walked away before it fled. A few days after that, the ginger strode towards me on the path. It was worth a try, I turned toward my barn and it followed. It was a perilous choice; we'd have to pass my yard, guarded by short attack dogs who are ginger-colored and the only ones who recognize the true danger of cats. Humans are complacent and foolish, but the dogs are not so shallow. The Little Barking Men yapped and yodeled but I stayed between the cat and the dogs. Then it ran through the horse pens, into the barn where I keep a smorgasbord (as my people call it) of kibble and free-range mice. I filled the dish fresh while congratulating myself for being a genius wild cat tamer. Okay, this little ginger was probably snacking there before, but during a pandemic, it felt like I was working on world peace or fighting climate change or at least, had a new reason to hide in my barn.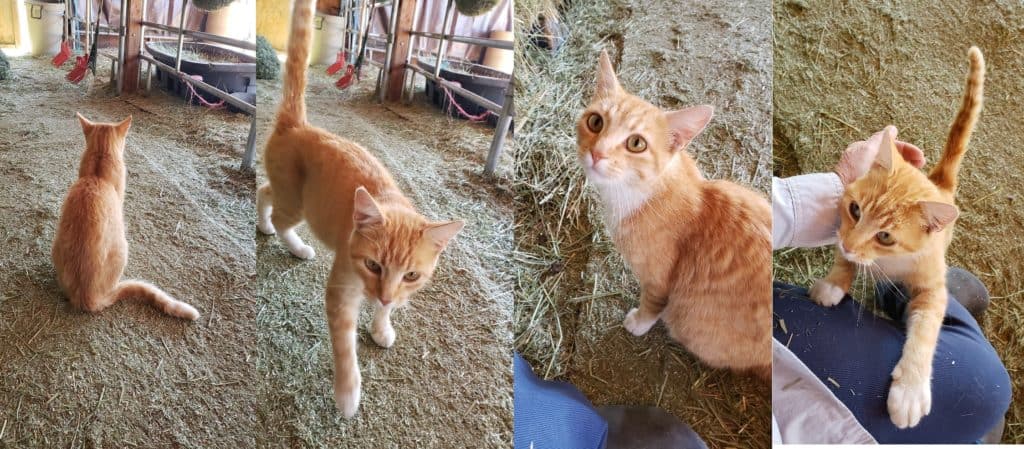 Cats and horses take the time they take. They don't care if you think you are doing a good deed, they know better than you. So, I waited. I saw cat shadows every few days, I'd call during the night feed and wait in the dark, but I more hoped than saw her for the next couple of weeks. Eventually, the ginger came during daylight, not eating while I was there but I was wearing it down. I can be relentless. Then one day, all final defenses fell. Finally, she climbed on my lap and purred and I felt her spine sharp under my hand.
I am the cat whisperer! I am patient and a genius with animals. I can do it all, bandage goat injuries singlehandedly, do a vaginal flush on a llama, train horses, sleep with dogs. Not to mention, cheer, gloat, pat myself on the back, and just generally bask in the glory of my incredible animal magnetism. One of these days I'll be able to look at this cat's backside and know what sex it is, I am legend! Yay, me. (Like I say, pandemic brain.)
Then the ginger stepped off my lap and did a couple of rolls on the ground and I think, gosh, the cat is really not that thin, it has benefitted from the kibble. There is an actual belly where there was only gauntness before. Anna, you saint! You do-gooder! The cat is round now. Wait. Too round. It's gained weight, but just in one place. And from this angle, no need to look at her backside to tell her sex. And I know just enough about pregnant cats to know their hormones make them extra friendly. Yay me. Cat whisperer.
"You can't save 'em all." After I left home, I wanted to work with animals and I got a job at a shelter. This was the seventies, a different time. My main job with euthanizing year-old mixed breed dogs. The management needed a woman working in intake because so many dogs were afraid of men. I also worked with the sick animals; if they were purebreds, we tried to save them. It was twisted and challenging but I love animals. I have no other excuse. 
Sometimes people brought mothers and litters of tiny kittens to the shelter. It was before anyone thought to foster cats, and we euthanized litters this young because we had no place to keep them. One day I begged a woman to keep hers for a few more weeks. We could adopt them all, I told her, would she please bring them back then? You know how that goes, right? The woman got mad, the assistant manager had to calm her down, and I got a good talking to and a threat that I could lose my job. The whole event felt like a pileup on glare ice. As if this was a job that anyone in their right mind would want. Trust me, you really don't have to tell me I can't save'em all. 
But I brought this ginger girl, not much more than a kitten herself, into my writing studio. She'd a private place away from my housecats and the cruel Little Barking Men. I fed her, bought a new cat bed which she hated. She sat on the windowsill looking outside longingly but soon her belly was too big to balance there. Then one afternoon while I was writing, I looked under my desk and she'd begun labor. I put a towel down and carefully moved her onto it, breathing with her, and typing on while she gave birth to four literary kittens, two gingers and two torties. Soon, they'll be crawling on me like lice.
The Infinity Farm Home for Unwed Mothers is full. I can't save 'em all. 
…
Anna Blake for Relaxed & Forward 
Want more? Join us in The Barn. Subscribe to our online training group with training videos, interactive sharing, audio blogs, live-chats with Anna, and the most supportive group of like-minded horsepeople anywhere.
At The Barn School, ongoing courses in Calming Signals, Affirmative Training, Fundamentals of Authentic Dressage, and Back in the Saddle: a Comeback Conversation, as well as virtual clinics, are taught. I also host our infamous Happy Hour. Everyone's welcome.
Visit annablake.com to find over a thousand archived blogs, purchase signed books, schedule a live consultation or lesson, subscribe for email delivery of this blog, or ask a question about the art and science of working with horses.
Affirmative training is the fine art of saying yes.