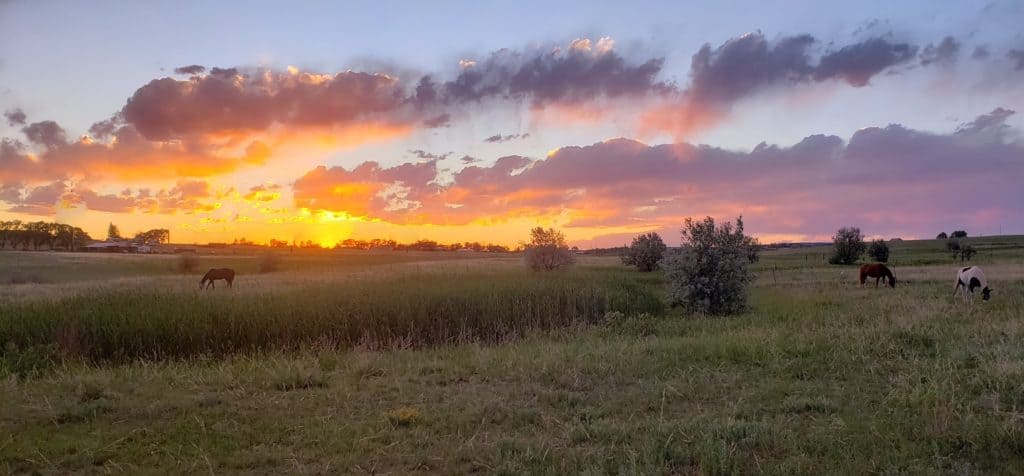 "Why don't you ride?" It's the question we dread. Sometimes the people who ask are neophytes who don't understand that in the arc of a horse's life, there are many phases, many unexpected turns that change our plans, and many mysteries that take years to unravel. Sometimes the people who ask are longtime horse owners with sympathy in their voices because they do understand. We exchange bittersweet smiles and ask, "How many horses do you have to own before you have one to ride, right?" I don't know the answer, but I have three horses, none rideable.

Here is what the neophytes (and other railbird horse owners) don't know. Most don't understand calming signals and miss pain messages. Horses in pain are frequently mistaken for horses with training issues. Then the horses end up being punished for being in pain and they become even more anxious. Many saddles don't fit and bad hoof care is common. A horse doesn't have to show an overt limp to have a sore back or low-level lameness and not every rider is perceptive enough to feel it in the saddle. Do you know the biggest cause of chronic lameness in our horses? Putting them back to work too soon. So, rather than listening to the advice of amateurs, we err on the side of waiting longer than railbirds think we should. 

We're likely to get complaints from those less educated if we have a young horse who we don't start until four. Yes, that's when his growth plates have closed in his legs, although those in his back are not finished until he's eight. Others may bait us, but starting horses too young creates physical issues while giving a horse time to grow up is a better practice.
There are chronic health conditions like metabolic issues and gastric conditions, serious but not entirely visible to the untrained eye. A cynical railbird might deny, saying the ailment wasn't around when we were kids. Back in the day, horses died of these ailments but we, some of us anyway, are hoping to keep horses alive, even if we can't ride them. Some have inconsistent symptoms but you try everything possible. You can't retire him and you can't ride him. Limbo is the worst place. And sure, another horse owner might euthanize them, but we "don't ride." 

Not all horse owners are aware that by the time a horse is seventeen or eighteen, they are beginning to ease out of their prime. We hate it because it's usually when we're having our best rides but we begin to mitigate what we do. We start joint supplements and consider fewer extreme trails and riding with more gratitude. Others might think we're babying them when we stop competing and slow down to keep our horse supple and sound. As much as we hate it, we begin to think about retirement dates because we are the sort who doesn't ride a horse into the ground. "At some point, we need to stop valuing what they do for us and shift to being grateful for what they've done." If you genuinely love horses, then you honor their age, young or past prime, and act accordingly. Not everyone has that compassion, so railbirds might heckle you. Trust horses to know the truth.
Those critical voices may feel defensive about their own horse practices but have a verbal bravado that can border on rude. It's almost a rule that we should act tougher than we are, not one of our best traits. Humans have normalized harsh treatment of horses for so long that it's become the status quo. You know better and that can be threatening. In this crazy world, when we get to a certain age, hallelujah, we do what we think is right. Yay, us. We become brave enough and strong enough to put the horse's needs above our desire. We keep them, care for them, and try to tolerate those who understand less about horses and criticize us. 

Sometimes, we are the ones to make the decision to not ride but it is never our first choice. There are painful but good reasons: we need to focus on the kids or elder care. Maybe work is requiring more attention or we're dealing with an illness or recovery from an injury. And as much as we do our best, our lives are not our own. Once we're pulled away, it can be hard to get back.
Be clear though. We all share a dream that we are lifted high and carried weightlessly, the horse's mane tickling our nose as the earth rushes beneath his hooves. We love riding. We always will. Half the time, we have a wild desire to ride while we're literally riding. Stepping away is never the first choice. A neophyte will ask why we don't ride because they don't know better, but it still burns. 
The worst part about not riding is the judgment. There's an unspoken hierarchy that says if you don't ride it's a kind of failure complete with blame and shame. You're too old-you're too fat-you're too scared-blah-blah-blah. It's as if all you've learned and the lengths you've gone to for your horse amount to nothing if you don't get to ride. It's as if aging, either you or your horse, is a mistake or fault. It isn't true. NOT TRUE. But sometimes that railbird criticism is our own voice, we just want to ride even if we have a list of responsible reasons we can't get another horse.
It's rare when both horse and rider choose to stop at the same time. If the rider stops first, the horse is fine. They don't care if we ride them. If the horse stops first or falls into nebulous health issues layered with unknowable answers, that's hard. Sometimes there are other activities we can share with our horse: Ground driving, hiking, horse agility, grazing in the pasture and being grateful. It isn't the same but we make do. We change the things we can. We can find other horses to ride or put our love into volunteering helping horses. 
A neophyte doesn't understand the hole left when we must decide between our love for riding and our love for our horses. Unlike some horse owners who ship off lame horses, we keep ours. All of us are role models; we state our beliefs in our actions, paying back what horses have given us. It's the right thing, but that doesn't mean we stop loving to ride. It means we find a different kind of courage.
What to do if all the answers are no? Your horse is not rideable and you don't want to ride other horses? I won't trivialize those deep sad feelings. Any horse will tell you getting old is the most challenging ride of all.
I do know that one day we will all be past riding. I expect, just like always, we'll cry if we can't ride. It isn't childish; it's our passion. I like to think in the next world, there will be more justice and the horses will decide who gets to ride. 
…
 Anna Blake for Relaxed & Forward 
Want more? Join us in The Barn. Subscribe to our online training group with training videos, interactive sharing, audio blogs, live-chats with Anna, and the most supportive group of like-minded horsepeople anywhere.
Ongoing courses in Calming Signals, Affirmative Training, Fundamentals of Authentic Dressage, and Back in the Saddle: a Comeback Conversation, as well as virtual clinics, are taught at The Barn School, where I also host our infamous Happy Hour. Everyone's welcome.
Visit annablake.com to find over a thousand archived blogs, purchase signed books, schedule a live consultation or lesson, subscribe for email delivery of this blog, or ask a question about the art and science of working with horses.
Affirmative training is the fine art of saying yes.