Here are two of my dogs, Preacher Man and Manning, guarding the back door. You'll notice they are facing the wrong way. It's not about who might come in; it's about making sure SHE doesn't get out. "Herding dogs," my other dog, Jack moans, "have a little too much space between the ears." He is a terrier who keeps a tight pair of ears and thinks staying so close to the ground is for idiots. Bounce, Bounce.
It's always my plan that there are more dogs than humans on Thanksgiving. Holidays go better if you keep things in a positive balance. It isn't how much turkey you need per person; it's how many dogs and the bare minimum is two. One of my favorite Thanksgivings, one friend came and we had seven dogs between us. It was perfect.
But last summer, a perfect stinky wobbly old dog passed away. I miss him, but Jack and Preacher seemed immediately relieved. I don't think I've seen it that clearly before; the anxiety we all felt watching the old dog's pain and confusion died with him. I can't say it has been quiet around here because Preacher Man hasn't stopped barking since 2014, but I do confess there were days my mind wandered. I'm a woman of a certain age who does the math of my animal's ages against my own.
Soon the message came that there was a dog in Texas. At some point, I stopped picking my own dogs. It's not like I have no choice, but who says no? The dogs who come to me don't need to pass a DNA test or do something to prove they're the right dog. I swore I'd never have a terrier for instance. But the dogs stay and we find the rightness between us eventually.
This is how the Texas dog was described by Sandy, who is every dog's hero, "He's like part cat, part Arab, and part cardigan with a tiny bit of cattle dog tossed with the lovable heart of a lonely Labrador. You'll love him." Some of us are better at assessing dogs than others. 
The dog managed to catch a ride to Colorado and we met in a hotel room. He was shy and didn't want me to touch him. I notice I don't like strangers grabbing me either. Standing away, he almost looked familiar in the way that the right dog does. I couldn't shake the feeling I'd known him before. But I sat on the couch and gave him time to recognize me, too. The freeze-dried liver treats helped but it didn't take long.
The next day he came out to meet Preacher and Jack. They can be a bit overwhelming at first, but not like the sight of llamas and horses. And worst of all cats. No matter how much he barked at them, they just stared back. They mock him but the barking won Preacher over and now it's all yipping and bitey-face. Manning held out a few hours before answering Jack's play bow and the race hasn't stopped since. Then, there's the problem in the bathroom. It's ridiculously small and with two dogs there already, he must tuck his snout and slip past them to sit in the shower. It's a fundamental duty to protect humans in bathrooms and not something you'd trust another dog to do properly.
It isn't that he's perfect. Manning needs some confidence having grown up in a pandemic, so we go to the local brewpub and share a beer and some bison treats.  We have "date night" at an agility class with some sighthounds. They don't mind lowering the jumps and he thinks they are strange and beautiful. He tears through tunnels and I howl, cheer, and try to keep up. The instructor has read Turid Rugaas' book and we talk calming signals and her dog-version of affirmative training. I'm having a wildly good time being a student. Manning thinks, as all good dogs do, that humans talking to each other is boring, so he goes to my chair at the side and sits on his mat. He knows this will distract me from the silly human and get me there with a treat. Ends up I have a better recall than you'd think.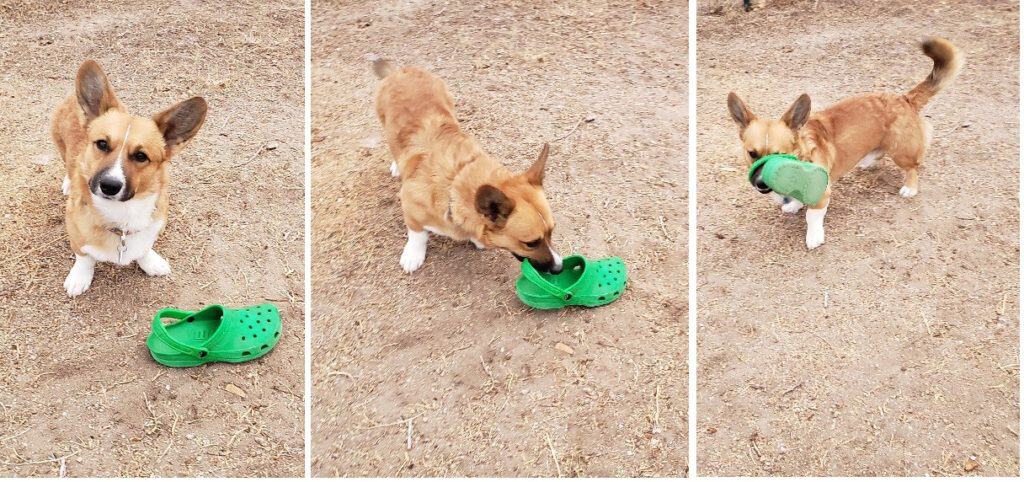 (Excuse me, that's my shoe. What shoe? My crocs are sacred. Smells like manure and your feet! I'm serious, this is not okay. But it has a handle! )
Manning did a lot of shaking out when he first came, nose to tail. Some nervous itching. Calming signals, but not a lick. Licking is a calming signal, too, just not one of his. It was a big change and he's a stoic dog. He wouldn't want to appear desperate so he presses his body along my leg and keeps an eye on the door. He lays his big head in my lap, and I can feel the heavy warmth of every dog I've ever loved.
It isn't that dogs live shorter lives and we always lose them. That's the small picture when our hearts hurt. The big picture is that dogs are the ocean that we swim in. They give us a place to come home to; they walk us until we can rest. Dogs force us to laugh and cry, releasing our human calming signals feels safe with them. We love the individual dog because we can't get our heads around the notion of an entire species capable of unconditional love. Horses can't do it, and for all our bluster, humans don't either. We're so drawn to dogs because they understand every day that being part of a pack is what Thanksgiving is about.
We come together here to talk about horses. We're the All-Horse Channel but for most of us, our first horse was a dog. They had the good grace to tolerate us when we whined about horses. We're off living a fantasy because the truth about horses is that they will never be totally domesticated. We can't sleep in a dogpile with horses. We long for a horse's freedom, but dogs know we don't really want that. When the horses return to the herd, we come home to dogs. As much as we don't want to admit it, we each crave our own kind.  Dogs are caretakers. Humans think we're tougher than we are and don't like to take help when it's offered, so dogs act a little silly so they don't put us off by being smarter about this. We're arrogant and throw words like rescue around because we like to act like we're doing animals some big favor when any dog will tell you it's the other way around. 
Manning is the next right dog. We'll let it be that way. Thanksgiving is about gratitude for the abundance in our lives and dogs are the best at making a big deal out of very little. They are the living embodiment of loaves and fishes.
With a slightly weird dog leaning against my thigh, laying under my writing desk, sharing my beer, I can be more dog-like, which other humans will hopefully mistake for me being kinder. I'm trying to evolve. My heartfelt thanks to Sandy and Peggy for bringing him home. 
"And in this conditional world, it's only dogs who believe in free love. Friendships naturally ebb and flow, the circle of life can't be controlled or altered much, but dog love is eternal. Let there always be dogs." -AB
…
 Anna Blake for Relaxed & Forward 
Want more? Join us in The Barn. Subscribe to our online training group with training videos, interactive sharing, audio blogs, live-chats with Anna, and the most supportive group of like-minded horsepeople anywhere.
Ongoing courses in Calming Signals, Affirmative Training, Fundamentals of Authentic Dressage, and Back in the Saddle: a Comeback Conversation, as well as virtual clinics, are taught at The Barn School, where I also host our infamous Happy Hour. Everyone's welcome.
Visit annablake.com to find over a thousand archived blogs, purchase signed books, schedule a live consultation or lesson, subscribe for email delivery of this blog, or ask a question about the art and science of working with horses.
Affirmative training is the fine art of saying yes.