The lockdown at the beginning of 2020, followed by months of quarantine, was a wonderful opportunity for a thoughtful assessment of my brilliant career choices. Said no one ever.
"Non-essential worker" became my new job title. I was like a mare pacing the fence line separated from the herd. I would have been pacing more, but I got bed-sick after flying home from a February clinic. I was lying on my back only mentally pacing, but it was no less frantic. I canceled a full year of clinic travel while taking note, as most horse owners do, that I had still not received notification of a trust fund.
Being a clinician is an intense job. I get to meet incredible horses around the world—perfect! And meet riders with universal passion and love who are changing the horse world for the better—truly glorious. It's a cycle of "dancing as fast as I can" and barely catching my breath before the next flight but I also had opportunities I'd never dreamed of. Clinicians materialize at clinic sites, stir things up for two or three days, and are gone as quick as we came. I thrived on twelve-hour workdays and sprints to the airport.
Clinic participants appreciated getting out to learn with their horses and share the camaraderie of a group of like-minded horse people, but clinics have their downsides. Lots of us live in remote places without clinics close by. Not everyone hauls their horses. And then sometimes the horse who comes out of our trailer is one we don't recognize. It's stressful for horses to go to strange places. But I was put on pandemic stall rest.
For any gray mare, the idea of change is more inevitable than shocking. I pulled up my chins and launched an online school. Being a horse trainer became a desk job with spooky tech drama, but I rode it. I can train a canter zigzag, for crying out loud, new software won't best me. Here's a bit of now-obvious training information: It ends up that horses didn't miss clinics at all. They like working from home. And since physical distancing is not the same as emotional distancing, the classes found that same sweet camaraderie that clinics had… only classes last longer. Zoom ends up being an intimate and effective tool for horse training. Who knew?
Months passed, I paced in my pasture. It took the first year to realize how exhausted I'd been as I rested my way back to health. I edited a friend's book while I mourned her death -as well as three other friends, gone too soon. I daydreamed about turning a shipping container into a tiny house to write in. I tried to rescue and neuter a stray cat, only to end up with a surprise litter of kittens under my desk.
It was the women in The Barn School that inspired me the most. And these months later, real change has happened for so many of their horses. The online courses also encouraged me to think there must be better ways to hold clinics that are more supportive to horses while making learning opportunities more available to remote areas or smaller groups.
Now what? I'd be foolish to trust the pandemic was over and wind up quarantined somewhere. We need to get back to a "new normal" version of our lives, but at the same time, be safe. If anyone can figure out what safe means. In a way, it's like starting over. I don't know what my clients will be comfortable with now.
But I can only overthink the situation for so long. It's time to mount up. What if I apply Affirmative Training to my work style? I don't want to work less, I want to take more time. It's a charm with horses, after all. I'll go slower and say good girl to myself in a more sustainable way. I want the flexibility of not being at the mercy of non-refundable plane tickets. I want to enjoy the ride. There must be a way for a clinic to be less like a drive-by shooting and more, well, relaxed and forward.
The solution is to not fly. Sure, I'll miss the airport bars, but now I can lollygag and take side trips. I admit, not a cutting-edge idea. I have friends who have gone the gypsy way for decades; insert their cackles and nodding laughter here.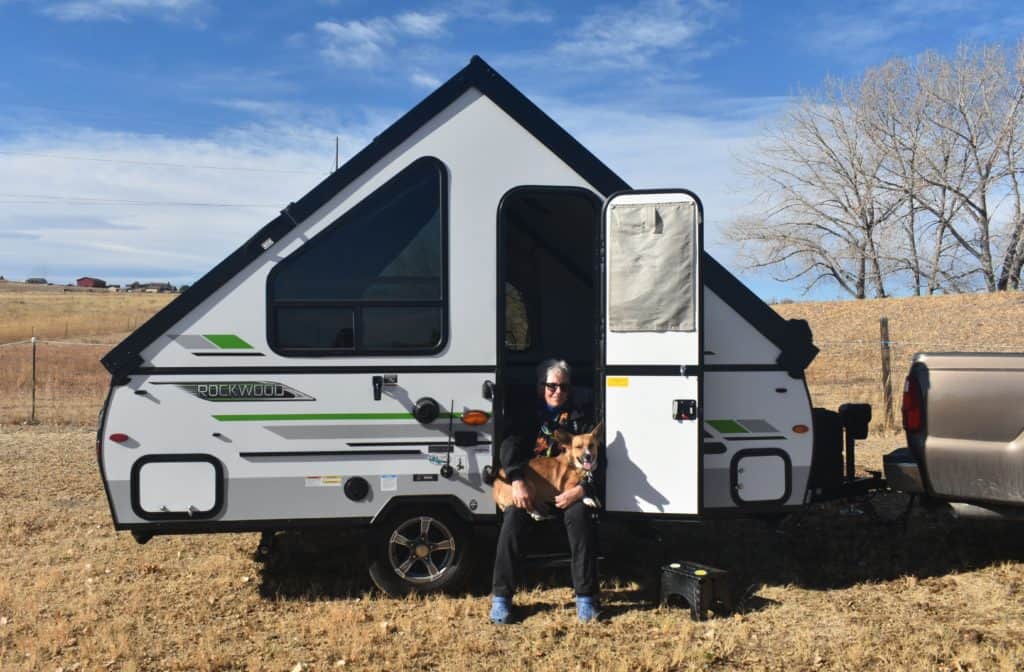 I'll pack my favorite horse gear, all too big for carry-on luggage, in my truck bed and we'll head off down the highway. This suits me because I perpetually look like a tourist anyway. My dog Manning will come along, working as my Self-Care Specialist. It'll be my job to stand tall in the morning sun and call out, "Wagons, Ho!" and Manning's job to ask if it's time for a lunch stop. He'll walk me so my hips stay limber and remind me when we need a meeting (nap) in the little house. He'll keep me tethered in space and time. You know how I get around new horses.
My first idea (and I am wild about it) is to take a sort of victory lap. But celebrating your victories, not mine. I need to visit the horses and people who inspired me in The Relaxed & Forward Barn School. I need to congratulate them in person and finally scratch their horses. More than that, I want to write about it: Your Stories. I can't wait.
Along the way, I'll be giving Concept Clinics, but I've redesigned the approach with the horses in mind. I've added Farm Visits, a day at your farm with a few friends for a lesson day, and Private Coaching days, again at your farm but just you and your horses. I'm hoping to reach some folks who prefer to not haul their horses. If you have a nonprofit with a herd, or group of horses to share consider a Calming Signals Educational Groundwork Clinic with one price for all participants and hands-on learning, a format that I love. I'll hope to schedule speaking engagements with equestrian clubs as I travel and give a few writing workshops. And Barnies, members of our online group, get discounted prices.
I'm not romanticizing the challenge. I've driven thousands of miles giving lessons in Colorado and I swore I never do it again. Embarrassingly, my parents loved RVs and I swore I'd never set foot in another. Well, so much for never. We'll do it Our Way, (the music rises to a crescendo.) Manning and I will start around spring thaw and we'll go where we're invited. Slower but no less enthusiastic, we'll be drifters on the road, looking for horse training adventure and liver treats. It'll be part clinic tour, part travelogue, part online teaching at The Barn School, part writing escape, and mostly a celebration of horses and dogs and people doing their best. You have stories to tell and I've missed you so much.
…
Anna Blake, Relaxed & Forward
Want more? Become a "Barnie." Subscribe to our online training group with training videos, interactive sharing, audio blogs, live chats with Anna, and join the most supportive group of like-minded horsepeople anywhere.
Anna teaches ongoing courses like Calming Signals, Affirmative Training, and more at The Barn School, as well as virtual clinics and our infamous Happy Hour. Everyone's welcome.
Visit annablake.com to find archived blogs, purchase signed books, schedule a live consultation, subscribe for email delivery of this blog, or ask a question about the art and science of working with horses.
Affirmative training is the fine art of saying yes.