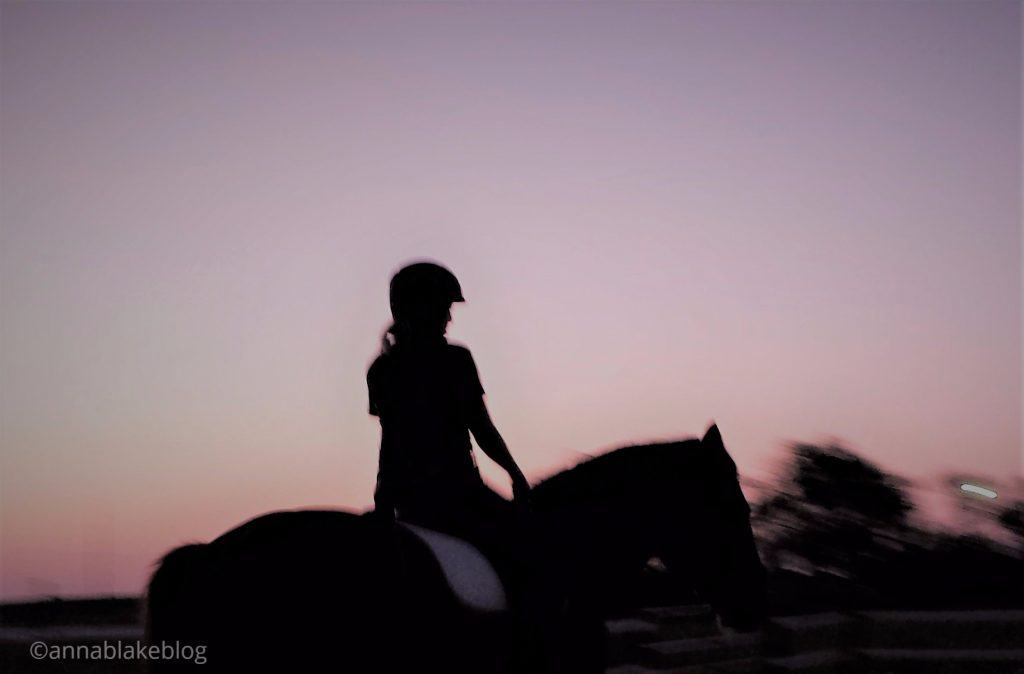 "My horse won't go forward!" the rider says. Many trainers respond with the traditional battle cry, "More leg!" What does that mean exactly? What part of our leg does the horse need more of? Surely not more thigh? Have you seen me in white breeches? Are my knees supposed to flap in and out? How would I use the middle of my leg more? No, that can't be it. Maybe twist my toes out and pump my heels? We fall back to where most of us learned to ride: western movies. The posse gallops across the screen with legs clapping with each stride, chap fringe flying. Are my legs supposed to grip and release as I stand in my stirrups? That can't be right. Racehorses go forward with no leg at all, the jockey perched on top with a leg shorter than a saddle flap. No one tells them more leg! They go to the whip, even as research shows it doesn't make the horse go faster, raising that heavy race whip above their heads and whacking it down hard.
Most of us kick-kick-kick because it seems the least-worst-still-bad option. Soon the horse's flanks are dead from the constant nag-nag-nag, so some itty-small spurs might help for a while or maybe a whip, not that you'd use it as a jockey does. You'd think our level of sheer frustration would send the horse on. When we pull our heads up and look around, there is that one rider we always see in our mind's eye. She looks like she is doing nothing at all but her horse is positively dancing beneath her. The crazy part? It might be a jumper or a reining horse, a soft trail horse crossing water or a dressage horse in an extended trot. So, it isn't the breed or the riding discipline. Dang.
Forward is the gold standard. Striding out in a relaxed gait does cure most of what ails a horse and rider. It improves a horse's balance, it allows him to process his emotions better, he relaxes. When he is moving on, we tend to use the reins less to correct, so now we are mentally quieter, our body follows his movements without us noticing. That's the hard part; when things go well we don't question why, but that's where the answer is for when things don't go well. If we focused on what works rather than what's wrong, the entire conversation changes. The foundation of that, any horse will tell you, is that rhythm heals and balances. A break of rhythm, especially with our legs, makes the stride hesitate. Tension kills flow, and that tension starts as much with the rider as the horse.
We've been taught to accelerate our cues. We think that horses will respond to pressure, so we threaten the horse to make him go forward with the fear that if he doesn't take a small leg cue, a big nasty thudding heel will heave into the soft part of his flank, that place that wolves attack to disembowel them. In fact, horses don't release to pressure, they resist it. When you look closely, is the horse tense in his ribs, tight in his back? Is his poll tense even if his neck is down? It's what we've been taught, but does it work? How does a punch in the gut inspire a horse? How did we kill the horse's primal instinct; how did we get to this place with an animal whose first defense is to run?
Please take your horse at his word. There are two basic reasons a horse doesn't willingly go forward: Pain or the fear of pain. Can you know definitively that your horse is free of pain? No, we can't. Horses are stoic and humans can't always diagnose a clear problem, but not going forward is a symptom of pain. Not all pain looks like a limp. Arthritis is often found in young horses, and as horses age, we know they lose muscle and strength. Pain can look like tension or resistance, making us think we have a training issue when the horse is being as clear as he can be. Believe him.
Do we do better helping our horses deal with their fear of pain? I wish we could just promise to behave and horses would trust us. Most problems come from cues that are too big, rarely from cues too small and that path to earn a horse's trust is narrow and not very forgiving. We can't cue them to not be afraid any more than we can stop someone from worrying. We are each responsible for ourselves, but we can choose to go slow and give the horse time to self-soothe. We can give the horse time to think without threat or intimidation. All too often, that louder leg cue happens as the horse is trying to balance some conflicting thoughts or cues, and that leg cue seems like a punishment for reasoning out a question. Don't we want our horses to think?
Let's reframe the idea of more leg to a more sensitive leg. Is it possible to engage a horse's mind with a leg but not intimidate? Can the pressure be a call and not a push? Can a leg invite a horse to dance? Does the idea engage your mind? See how curiosity works? 
Start here: Use your calf to listen to your horse's ribs. Is he breathing? Is there a swing to his stride? If not, lighten your legs. Let them float on your horse's ribs. Feel your thigh go soft. Wait for it. Feel air under your knee, lengthen your stirrups so your feet hang free in the air. Trust your seat to hold you in the saddle. When you release your body to his stride, his stride will release forward and soften. Because in the same way that tension cues tension, release cues release. It's our challenge in the saddle to release a defensive posture and demonstrate a better option, like relaxation. 
A warning: When the horse does go forward, whether it's too fast or too slow, our hands must not correct him. If we lose balance and pull back, we give a conflicting go-stop message. He is right to be fearful and confused. Also understand that over-steering might feel enough like a one-rein stop or a correction. If your horse goes forward, let that be enough. Ask for one thing at a time and then say thank you. He has to be moving forward before we interrupt him to ask for something else.
Like Fred with Ginger, we must lead with quiet confidence, to allow our partner to shine. Here is what we humans confuse. Forward movement shouldn't feel rushed. A horse shouldn't scurry like a varmint. Gliding over the earth, a horse should feel loose in his back, his stride should swing, his barrel flexing from side to side between our calves. His stride should grow longer with relaxation, confidence visible in his rhythm. Sit tall. Horses are royalty in the animal world. 
…
Anna Blake, Relaxed & Forward, now scheduling 2022 clinics and barn visits. Information here.
Want more? Become a "Barnie." Subscribe to our online training group with training videos, interactive sharing, audio blogs, live chats with Anna, and join the most supportive group of like-minded horsepeople anywhere.
Anna teaches ongoing courses like Calming Signals, Affirmative Training, and more at The Barn School, as well as virtual clinics and our infamous Happy Hour. Everyone's welcome.
Visit annablake.com to find archived blogs, purchase signed books, schedule a live consultation, subscribe for email delivery of this blog, or ask a question about the art and science of working with horses.
Affirmative training is the fine art of saying yes.