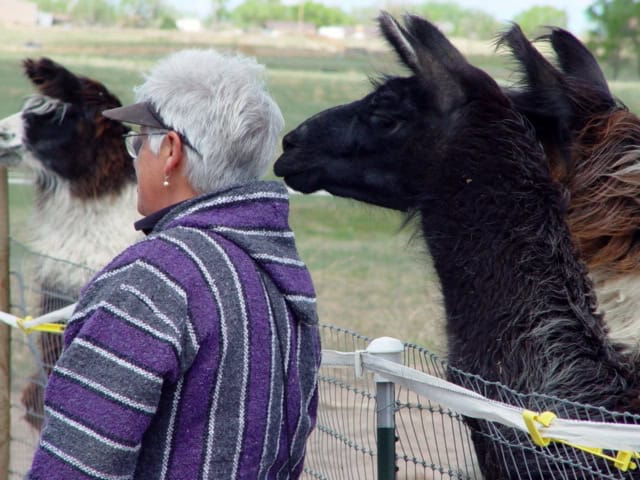 A reader gave me a writing assignment. She asked me to write something from the perspective of a railbird. This won't be fiction.
I was at the National Western Stock Show. It would take me two more years to get there with a horse but showing was the dream since I was a kid. Over the months, I'd been getting ready, buying buckets, hay nets, and a leather halter for good. That day, I bought a show pad that would make my horse stand out and thought about what I'd wear to match. Because I knew so much about showing. After storing my loot in my VW, I didn't have a truck yet, I joined a handful of acquaintances watching pleasure classes from the stands. A class entered the arena and there was a woman wearing a plaid shirt that strained at the buttons. No chaps, just jeans, riding a non-descript sorrel grade horse with an old tan Navajo pad under a plain western saddle with no silver. I'd love to say she was an impeccable rider, but no. She was stiff, her horse did some head tosses and late transitions. She was an easy mark and my group made lots of snide comments behind our hands. We didn't hide our chuckles, not that she heard us. She finished last in her class.
The best realizations sneak up from behind and whack you with a two-by-four squarely on your noggin with a cracking reverb, while giving you an instant mental replay of your stupid behavior, complete with internal narration by… a railbird. My realization: That dowdy "loser" was living my dream while I was sitting in the stands. The space between my ears shrank to a pea-sized gap as my heart slammed blood against my eardrums, reminding me I hadn't been struck by lightning, as much as I deserved it. Not a proud moment.
By the time I was finally showing my young horse, it took me a couple more years of wading through my emotions to get as good a ride as that dowdy but steady woman who focused on her horse and her own business at Stock Show. Enough things initially went wrong that I developed a chip on my shoulder. I tried too hard. My feelings got hurt. My show pad failed me. I thought every railbird in the world was against me. I judged them right back in pouty cold silence. In a totally coincidental and unrelated twist, my young horse was prone to being tense in the poll followed by emotional outbursts. Cataclysmic spooking. Go figure.
You know what a Railbird is, don't you? They stare and squint, you can feel the burn of their acid eyes. They critically judge and catalog your every false start. When your horse spooks, they laugh at you. When you lead your horse to a trailer, they start the stopwatch. If you pause with your horse for just an instant too long, the railbirds begin screeching over each other with never-fail contradictory advice. Worst of all, they are in the shadows scrutinizing us, even when we know they aren't. They're our worst enemy and we know exactly what they think because we are them. They are us. 
I'll try again. A railbird is a person who has good intentions and would like to help. Sometimes their word choice is not the best. Sometimes they are insecure and graceless, but they absolutely share our passion for horses. Some are afraid to offer a hand, which looks exactly like silent judgment. Sometimes they watch in quiet respect, appreciating the conversation you are having with your horse, but we're so defensive, we don't see the kindness of their hearts. Railbirds can't win either. 
I had a problem. It wasn't my horse, perish the thought. Besides, I was getting better at staying on. 
My problem was not with competition. If the judgment only took place in the show ring, the choice would be obvious. Instead, I think of competition as the fast track to slaying our demons. It takes practice to improve at anything and that means practice at failing. I swear, that Teddy Roosevelt quote has been running on repeat in my brain for decades. You know, the one about cold and timid souls. 
I had to give up being defensive, not because I am a saint above reproach. Far from it. I have a temper and some lousy boundaries and too many opinions. In other words, I have passion. My mind has nasty runaways if I let it. I had to give up holding a grudge because it impacted my horses. If someone else was being critical of me, I had to let that go because horses don't have the loyalty to not point out where the bodies are buried. Horses are truth-tellers.
Being adversarial is part of our natural human make-up, but it makes everything look like an obstacle and everyone seem to be an enemy. Pity the fool who told me to relax about this passion that was the strongest, truest force in my life. At the same time, something had to give before my horse killed me. I was saved by finding a sense of humor.
Any mare will tell you that, try as we may, we will never control the universe. Or even our herd. It can give us sour ears if we don't make peace. We have to force ourselves to slack the rein a bit. We can't un-hear criticism but we can choose to not be defensive. Separate what is helpful and refuse to take offense at the rest. I think it's the moment we become recovering predators and start to take responsibility for our actions. It's the looming and somewhat mature awareness that we aren't being healed by horses, so much as healing ourselves for horses. We find our humanity.
When the reader asked me to write from the standpoint of a railbird, I'm not sure she connected the dots. I am a horse trainer, the accepted and somewhat flattering term for being a professional railbird. I call myself a loudmouth party-pooper to lighten the air when I advocate for horses. but even now I bite my tongue and choose words with care, knowing that our love for horses is our obvious vulnerability. No one wants to be corrected in public, even when they ask for help. Mucking about through people's greatest passion is much more dangerous than riding horses ever was, but we have to get past our resentments. Horses give us that choice.
Trying to define a way to be an Affirmative Training railbird is why I started this blog on a Thursday night about 1300 essays ago, this week. It's been the ride of my life. Thank you, friends and railbirds, for your compliments and jeers. Each has helped convince me that fighting doesn't work. Being adversarial with horses, each other, or even our own selves is a dead end. I have no plans to stop fighting my demons and praising my better angels. I'll give an exhale and keep practicing. With gratitude and the humility of an unplanned dismount, I wish you the same, with the blessing of honest horses along the way. 
…
Anna Blake, Relaxed & Forward Training
Want more? Become a "Barnie." Subscribe to our online training group with training videos, interactive sharing, audio blogs, live chats with Anna, and join the most supportive group of like-minded horsepeople anywhere.
Anna teaches ongoing courses like Calming Signals, Affirmative Training, and more at The Barn School, as well as virtual clinics and our infamous Happy Hour. Everyone's welcome.
Visit annablake.com to find archived blogs, purchase signed books, schedule a live consultation, subscribe for email delivery of this blog, or ask a question about the art and science of working with horses.
Affirmative training is the fine art of saying yes.