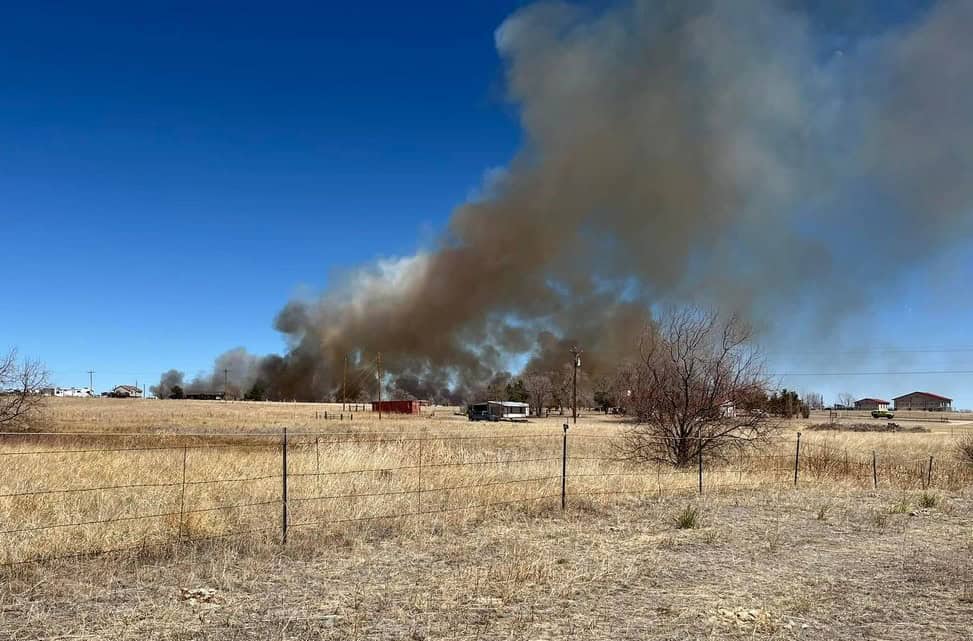 I see people in the grocery store thoughtfully reading labels and pondering choices. The Dude Rancher and I look like game show contestants for speed shopping. We buy the same things every week and tag-team the aisles, scurrying down some and skipping others. We always get fresh berries and never any chips. Get the ice cream cups last and then a flat white to go. So we hadn't been in long, but coming out of the store, it was shocking to see the sky inked out with black plumes of smoke in the direction of the farm. Now is a good time to remind you that the self-named Dude Rancher does not identify as a horse person. Kind of a cat guy.
Traffic was congested on the road home and the closer we got, the closer the fire looked. There were breaks in the black smoke leaving a thick haze that seemed alive, sometimes gushing and sometimes dissipating. The 30 mph wind would settle to uncomfortable stillness, then bluster back even faster from another direction. More black smoke. Was that someone's home? The relative humidity had been below 10% for days and 40% is considered low. Several times a day extreme weather warnings ping my phone. This one was still a surprise.
We were directed to take another route once but finally made it onto our dirt road, only to be stopped by a deputy telling us there is an evacuation warning in effect. The Dude Rancher headed into the house to get cat carriers ready. I trotted toward the trailer, with the fire just on the other side of a small rise. Full halt. It isn't that I didn't have a fire evac plan. It was just clearly too late.
I have more horses than room in my trailer. I know who goes first if it comes to that. But there was simply no time to hook up. Other trailers might materialize but none right now. I slowed down to have a think. Big breath, my horses taught me that.
This area is over-fenced and I knew if I turned horses loose they would get hung up in one. Could I get them into the pond? Ride out on the only sound horse with the others tied in a pack string? On this high dry landscape, most of us keep our horses on dry lots. For the first time, those big sandy pens looked beautiful. Back when it was time to replace my barn roof, I splurged on metal. Yay, but some of my herd are elderly and no horses are reliable in a smoky emergency. There was an instant that I wondered if I was one of those people who wouldn't evacuate.
Pause. Are you reading quickly? Has your breathing gone shallow or is your heart rate up? Are you afraid of fire, as I am? Is your mind racing about what you would do if there was no time to do anything? Good. I'll get back to the fire in a bit.
A client sent me this question: "Sometimes I have all the time in the world to spend and can be completely open to my horses. Other times, I need to get s**t done! Farrier, vet, etc. I don't always have the time to spend. How do I balance the two?"
I get this question often. On a slow day, we meander through chores, doze off daydreaming on hay bales, and enjoy being on horse time. But isn't there a time that you're justified to pop a whip when it's necessary to be on time? Sometimes doesn't it just have to happen NOW? She's right; it is about balance.
Affirmative training doesn't mean we're always late, victims of our horse's mood, or standing around wringing our hands. All it means is that we find a way to say yes instead of sinking to fight or fright.
Here is the tricky part. If you get too pushy with a horse before the vet or farrier comes, they'll be tense before it starts. It doesn't work to hurry a horse and how you know this is the number of times horse people lament that it's like their horse knows when they are late and won't be haltered or go in the trailer. As if on purpose, horses plot against us with foul intent, just to make us look bad. Egads, there is no diabolical plan. Our bodies are tattle-tales to anyone with eyes. Even small children see it.
Not to mention if part of the time we are all "yes" and "good boy", and the other part of the time snapping ropes and being emotionally dark, that incongruity will mess with your horse. Eventually, the inconsistency will destroy trust, and make your horse as unreliable as you are. If you are slow and kind 95% of the time, your horse will show you grace when you are in a hurry. But it would be a shame to squander grace just because we didn't prepare well.
The balance my client is looking for takes some self-discipline. Don't you just hate to hear that? It's so much easier to try to blame the horse and then start punishing them for noticing we're frustrated or afraid.
Even on a bad day, going slow will always be the quickest way with a horse. Can you train yourself to stay affirmative and yet be expeditious? Can you lift your energy without adding unneeded emotion? We must cue ourselves to be emotionally steady and not give in to defensiveness. Try this: Practice consistency when it isn't easy. On a sunny afternoon when you don't have a care in the world, give yourself a task on a time schedule.
Mentally think it through and prepare so you don't need extra steps.
Practice breathing while being efficient.
Give your horse calming signals through awareness of your body.
Maintain your identity as a safe place and get the job done. Call it emotional balance.
It's a learning curve, so keep a peaceful intention toward yourself, too. Then, gauge the situation evenly. Vets and farrier appointments aren't life and death emergencies, worthy of scaring our horses. Fire might be.
If you have horses, you'll need good contingency plans for all situations, and my goal in this essay isn't to preach about needing a plan. There is no debate on that. But step one on every list is to maintain calm for your horse. Scream later, but in the moment, don't betray your horse's trust. Stay your horse's safe place, even while moving things along. That is what fast means in horse time.
Back to our fire. I was getting halters when two men drove in and jumped out of their truck, saying they were here to help. They were a bit wild-eyed but I thought about it. There was no black smoke at the moment. I asked if either had horse experience and one said he'd done some rodeo-ing. I told him we were fine. Then I quietly haltered my horses, even He-who-will-not-be-haltered, and got my phone number on them with the Dude Rancher's help. We all kept our eyes on the sky. As quickly as it darkened, the sky cleared.
I always have a plan for what to do next and contingency plans after those. I will protect my horses. I'll do what it takes, but calmly and with intention. We were lucky. The firefighters saved all the homes, with no injury to people or animals in the area. Some farms lost outbuildings. We've had fires nearly every day since, but none as close to us. The firefighters do hero's work, and I bet they do it by staying steady and being efficient.
Maybe we need some of their training. Developing a calm-in-the-storm hero persona is the best way to ensure more sunny afternoons lazing around with our horses.
…
Anna Blake, Relaxed & Forward, now scheduling 2022 clinics and barn visits. Information here.
Want more? Become a "Barnie." Subscribe to our online training group with training videos, interactive sharing, audio blogs, live chats with Anna, and join the most supportive group of like-minded horsepeople anywhere.
Anna teaches ongoing courses like Calming Signals, Affirmative Training, and more at The Barn School, as well as virtual clinics and our infamous Happy Hour. Everyone's welcome.
Visit annablake.com to find archived blogs, purchase signed books, schedule a live consultation, subscribe for email delivery of this blog, or ask a question about the art and science of working with horses.
Affirmative training is the fine art of saying yes.