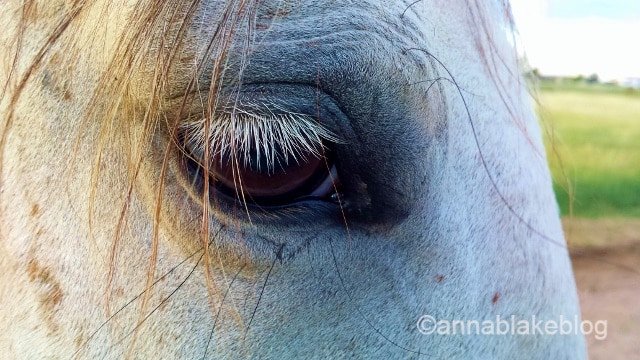 We love horses. We love to say it loud and proud. We love the ones we grew up with and the ones in stories that we only dreamed of. Famous horses, of course, but we love the ones our friends own and the ones we drive by. We love them when they are alive and when they are dead. We declare our love as if it is an extreme achievement. We repeat it as if anyone who knew us could doubt it. We say it as if it proves we are a rare breed. It's always been that way. We love our romance with horses.
What's love got to do, got to do with it?
Who needs a heart when a heart can be broken?  (Tina sang it. T.Britten/G.Lyle/G.H.Lyle wrote it.)
Let that little earworm crawl in because I can't be the only one who has noticed love doesn't always work out. Love can be fickle and insecure and it can evaporate. You'd think that love meant happily-ever-after the way we act. You'd think loving horses was a fairy tale.
I want to write about those among us who are maybe a little more experienced at loving horses. Or humans for that matter. Those who walk it out more than talk about it because our rose-colored glasses were lost in the manure years ago. Stoic horse people who don't post selfies or talk about mystical experiences. It isn't that we take loving our horses for granted. It's the opposite. We've spent enough money on an undiagnosable condition on an unrideable horse to put a kid through college. And the money is the easy part.
Over at our Barn School, we have an event called Happy Hour, a name that has become an inside joke. Last spring, we did a roundtable discussion on Lameness. There was so much interest and expertise that we did two sessions. We had no shortage of experience and each person did a seriously impressive job. I can't get it out of my head, but not just because of the incredible journeys that people shared, the techniques that worked for them, the lengths they had gone to, and current scientific studies and the alternative possibilities. I moderated the sessions but had a tough time focusing on the information shared.
I'm knocked back in awe by the actions of these women. There was nothing poetic, no magic, no whining. Everyone was in it for their horse, come hell and high water. We're women who have seen a bit too much sun and don't care about impressing anyone. If someone we loved got in a spot, we would lean in to help, offering all we could spare. We're dependable to a fault; we keep our word and see it through even when the romance has dulled and the unspoken promise has been broken. We've gained prudence, a skill few of us wanted.
I can't call the resignation and endurance that each horse owner wore on their face any kind of classic beauty, but I couldn't look away. Each was spellbinding, simultaneously circumspect and uplifting, with a life-worn glow that felt trustworthy. It was something truer than love.
How do we always manage to forget how fragile these huge beasts are? If I were the ungrateful sort, I'd list things to hate about horses. You could hate their frail digestive systems. You could hate the poor design of small hooves for big bodies and the Bermuda Triangle of their stifle area. It's fair to hate them for not living longer and for having less complicated lives than us. All that and still it can't ruin the feel of their stride rising through the saddle all the way to sky; the rhythm of seamless movement between a horse and rider, if only we can allow them to move. If only we can let go.
When I was younger and smarter, I saw marriages that didn't fit my ideal. I swore I would never submit to less than my dream, but now I know how it happens, just a day at a time. It's what it means to have a barn filled with unrideable horses. Our fathers would have sent the horses to slaughter years ago but we keep them. We don't have the heart for divorce. We're committed and we don't need to be reminded that riding isn't necessary. We know that, but it was still the promise we fell for. It was the dance we wanted to share, instead of the day-to-day watch of degenerative lameness, chronic conditions, or just the ordinary but brutal passage of time. Loving horses is a long-term relationship, for better or worse. We don't like it, but we quietly find the courage to choose it, and there are more of us than you'd guess. I am so in love with who we have become.
At the Barn School, the conversation continues. Now that you have all the horses you can afford, none are rideable, and you are a gray mare of a certain age yourself, now what? Are you done riding without consent, but by default? Lots of us never did ride, not that it's easier for them. What if you don't want to be a cheerful railbird? Does the longing ever ease? Is there a thing beyond this love; A passion that would be as self-sustaining as the wind in a horse's mane has always been? We are haunted by bittersweet memories of all that has come before, balanced against all that is unknowable in the future. The horses graze on, while we worry because none of the answers are easy.
It is simply the easiest thing to fall in love with horses. It takes no skill. But in the end, if you have done it right, love is always a blessing and a curse. Horse people wear that battered badge without pride. Living in limbo, we hold for a soft eye, even as we know our love guarantees nothing.
We are trapped and free at the same time. Kind of like horses.
…
Anna Blake, Relaxed & Forward, now scheduling 2022 clinics and barn visits. Information here.
Want more? Become a "Barnie." Subscribe to our online training group with training videos, interactive sharing, audio blogs, live chats with Anna, and join the most supportive group of like-minded horsepeople anywhere.
Anna teaches ongoing courses like Calming Signals, Affirmative Training, and more at The Barn School, as well as virtual clinics and our infamous Happy Hour. Everyone's welcome.
Visit annablake.com to find archived blogs, purchase signed books, schedule a live consultation, subscribe for email delivery of this blog, or ask a question about the art and science of working with horses.
Affirmative training is the fine art of saying yes.