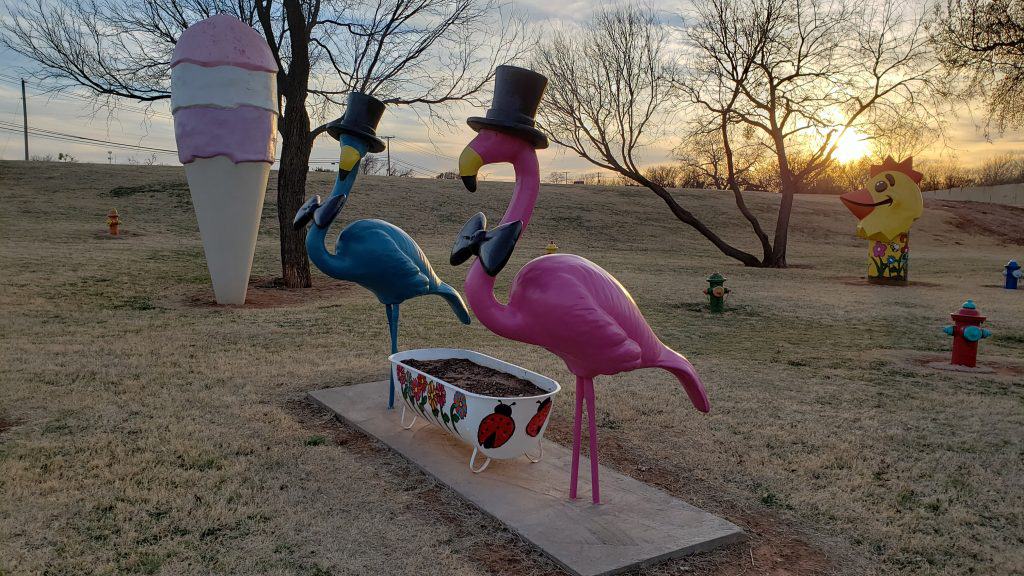 Last month, we were in Texas and I'm still thinking about a near-altercation between two dog owners. I was one of them. And since I'm still thinking about it, I will exorcise it the only way I know.
Here goes: Mister Dog and I had been driving all day. We finally got the Rollin' Rancho to our RV park for the night, Wichita Falls I think. Both of us were a little bottom-sore and hangry. After setting up camp, we perked up after some kibble and salad and probiotics. Good to stay regular on the road, each in our own way. Then we headed over to the clearly-marked area for dogs to relieve themselves. You could tell because of the twenty or so multi-colored statuary fire hydrants. Mister was okay with those, and the giant ice cream cone was not all that enticing. The human-sized footless flamingoes in top hats and bow ties made him a bit nervous, so we took another lap. Trying to evade them landed us right in front of a seven-foot-tall chicken head with a self-satisfied smirk on his beak. I wouldn't have been able to go in front of that bird either, we took another lap to the farthest corner this time, close to the highway. Finally, success. It ends up that strange bathrooms make both of us uncomfortable.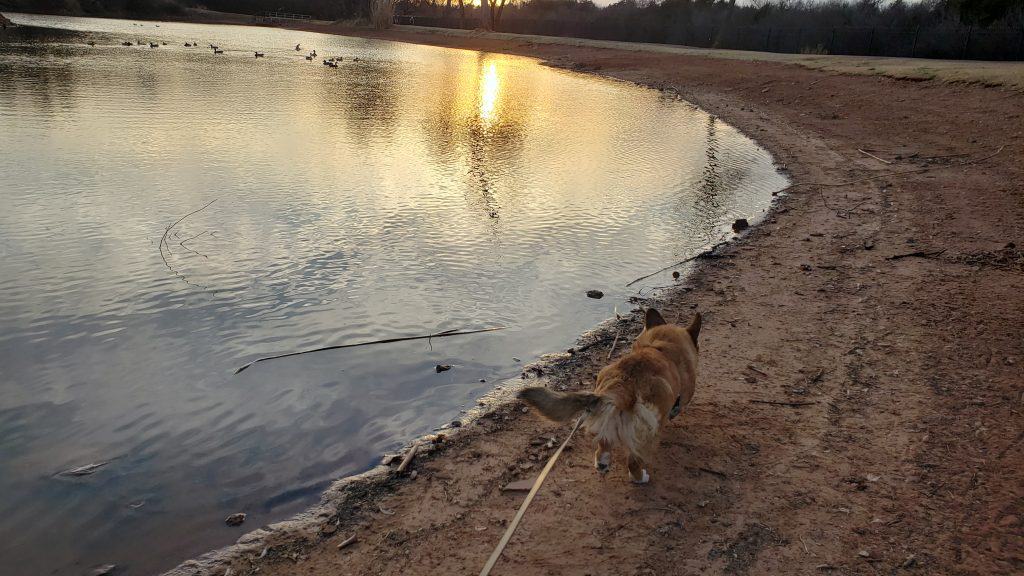 Then we wandered along the edge of a pond filled with ducks and geese. These were live ones, so we scoured the shoreline for poop and dead things to roll in. It's more than a fair trade for what he does for me. I need to be walked after a day of driving. Even more so after a clinic day. I need regular meals and he isn't about to let me miss one of his or mine. I wear hearing aids but only when I want to hear what people say, so a lot of the time, if it wasn't for him yipping and yodeling, I'd have no idea what was happening outside the Rollin' Rancho. He waits patiently for me while I work. When I'm writing, he sleeps with his snout on my thigh. And if he hears something at night, he high-centers himself over my torso, planting his breastbone in the center of my ribs, collapsing a lung to hold me down. It works.
For the last years, the dogs who landed with me have been reactive dogs with bad habits who needed to find a home with low standards. I was happy to oblige. I wasn't always socially welcome, either. But Mister is different. He didn't come with a police record. He's just a guy, stoic and good-intentioned. Not overtly affectionate but he follows me with his eyes. Randomly, he'll press his back close. He likes to make the first move, but I don't mind. It's sweeter that way.
Mister is a good dog but I've been around enough reactive dogs and rescue horses to know that's how they all started out. My goal with Mister is to protect his goodness in this human world. Do I sound cynical?
We sniffed along the shore until Mister's belly hair was muddy and the socks in my crocs were wet, and then found a bench. Mister prefers to sit on chairs and benches, he leaned in and I held one of his thick trotters in my hand. The sky was layered with rainbow clouds and I'm a total sap for sunsets. I felt mushy about Mother Nature and my wild luck of being with this good dog and the endlessly fascinating intersection of the animal world and the human world. It's what I teach most often when working with horses. I love this life.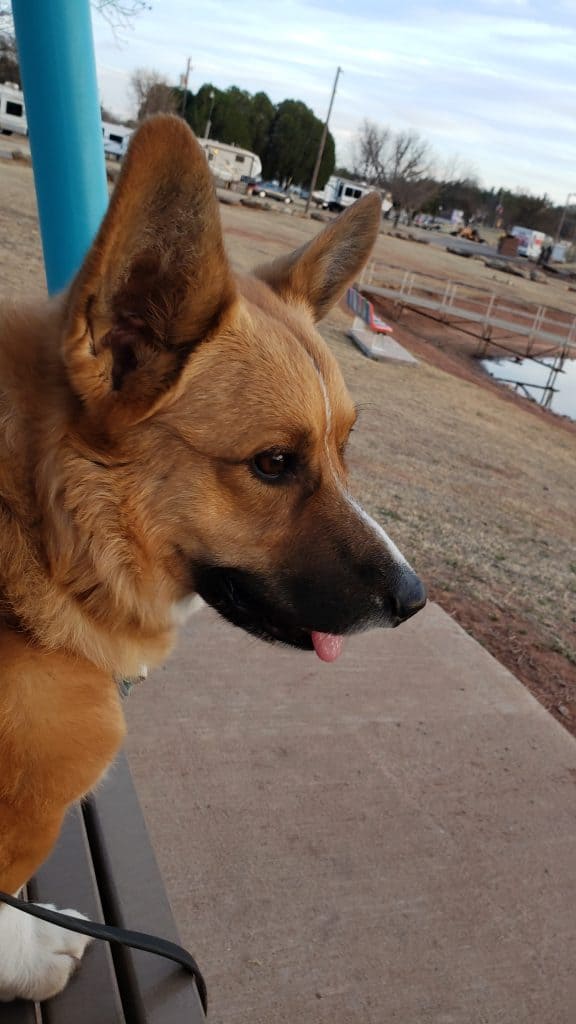 Mister turned his head away from the view and that's when I heard a man's voice. There was an older couple with a dog standing behind us. RV parks seem to be filled with older people I notice and it's a testament to how rarely I look in the mirror that I don't notice I'm one, too.
"Would your dog like to meet our dog?" the man repeated. His wife had white poodle hair, unlike me. I'm more of a wire hair.
"No, thank you," I smiled, no hard feelings, and returned to the sunset. Mister did the same.
Then the man repeated his question again louder because clearly, I had misunderstood him or I would have leapt to my feet and dragged Mister off the bench. So, I repeated my answer, enunciating it slower this time. Maybe he doesn't wear his hearing aids either.
What is it about our persistent deafness to the word no, even said in a polite voice? I think about this a lot, too. I seem to have to say "no, thank you" at least three times to be heard by nice people. Mean folks take offense immediately. Could they possibly think I don't know my mind or that I want to be cajoled? No, I'm an introvert, but the kinder people are, the more hard-of-hearing they seem. It feels like an uncomfortable oxymoron: aggressive kindness.
Some people struggle with saying no, fearing it will offend the other person. Give up if you are trying to learn. No one takes no for an answer unless it's the eighth or tenth time and you're screeching. No wonder animals give us calming signals.
"Is your dog bad with other dogs?" the man finally says, thinking he's solved the puzzle of my rudeness. "Because our dog is good to learn on and I know all about how to do this? Come on, bring him over."
Oh, good. Now I've got a railbird ready to teach me about dogs. Why do I have to talk to strangers? I've been polite. I understand that people are just trying to be nice and I'm the jerk. I'm even fine with being a jerk because of that sunset… and Mister's trotter… This is the same reason I'm no fun on trail rides.
And why is this man so pushy when he doesn't know us? He didn't ask if my dog was aggressive or fearful. He didn't know Mister's sex or if he was intact. He just has a point to prove and by now it doesn't even feel like it's about dogs. Why do we use animals as hand puppets for our egos?
"No. Thank. You." I say, more insistent this time. The woman finally registered and touched her husband's arm. He was frustrated, his voice is louder now, but I turned away. They probably tell people about the rude corgi woman.
Mister and I have an agreement. He doesn't need to be petted by everyone or need to meet every strange dog every strange day of this unpredictable travel life. He doesn't need to perform for anyone, least of all me. And neither of us has to listen to high-pitched baby talk politely. Okay, that last one's more for me.
Mister has only been with me a few months. This was our first extended trip, and although he behaved perfectly, I could see the stress. People say stoic calming signals are harder to read but his minimal language was as blunt. He held back and stayed a bit close, was less sniffy. His eyes went still and dark around others, his ears softened and leaned farther off the side of his head. He lost all patience with cats. He cowered an almost imperceptible bit when people leaned over him to maul his head. He took full-body shakes as soon as the pressure eased. He wouldn't chase his stuffed trout tied to my lunge line. He loves that fish.
As the trip continued, sometimes he was a little growly, too, protecting me. I might get lost in this strange land. Corgis were bred to herd cattle. They're tough independent dogs who abhor chaos. We're alike that way and spending so much time together, we're both a little clingy. Conversely, if people aren't groping him and he has time to think, he's likely to climb onto someone's lap and drop off to sleep. Unbidden sweetness.
The older couple's dog? She was a rheumy little black dog with cloudy eyes. Her ears were folded back and her name was Millie. She might have weighed twelve pounds, standing there nervously or painfully, I wasn't sure which, holding one foot in the air. I'd seen them earlier, her back arched taking mincing steps, the little dog jigging behind barely able to keep up and a little worse for wear. I wanted to ask the man, "Is she your sacrificial lamb?"
But then my dog is better than I deserve, too.
…
Anna Blake, Relaxed & Forward, now scheduling 2022 clinics and barn visits. Information here.
Want more? Become a "Barnie." Subscribe to our online training group with training videos, interactive sharing, audio blogs, live chats with Anna, and join the most supportive group of like-minded horsepeople anywhere.
Anna teaches ongoing courses like Calming Signals, Affirmative Training, and more at The Barn School, as well as virtual clinics and our infamous Happy Hour. Everyone's welcome.
Visit annablake.com to find archived blogs, purchase signed books, schedule a live consultation, subscribe for email delivery of this blog, or ask a question about the art and science of working with horses.
Affirmative training is the fine art of saying yes.